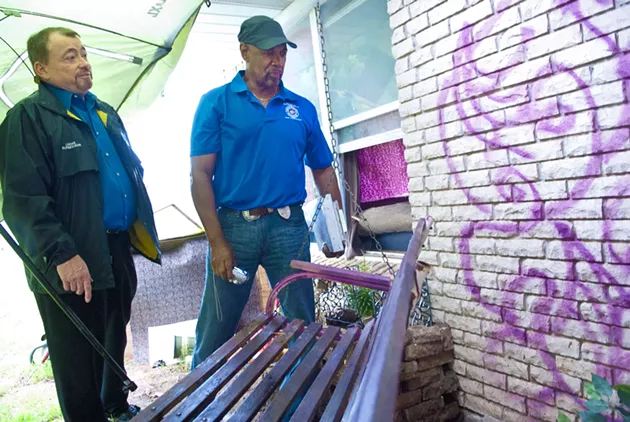 From left, Charles Locke, superintendant, and Ron Pollard, municipal code officer, for the City of OKC, chick out a back porch where vagrants have been hanging out at a vacant property at 1324 SW 43rd during an inspection, 6-19-14. mh
Banks and realtors successfully convinced the state Legislature this year to halt Oklahoma City's effort to control the growing number of abandoned properties.
Lobbying efforts, campaign donations and the claim that property rights were at risk by state realty and bank lobbying groups were successful in pushing through a bill that prevents municipalities from creating any type of property registry.
"The whole vacant and abandoned building ordinance got lost in some kind of argument [at the state Capitol] about property rights," said Ward 4 Councilman Pete White, who, like most of his colleagues on the Oklahoma City Council, criticized the state's action. "I don't really know what happened."
OKC's council approved the creation of an ordinance last year that would have required the owners of a vacant property to register with the city as well as pay an annual fee of less than $300. City officials said the registry would help code enforcers keep closer tabs on the estimated 12,000 empty homes and buildings across the city, which can bring down property values and use up city services, such as animal control and police resources.
A study from City Hall estimated that owners of blighted and vacant properties pay an average of $1,000 less in taxes than what occupied property owners pay.
Opponents to the registry claim it violates the rights of property owners and imposes burdensome fees. However, some who favored the registry claimed the Republican-controlled Legislature took local control away from the city and gave more power to individuals and companies that sit on vacant buildings for long periods of time in an effort to make a profit. OKC staff are reviewing options on how to proceed, said City Manager Jim Couch, but no plans have been finalized or presented to the council.
"We have some options we are pursuing, but we are not ready to present those," Couch said. "We are not sure if those options hold water or not."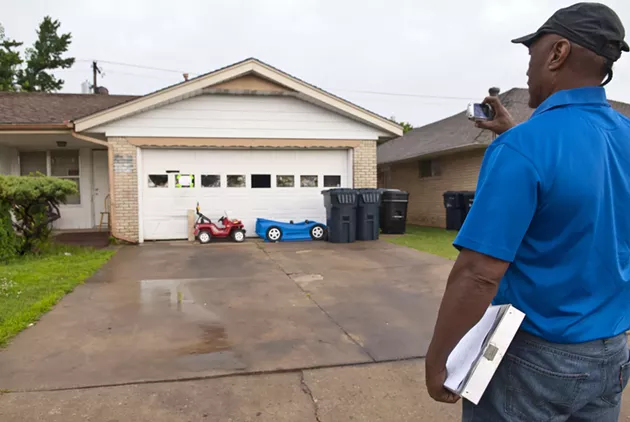 Ron Pollard, municipal code officer I, for the City of OKC, takes a photo after arriving at a vacant property at 1324 SW 43rd during an inspection, 6-19-14. mh
Opposition to registry
Conversations with city officials and urban planners show that supporters of the registry view the opposition as trying to protect banks and property owners that like to sit on vacant property for years at a time. Some believe big banks still do not have a handle on the foreclosure crisis that hit the nation a few years ago and view a registry as a tactic to clean up blight.
"The real estate and bank divisions have a huge lobby, and neighborhoods don't have that," said Georgie Rasco, executive director of the Neighborhood Alliance of Central Oklahoma.
Rasco and other neighborhood leaders fought against House Bill 2620, which prohibits cities from creating property registries. The bill was passed this year.
"I think the argument of property rights was absolutely one-sided," Rasco said. "[Opponents] looked at the rights from the perspective of the owner and not the property rights of those who surround the property."
The lobbying effort to pass HB 2620 and kill OKC's registry was led by Oklahoma Association of Realtors, Oklahoma Credit Union Association and Oklahoma Bankers Association, among other groups.
Those three organizations combined to spend nearly $100,000 in campaign donations in the fourth quarter of 2013 and the first quarter of 2014. The majority of Senate and House members who received donations voted in favor of the bill.
The lobbying arms of Oklahoma Association of Realtors and Oklahoma Credit Union donated to the campaigns of 31 state senators, all but six of which voted in favor of HB 2620.
Oklahoma Bankers Association dished out $60,000 in campaign donations. In efforts to pass vacant property registries in other cities across the country, banks have often responded with strong opposition.
Supporters of the registry claim that banks do not properly maintain foreclosed properties, which have risen over the past few years across the city.
RealtyTrac estimates that 945 properties are in foreclosure in Oklahoma City and that half are bank-owned properties. That is an increased of 31 percent from last year.
Rasco said her side will regroup this year and try to bring the issue back up in the future with the hopes of passing legislation that would allow cities to create a registry.
"We are going to take our cue from the city on how to proceed," Rasco said. "But it needs to be brought up again."
Conrad Kersten contributed to this story.