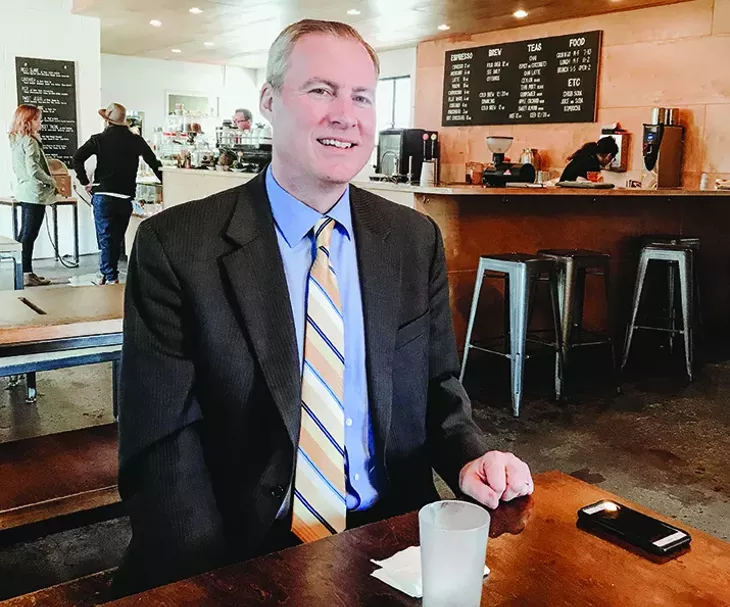 Nazarene Harris
Craig Freeman will become Oklahoma City's 35th city manager on Jan. 2.
Oklahoma City's new city manager is receiving a welcome that is remarkably similar to the farewell given to his predecessor.
Newly selected city manager Craig Freeman has received roughly the same level of approval and praise that city employees and Oklahoma City Council gave to Jim Couch in September, when Couch announced his plans to retire from the role after 18 years at the helm.
Few negative words have been spoken publicly of either man and if Freeman has his say, things will stay that way.
"My goal is to be boring," Freeman said. "I want the most controversial thing about me to be the numbers that I work with."
Oklahoma City mayor David Holt said that is the kind of mentality he would hope for in a city manager.
"He has a high character, high ethical standard," Holt said. "If you avoid scandal that makes a lot of things possible in our city."
On Nov. 20, Oklahoma City's city council unanimously voted for Freeman, 53, who worked for Oklahoma City's municipal government for 26 years, to become the city's 35th city manager beginning in 2019. Freeman currently serves as the city's director of finance.
Couch retires as the longest-running city manager in the country. During his time in office, Couch worked on three Metropolitan Area Projects (MAPS) implementations and secured indefinite access to water for the city from lakes Canton and Sardis, among other initiatives. He also served on the airport trust, zoological trust, Central Oklahoma Transportation and Parking Authority, Metropolitan Area Schools Trust, Riverfront Redevelopment Authority, Economic Development Trust and McGee Creek Authority.
While the city could not release the names of applicants for the city manager position, human resource director Dianna Berry said 52 applicants, including Freeman, applied for the job using an application the city posted on its website Oct. 1. Freeman was one of five internal applicants who applied, Berry said. According to sources close to the process, applicants included several out-of-state candidates, including a veteran city manager for a municipality larger than Oklahoma City.
After 51 days of study and deliberation, the city council chose to appoint Freeman to the position. Holt said Freeman's resume and his ethics in particular were instrumental in vaulting him to the front.
"We were pleased with the quality of talent that applied, both from internal and external candidates," Holt said. "Ultimately, we saw in Craig some critical strengths — his financial management skills, his high ethical standards and his collaborative management style. We have a high level of confidence he will build upon our city's successes."
While Freeman admits that having a familiar face can help applicants stand out when applying for a new position, he said securing a role like city manager comes down to what you know more than who you know.
Growing together
Born in Oklahoma in 1965 to a father who worked at Oklahoma City's former Southwestern Bell offices and a stay-at-home mother of three, Freeman said his adolescence was peaceful and joyous. He graduated from Oklahoma Baptist College in 1987 with a degree in secondary education after considering careers in education and in ministry, he said.
He went on the teach and coach at Windsor Hills Baptist Schools before enrolling at University of Central Oklahoma where he earned a bachelor's degree in political science and a master's degree in urban affairs.
Freeman's later studies revealed to him a passion for local government, he said.
"There is something remarkable about working on a project behind the scenes and then seeing it become something tangible that affects you and the people around you," he said.
While college might have been where the seeds of Freeman's career were planted, it was at city hall, he said, where those seeds took root.
In the early 1990s, Freeman accepted a position with the city as a management and budget analyst, although he had his sights set on a position that ranked higher.
"Being a city manager was kind of the dream," Freeman said, adding that he applied for the position with a handful of other cities before beginning work in Oklahoma City's finance department.
"I took the job with Oklahoma City thinking it would be a great place to learn about city management if I ever wanted to apply for a management position again," he said.
The entry-level role he took, Freeman said, became one that has had the most impact on his life.
"I loved the people I was working with," Freeman said. "I learned how unique Oklahoma City is and how unique it is to have such a positive work environment behind a city 's government. I ended up not wanting to go anywhere else."
Freeman went on to serve as the city's budget director and its finance director, the role he still holds today.
Serving as Oklahoma City's next city manager is a way for Freeman to give back to a city that helped him become the man that he is today, he said.
Freeman will take on the new role Jan. 2 when Couch will officially retire, Yager said. His new role will consist of overseeing day-to-day operations within the city, managing nearly 5,000 employees and a $1.57 billion-dollar-budget and executing finance resolutions decided upon by city council.
Oklahoma City Council set Freeman's annual salary at $248,000 during its Nov. 20 meeting.
Freeman lives in Oklahoma City with his wife of 34 years, Rhonda. The couple has two sons and two grandsons.
Over the nearly three decades Freeman spent working for Oklahoma City, he said the city's renaissance and growth paralleled his own life's transformation.
"In a lot of ways," he said, "I owe my development as a professional and just as a person to this city. When you have the support of good people who invest in you, it's hard not to get better."