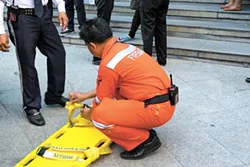 Bigstock
Bangkok Thailand - November 20 2015 : Many working people preparedness for fire drill or other disaster at office in Bangkok Thailand
To better inform metro residents about potential emergencies, the City of Oklahoma City, including its fire and police departments and Office of Emergency Management, hosts Prepare Fest Aug. 20 at Civic Center Music Hall, 201. N. Walker Ave.
The event features community resource representatives who will discuss creating individual and family readiness plans in topics spanning public health, natural disasters, active shooter scenarios, public safety threats and more, organizers said. Activities include a mock evacuation and seminars and speeches by meteorologists and police and fire officials.
Oklahoma City Fire Department member Joe Johns said education is a central component of Prepare Fest. Emergency Medical Services Authority (EMSA), American Red Cross and National Storm Shelter Association representatives will address severe weather, earthquake preparedness, wildfire prevention, mosquito mitigation and health and public safety threats.
Johns has helped plan Prepare Fest for about a year. He said the event concept stemmed from discussion around an emergency planning seminar that would prepare the civic center for a large-scale evacuation.
"They're supposed to do an evacuation on a periodic basis," he said. "In order to facilitate filling the place to somewhat of a capacity, 1,000 or so [people]," a safety festival seemed appropriate.
The event, which runs 10 a.m.-1:30 p.m. Aug. 20, includes free admission and a complimentary lunch for the first 1,500 seminar participants.
Seminars run 11 a.m. to noon and feature presentations from National Weather Service meteorologist Rick Smith, Oklahoma City Police Lt. and City of Oklahoma City Office of Emergency Management leader Frank Barnes and OKCPD Sgt. Jason Knight.
Disaster awareness
Barnes is scheduled to talk about Oklahoma City's new weather siren policy and earthquake preparedness, Johns said.
Johns stressed the importance of the siren policy.
"That's a big deal because people don't understand it, and we haven't had a lot of active weather this spring," he said.
Instead of sounding all county sirens during an imminent weather threat, the city created nine sectors that can sound the alerts individually. From the office's underground bunker, Johns explained that if a tornado crosses over several sectors, sirens will sound in all impacted areas. The bunker serves daily functions, and if disaster does strike, it's where officials from departments such as health, fire and police monitor severe weather.
Barnes also will discuss earthquake preparedness. Johns said it's important to know how to react during all types of natural disasters. For example, earthquake preparedness and safety guidelines differ from tornado guidelines.
"In one, you're going underground and the other, you're going in the middle of the street," he said.
Christina Nguyen, a City of Oklahoma City community relations coordinator, added that people who can't make it into the street during an earthquake should take shelter under a table and cover their head.
An addition, Knight helped launch Oklahoma City's new See Something, Say Something anti-terrorism awareness initiative from the U.S. Department of Homeland Security and will discuss the program during the Aug. 20 event, Johns said. The program encourages community members to be attentive of their surroundings and report suspicious or unusual behavior to authorities. It does not focus on nationality, ethnicity, race or religion.
"If [behavior] looks out of the norm, then call us," Johns said as he explained the initiative. "We want to know."
Community education
Oklahoma City is required to do community outreach as part of its FEMA-approved Hazard Mitigation Plan, which qualifies the city for disaster relief funds and federal grants.
One way Prepare Fest accomplishes the requirement is with a game, Nguyen said. Each of 12 large boards represents an Oklahoma natural disaster hazard, from tornadoes to drought. Festival guests place stickers marking their greatest concerns and hazards that have actually affected them.
"So we can kind of get some statistics on what our city is most concerned about and what affects us the most," Nguyen said.
Other festival games and features include Oklahoma City Fire Department trucks along the plaza drive outside Civic Center Music Hall. Children will receive badges from fire and police officers. An ambulance and a National Weather Service radar truck also will be parked outside so families can learn about and examine them.
Be prepared
Johns said organizers anticipate many questions from the public.
"'What can I do to make my house safer?'" Johns asked. "'What can I do with my family to make them safer?'"
A preparedness tip families could do immediately, Johns said, is to store at least one gallon of potable water for each household member for each day they might go without running water. He said something unexpected such as a lightning strike or tornado could affect water availability.
Additionally, representatives from 17 organizations will discuss topics like making emergency preparedness kits and how to use and program weather radios.
Prepare Fest admission and advance registration is free. Learn more at okc.gov/parks.
Print Headline: Reality fest, City and state organizations come together for Prepare Fest, an event to educate and prepare communities for disasters and threats.