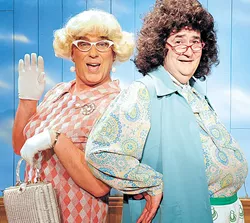 WENDYMUTZ
Jonathan Beck Reed and Donald Jordan star in CityRep's production of Greater Tuna. | Photo provided
Tuna, Texas, isn't exactly Mayberry.
"That's what we've always sort of thought," said actor Jonathan Beck Reed about comparing the setting of the play Greater Tuna to the setting of classic sitcom The Andy Griffith Show. "That's the tone. That's how they dress; that's kind of the small town they live in and stuff."
Donald Jordan, Reed's co-star in the revival of Greater Tuna opening at CityRep theater on Thursday, quickly added that there's one key difference about the population of Tuna.
"But they say the things real people would say," Jordan said. "Andy Griffith never said, 'Come to the Klan meeting today.'"
Elmer Jenkins, head of Tuna's local chapter of the Ku Klux Klan in the fictional "third-smallest town in Texas" would, though. And while Mayberry's Aunt Bee was famous for her delicious down-home cooking, Tuna's Aunt Pearl would rather serve poison to stray dogs. Described by The Washington Post as "Hee Haw with a serrated edge," Greater Tuna has spawned three sequels since it debuted in Austin in 1981. Written by Ed Howard, Joe Sears and Jaston Williams, the original Tuna featured Sears and Williams populating the entire town, playing 10 characters apiece.
Reed, who first saw the play during its original off-Broadway run in 1982, has played the roles created by Williams in several productions of Greater Tuna beginning with a 1985 production at Jewel Box Theatre. He said that the play has retained its edge over the years and if anything has recently gotten sharper.
"When this show first opened, our world was a very different place, and so when you saw the show, it was strictly a comedy," Reed said. "You'd see these characters, and you'd laugh at them because they were sort of marginal a lot of them. You could come out and be this Klan character in 1983, and people would laugh at you because you're so far away from any reality, but now you kind of sit there and it makes you look at the people next to you in the audience. It's almost like you don't know if you should laugh or you should be a little uneasy."
In CityRep's upcoming production, Klansman Jenkins wears a "Make American Great Again" hat.
"That guy was on Fox News tonight," said Jordan, who first filled the roles originated by Sears in a 1986 production at Fort Worth's Stage West Theatre. "It's as if we're making this up from today's newspaper."
WENDY MUTZ
Jonathan Beck Reed and Donald Jordan star in CityRep's production of Greater Tuna. | Photo provided
Perfect pairing
Though they've been in "about 50 productions" together in "two continents, three countries and 48 states" since discovering their "natural chemistry" with each other in University of Central Oklahoma's theater department in 1979, Jordan and Reed didn't make it to
Tuna
together until CityRep's 2008 production of the holiday-themed sequel,
A Tuna Christmas
. The play proved so popular, they brought it back for the next two holiday seasons. Finally, in 2013, they had the chance to appear together in the original
Greater Tuna
, which became the best-selling play in CityRep history.
Jordan and Reed said they can tell they've done a good job when audience members after the show ask them where the rest of the cast is.
Steve Emerson, who's directed the pair in all of CityRep's Tuna productions, said he completely understands.
"As many times as I've seen this, I still expect some of these other characters to walk onstage and enter the scene even though that's literally not possible because the actor who plays that role is already onstage," Emerson said.
The play, with mostly mimed props and only two actors onstage, might seem simple to the audience, but a look backstage would reveal a significantly more complex mechanism at work. Four people assist Jordan and Reed through the two-dozen costume changes they make during the two-hour runtime.
"Usually, you might have two seconds to look in a mirror that's mounted backstage before you dash out," Jordan said, "but you kind of have to trust that they're putting the right thing on you at the right time. And sometimes while we're backstage, we're actually still involved in the play. We're carrying on a dialogue as if the character's in the other room while people are taking clothes off of you. You're playing a different character, speaking as one character; they're taking another off you; they're putting a third one on you."
All told, Jordan estimates a Tuna production is equal to "about three plays' worth of work" for each actor. Jordan, who will soon turn 60, said this season's extended four-week run might be his last trip to Tuna.
"Even when you're playing a big role in a big play, you're not half of every word in the script," Jordan said. "You're like, 'I'm not in act two,' or 'I'm not in this scene,' or 'Oh, now here's the big dance number [so] I've got a chance to go off and get a Diet Coke; I've got to run to the bathroom; I've got to check my cellphone.' But none of that with this."
Emerson, who also studies martial arts, said watching Reed and Jordan working to inhabit a small town's worth of characters reminds him of something he learned practicing aikido.
"There are no techniques for fighting 10 people at once," Emerson said. "You can fight 10 people at once — one at a time. You still have to do it one at a time. You just have to do it a lot faster."
Print headline: Fresh catch; CityRep reels in Jonathan Beck Reed and Donald Jordan for Greater Tuna.