David Bricquet
from left Actors Ben Hall and Stacey Logan use on-stage chemistry to bring vibrant life to CityRep's production of Heisenberg. | Photo Oklahoma City Repertory Theatre / provided
Twentieth-century German physicist Werner Heisenberg's uncertainty principle states that one cannot know the precise position and velocity of an object at any given time. The term is also used outside of physics to describe how life is generally unpredictable.
Fortunately, fans won't need a science degree to enjoy the regional premiere of Heisenberg, the intimate 2016 Tony Award-nominated musical Oklahoma City Repertory Theatre (CityRep) is bringing to Civic Center Music Hall's CitySpace Theatre. It also is not a show with deep underlying symbolism that people need to "get." Instead, audiences are in for a relatable and reassuring look at love and life.
"You'll leave feeling uplifted and happy and fresh," said Stacey Logan, Oklahoma-born actress based in New York who plays Heisenberg's female lead. "It's just a nice, nice play."
The play, ideal for Valentine's season, premieres 7:30 p.m. Feb. 2 in the 90-seat basement theater at Civic Center Music Hall, 201 N. Walker Ave. The show has seven other scheduled showtimes running through Feb. 11. Tickets are $8-$42.
The show opens up in an English train station. Georgie Burns, an eccentric and talkative American in her 40s played in the CityRep production by Logan (an Oklahoma City University graduate known for Broadway roles like Rita in 2002's Sweet Smell of Success and Babbette in 1994's revival of Beauty and the Beast) meets Alex Priest, a quiet, 75-year-old English butcher played by longtime local theater fixture Ben Hall.
Georgie plants a kiss on Alex's neck. Why? The audience has no idea — at least not right away. The chance encounter leads to an adventure to the United States in search of Georgie's lost son. Viewers get a personal and relatable fly-on-the-wall glance at the couple's developing relationship.
"From the first scene, you get enough information to know that it's open to enough possibilities for this to go just about anywhere," Hall said.
While Georgie and Alex often appear as opposites on the surface, there are similarities the deeper one goes. CityRep artistic director Donald Jordan said Heisenberg is not the slick, quirky romantic comedy some might be expecting — though it is both romantic and funny. The feel is true to a mature, real-life relationship.
"Each of these human beings finds themselves in a spot where they're dealing with the challenges of a damaged life," Jordan said. "One of them is kind of in perpetual motion — running and fleeing. The other one is stuck in the relative comfort of routine without engagement. There's a way in which — if they can — they can each add to the richness and the fullness of each other's lives."
Director Ruth Charnay said the play — which includes no more than two actors, two tables and two chairs — is a treat for those who enjoy the kind of acting beauty that can only occur in a stripped-down, intimate theater setting.
"This is the opposite of spectacular in that the theatrics in this are that you have two fabulous actors," she said. "If we do it right, you never notice that there's a play going on."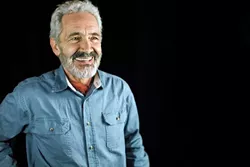 David Bricquet
Heisenberg actor Ben Hall has been a longtime pillar in the local theater community. | Photo Oklahoma City Repertory Theatre / provided
Simple beauty
The idea to do
Heisenberg
at CityRep was born immediately after Logan attended the show's off-Broadway premiere in 2015 at Manhattan Theatre (starring Mary-Louise Parker as Georgie and Denis Arndt as Alex. Logan is usually involved in at least one CityRep production per year and often pitches ideas to Jordan for what she'd like to work on.
"Stacey has a keen instinct," he said.
CityRep must make several considerations before it can add a play to one of its upcoming season. Not only must the play be of high quality, but they must be able to attain the rights and everything has to work within their budget and with their provided space.
"[Heisenberg] does all of those things," Jordan said. "It's a lovely play in this space."
Logan said the rawness of Heisenberg is what sold her on the concept for CityRep. She also enjoys the work of playwright Simon Stephens, who is also known for writing the 2015 Tony Award winner for Best Play The Curious Incident of the Dog in the Night-Time.
"I loved the simplicity of the set," Logan said. "It felt almost like an acting class. It felt very real and immediate and fun and spontaneous. You left the theater feeling really good about humanity and life. It was uplifting."
Jordan said the Feb. 2 premiere date marks not only the first time Heisenberg will be performed in the state, but anywhere in the region — a distinction of which the company is quite proud.
"If you live in a poor, slow, backwards city like Dallas, Fort Worth, Austin, Houston or Kansas City, you didn't get to see it yet," he said, laughing. "You have to be in a hip city like Oklahoma City."
'Uncertain' times
Jordan said
Heisenberg
is a very real and true piece of theater. It keeps the audience on the edge of its seat, truly wondering where the play will go.
"It's uncertain like life is uncertain," he said.
Uncertainty of any kind tends to feel unsettling to most. Surprises can be scary, even if they eventually turn out to be positives. Hall said his character eventually comes to the conclusion that uncertainty can actually be a source of hope, optimism and a type of comfort different from the perceived safety of routine.
"As Americans, and maybe as Westerners, we tend to go from uncertainty to the fear of the unknown and equate those two things," Hall said. "And yet uncertainty also means open possibilities."
No one ever really knows what the future holds, and Hall said that should be cause for excitement.
The cast and crew do not give precise details about what happens in the play or what it means. They are not being coy, Charnay said. Heisenberg carries a mysterious tone with it. The audience does not always fully understand why things are happening. The conclusion, to a degree, is open to interpretation.
"Every scene ends with a question mark," the director said, "which is part of the joy of the play."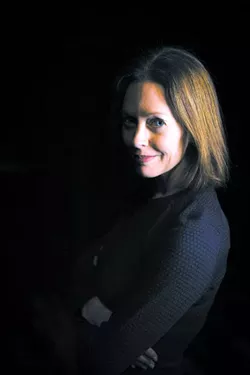 David Bricquet
New York-based actress Stacey Logan returns to CityRep for Heisenberg. | Photo Oklahoma City Repertory Theatre / provided
Earned trust
It is no secret that the local arts community has taken some financial hits in the last several years. Jordan said CityRep has not been immune to that but is looking forward to a strong conclusion to its 2017-18 season.
On March 9, CityRep will welcome legendary singer-songwriter Judy Collins for one night only. She will perform her special A Love Letter to Stephen Sondheim.
The company is also scheduled to bring back Greater Tuna, the most popular play in CityRep's history, for an extended run March 15-April 8.
Logan said the reason she regularly comes back to the state to perform with the company is because it is filled with quality people.
"I love the people involved, and I trust them," she said. "I know they do good work and they're smart people and they know what they're doing."
That level of trust is part of the reason she thinks CityRep's Heisenberg works so well.
"If I didn't know this guy and I had to come in and do this very sort of intimate piece, it wouldn't be as good," she said.
Visit cityrep.com.
Print headline: Possibilities abound; CityRep unveils the regional debut of the two-person play Heisenberg for Valentine's season.