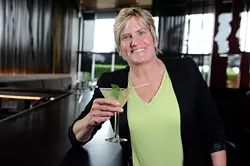 Garett Fisbeck
Margaret Holloway poses for a photo with her signature drink, The Gecko Fizz, at Cafe 501 in Oklahoma City, Tuesday, May 26, 2015.
Margaret Holloway, general manager of Cafe 501, sat across the table and was clearly ill at ease. Before we could get down to business, Margaret looked earnestly and said, "It makes me really uncomfortable that you don't have anything to eat or drink. What can I get you?"
After a round or two of halfhearted protest, a plate of sweets and a Gecko Fizz quickly appeared. The Fizz is a cocktail created by Holloway and her mixologists, and it is a whimsical, sparkling blend of cucumber-infused gin, St. Germain, Green Chartreuse and mint syrup.
It's also the emerald in the crown of the series of Saturday's Cocktails for Conservation event is 5:30-7:30 p.m. on the patio at Cafe 501. It features food, Gecko Fizzes, other libations and a selection of artwork created by zoo animals. A couple of small critters will attend the event, and if you ask nicely, you can probably pet one. Tickets are $65, available at zoofriends.org or by phone at 425-0615.
More than a dozen events, each tied to the All Creatures Great and Small theme, are planned through June. Each Classen Curve shop has added its own personality to the mix. Some events will happen at the zoo and others at Classen Curve.
"This is the first thing that Classen Curve has done that is truly united," Holloway said. "When we started planning things, it really garnered a lot of excitement."
Republic has created a signature drink, Rupert the Rhino, made with Prairie Wolf Vodka, Hibiscus Strong Tonic, lemon juice and simple syrup.
It's available through June — as is the Gecko Fizz — and drink sale proceeds benefit ZooFriends and The Oklahoma City Zoo.
Whole Foods is taking it to the zoo for Wild Tuesdays Story Time Safaris at 9:30 and 10:30 a.m. each Tuesday through July. Kids ages 11 and under will hear stories, meet a zookeeper and receive a healthy drink from Whole Foods.
Tara Henson, spokeswoman for The OKC Zoo, was in on the Classen Curve project from its inception.
"The Oklahoma City Zoo and ZooFriends is committed to the stewardship of our natural world," she said, "and we are beyond thrilled when the Oklahoma City community shares our commitment and takes the initiative to demonstrate that commitment by partnering with us."
Kendra Scott hosts a Sip & Shop 6-8 p.m. Tuesday, with a percentage of sales benefiting the cause. Red Coyote's Pack Pint Run is 6 p.m. June 11; Zoobilation, the zoo's annual gala, is 7-11 p.m. June 19; animal ambassadors starts at 10:30 a.m. June 20 at Uptown Kids; Tucker's Onion Burgers has declared 4-9 p.m. June 22 Zoo Night; and Liberte offers closing ceremonies 6-8 p.m. June 25 in the form of a champagne Sip & Shop.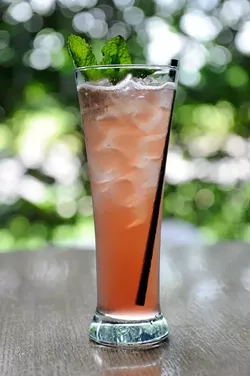 Garett Fisbeck
Rupert the Rhino at Republic in Oklahoma City.
Print headline: Toasting friends, Cocktails for Conservation and other events at Classen Curve help benefit The Oklahoma City Zoo.