Jacob Threadgill
Santa Fe chicken is a great dinner option at Cafe 501.
Cafe 501 is one of Edmond's most venerable restaurants as it closes in on 25 years of operation. The Classen Curve location opened in 2010, and it was one of the first restaurants I visited when I moved to Oklahoma City in 2017 after seeing good online reviews and buzz.
The chic décor of the surrounding Classen Curve development impressed me, as did the sleek interior at Cafe 501, but a lunch menu of salads, wraps, sandwiches, pizza and tacos, while well-executed, didn't leave a lasting impression.
As time has passed, I get busy checking out new restaurants, and sometimes the institutions fall through the cracks. Peter and Sheree Holloway founded Cafe 501 in Edmond in 1995 after Sheree Holloway attended the prestigious École Lenôtre baking school in France.
The Holloways' footprint has expanded over the decades to include Boulevard Steakhouse, the second 501 location, Martini Lounge in Edmond and an upcoming Italian concept later in 2019.
Fresh baked breads and sweet treats have become a hallmark of the Cafe 501 brand over the years. In doing research, I was a bit disappointed to see that neither location serves midweek breakfast; there's only the weekend brunch option.
Despite the lack of breakfast option, the bakery case at the entry is as tempting as anything in the city. It's hard to think about what you might want to eat for lunch or dinner when you're thinking about ricotta cookies, salted caramel butter bars or slices of pies and cake. The colorful macarons are almost as good of a dessert option as Cafe 501's bread pudding.
The first few times I went to Cafe 501 in Classen Curve was for lunch. I had a good experience, if not exactly very memorable. It offers a solid selection of toasted sandwiches, cold deli options and wraps. You'll find the standards: chicken salad, BLT, California club, meatball — even the vegetarian options didn't seem that inspired. It has grilled vegetable and grilled portabella sandwich options, which is the vegetarian equivalent of ham and cheese. How about using hummus for extra protein? It has hummus on the dinner menu as an appetizer.
The best things on Cafe 501's lunch menu are the Coyote Chicken Sandwich and Coyote Crunch Wrap: grilled chicken paired with caramelized onions and jalapeños. The wrap gets the addition of lettuce and tortilla strips, but it's hard to beat the housemade focaccia bread. I'd recommend any of the sandwiches served on focaccia if you're going carb-heavy.
As disappointed as I was with Cafe 501's vegetarian sandwich options, the restaurant should be commended for offering one of the city's most robust salad selections, with 14 options on the menu.
The strawberry and spinach salad has crispy goat cheese and hearts of palm, which is perfect for the summer. The fresh pear salad is perfect for colder months with spinach, blue cheese and bacon. I like the different salad options, but I was surprised to see that there is nothing vegan-friendly on the menu. Every option would require the elimination of cheese or meat protein.
I wanted to check out how the kitchen handles dinner on a recent visit after extensive time with the lunch menu. I noticed a mixture of new items like a tuna poke bowl and Thai bowl which is the only vegan entrée option alongside standards like its Santa Fe chicken, which has been a staple for years. The cast-iron chicken is a great dinner option: red wine braised chicken in tomato sauce with roasted tomato sauce, creamy polenta and spinach.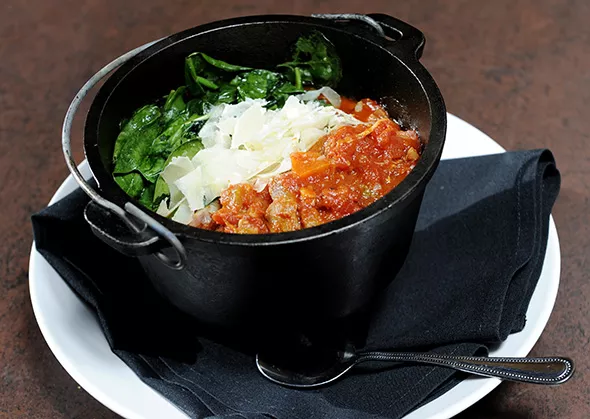 Jacob Threadgill
Cast-iron chicken
I nearly ordered the short rib stroganoff because I almost always order a short rib on the menu. This might be a controversial opinion, but give me a well-cooked short rib that has been infused with all sorts of flavors during the braising process over a medium-rare rib-eye. I didn't pull the trigger on the stroganoff because it inspired me to make one of my favorite recipes from Food Network's Giada de Laurentiis. It's short ribs seared and braised with roma tomatoes, beef broth, basil, a dark red wine (I use cabernet sauvignon) and Dijon mustard. When the sauce is blended together, it tastes a lot like stroganoff but doesn't have the extra calories of heavy cream. You can easily add mushrooms for a heartier dish.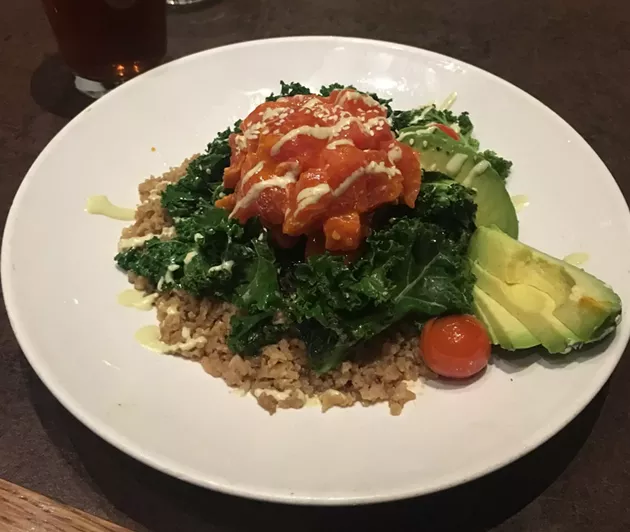 Jacob Threadgill
Tuna poke was served on warm and slighly wilted kale, which raised the temperature of the raw tuna.
I ended up ordering the poke bowl because I wanted to see how the kitchen executed the latest food craze, and it was a miss. The tuna wasn't cut very well, and a majority of the pieces had grisly fat. I couldn't taste any discernable marinade beyond Sriracha. There was no soy sauce, rice vinegar or sesame oil to be found. The cold tuna was served on top of lightly sautéed kale, which heated up the tuna to an unpleasant temperature. I would've kept the kale raw, massaged it and paired it with ginger sesame dressing.
Poke is one of the hottest food trends across the country, but this was a lesson to order it at a sushi restaurant, Okie Pokie, The One Cafe or at Caeli's Sweets Eats & Bar, places that have been serving poke for a long time and haven't hastily added it to the menu based on trends.
I also tried the mushroom pizza, which was excellent. The crust was crispy and soft in the center, and the mushrooms were hearty with the right amount of balsamic vinegar and arugula for extra greenery.
I had good service for dinner, and I like that they offer a tropical version of unsweet tea, but I should've probably known better than to order the poke at a restaurant that doesn't specialize in it. Poke aside, I've never had a bad experience at Cafe 501, and its bakery it top-notch, but with a vegan-unfriendly salad menu and standard sandwich selection, it feels closer to 2010 than 2020.