Jared Kinley
51st Street Speakeasy
Three of Classen Boulevard's most historic clubs are getting a makeover. The pandemic has forced all of Oklahoma City's restaurants and bars to evaluate how they will operate moving forward. Frequently, emergency accommodations allow establishments to be open in limited capacities, but most of these practices are expected to be temporary. HiLo Club, Edna's and 51st Street Speakeasy are looking even further with renovations and permanent additions.
While most of the improvements the spots have in mind will increase their occupancy while social distancing, patios and an entirely separate floor will allow them to host more patrons when packed bars are possible again. These improvements also encourage experimentation with new forms of entertainment. Just because we live in the new normal, it doesn't mean we can't have a good time.
HiLo Club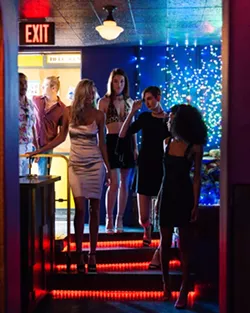 Jared Kinley
During lockdown, HiLo Club remodeled its space with a new bar, floors, bathrooms, vinyl and chairs.
Despite almost 70 years of operation, HiLo Club has seen few renovations. At the beginning of this year, HiLo already had plans for significant expansion, but the downtime forced by the expansion gave the dive bar a chance to make several cosmetic and quality-of-life improvements.
The bar itself and bathrooms have been entirely remodeled. In addition, it has been furnished with new floors, vinyl and chairs. In compliance with the city's mandate, it has been reduced to 50 percent occupancy and all bartenders wear masks.
"We kind of just gave it a little facelift," manager Jet Harkey said. "We still have the same feel we've always had but with newer, cleaner and better equipment. We're trying to bring this old '50s bar into the 21st century."
As for more technological advancements, HiLo has exchanged its classic register with a modern point-of-sale system. A new sound system is also imminent, bringing an audible pop to the legendary establishment.
HiLo intends to resurrect live music within the next month on a limited basis. Harkey suspects it might switch to acoustic-only sets for a more relaxed and safer experience. For something a bit more bombastic, it is hoping to host the Bang Bang Queer Punk Variety Show in the near future.
Among the more drastic renovations, HiLo is slated to introduce a patio space by spring of next year. Shortly after that expansion, the club intends to incorporate a second-story bar for even more space. In the same breadth, it will gradually shift to nonsmoking. Harkey admits these changes are gradual, but with such "an old space, it takes time to get it right."
In many ways, Harkey finds these additions as a way of expressing appreciation for the community that has kept HiLo alive. In 2018, for example, HiLo and the surrounding businesses were on the verge of leveling to make room for a new Braum's. Patrons showed up en masse to protest the move, and Braum's ultimately stepped back.
"We're feeling confident we'll remain open, and hopefully the whole building will get renovated eventually. Whatever we do, we want to keep the same feel of the HiLo with a few welcomed improvements," Harkey said.
Edna's
Since 1989, Edna's has served over 2 million of its famous Lunchboxes. For the last six years, the bar has sought to renovate in memory of its late proprietor.
"We want to provide a better experience for our patrons," said Tammy Lucas, daughter of Edna Ruth Scott and the bar's current owner. "Plans include more bathrooms, patio spaces, parking and a larger freezer for all of those frosty, cold Lunchboxes loved by so many. We will also have an upstairs bar open on weekends that will be available for private events throughout the week."
Previously, Lucas and her staff were forced to remove furniture in order to meet capacity. With the additional space, Edna's will be able to host more patrons without compromising comfort. During the shutdown, a lack of foot traffic gave the bar an opportunity to install new flooring as well.
The initial months of the pandemic brought a wave of anxiety for many bar owners. Despite the hiatus, Lucas feels Edna's reopened without skipping a beat.
"The staff missed coming to work, and judging from our reopening, the patrons missed being here as well," she said. "We believe the spirit of Edna's was never really diminished and just naturally maintained."
Because of the reduced occupancy requirements, Lucas finds the weekends have slowed down to match pace with the weekdays. However, business has remained consistent despite the challenges. As restrictions begin to safely wane, patrons will be greeted with a new yet faithful Edna's.
"We have been continually growing and adapting to best suit our patrons' needs for over 31 years, while at the same time keeping our Edna's original uniqueness alive," Lucas said.
Jared Kinley
51st Street Speakeasy spent three months cleaning, painting, installing plexiglass and revamping its food handling system.
51st Street Speakeasy
Whereas HiLo and Edna's will expand their spaces, 51st Street Speakeasy is finding creative ways to make the most out of what it already has.
"We were closed for almost three months," Speakeasy owner Greg Bustamante recalled. "After a brief and well-deserved period of sulking, we figured the best thing was to at least do something."
During the downtime, Speakeasy staff committed to cleaning, painting and routine maintenance that could be undertaken in the absence of revenue. When it did reopen, every bar counter was surrounded by plexiglass. Speakeasy's menu was also updated and it implemented QR codes for ordering and a designated pick-up window to decrease overall food handling.
Keeping the spirit of Speakeasy alive, however, proved difficult. Over the last few years, the club exploded with unique art shows, themed dance parties and even a Buffy the Vampire Slayer sing-a-long night. It is slated to bring back some of its live entertainment, along with a few brand-new projects, in the fall. In the meantime, the bar has still been able to host a bi-monthly burlesque show courtesy of Terre Rouge Burlesque.
"They have continued the spirit of the tease through the pandemic. Every Thursday from 8:30 p.m. to 12 a.m. is a Patio Peep Show performance. The women are inside the red-lit bay window, and a customer goes behind the curtain outside for a private show," Bustamante said. "It's safe, social-distanced entertainment."
Speakeasy is also looking to expand its musical presence outdoors through its SoapBox Stage. Thus far, the stage has played host to acoustic performances from likes of Hosty, Andy Adams and Jose Hernandez, with more to come later this year. Bustamante also hopes to bring trivia nights back sometime in the fall. Speakeasy is actively searching for a sponsor for SoapBox.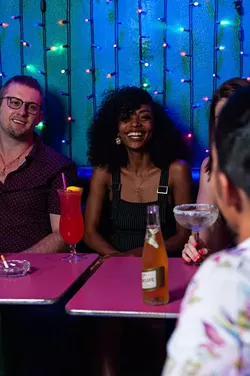 Jared Kinley
HiLo Club
The migration for entertainment outdoors gives the interior of Speakeasy space to breathe. The large game room and lounge upstairs remain open and provide ample room for distancing. This necessary shift in arrangement has shown a side of the venue that's more subdued and contemplative. The thunderous weekends the bar is known for will return, but in the meantime, Bustamante finds it's time for "chill mode."
"As much as I'd like to hear the roar of applause for a local band or feel the heat of a sweaty '90s dance party, I know now is just not the time for it," he said. "The good thing is that this place has always been guided by its environment. Now is the time to slow down, adapt and hang on."
Visit facebook.com/hiloclubokc, ednasokc.com, 51stspeakeasy.com.