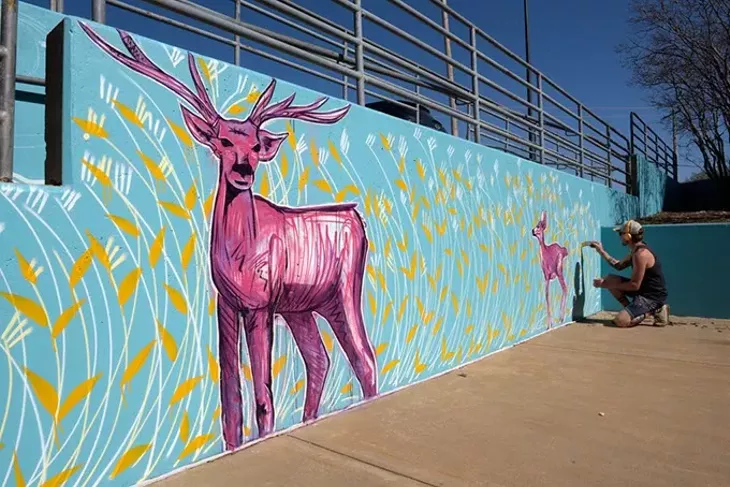 Garett Fisbeck
Jason Pawley works on a mural at Eugene Field Elementary, Monday, March 20, 2017.
When members of Eugene Field Elementary school's community advisory board learned the northwest Oklahoma City prekindergarten through sixth grade school would go without a visual arts program for the 2016-17 school year, board members responded with a plan to bring the arts back.
"We needed to do something," said Jessica Thompson, president of Eugene Field's community advisory board (CAB), which works closely with school leaders to develop goals and assist in a variety of ways. "I believed the kids would be at a disadvantage when compared to kids from other districts in Oklahoma that offered both art and music."
Due to state funding cuts, Eugene Field, one of 54 elementaries within the Oklahoma City Public Schools (OKCPS) district, began this year without a visual arts teacher or opportunities to learn about or participate in artistic creation.
The lack of visual arts classes concerned the Eugene Field board, comprised of members who live in the Classen Ten Penn neighborhood or work in nearby 16th Street Plaza District, one of OKC's top arts and entertainment areas. Art courses provide students with a creative outlet, increase their self-confidence and build teamwork skills and self-discipline as well as serve as a fun period for elementary students.
"It broke our hearts to see they had this great classroom, an arts classroom, sitting empty," said Kelsey Karper, CAB board member and co-owner of Current Studio, an experimental art space in the Classen Ten Penn neighborhood.
"We started thinking, as an arts organization in the neighborhood, how could we come up with a structure for providing arts programming," she said.
With the support of the CAB board and the school principal, Current Studio drafted a plan to help secure Eugene Field students a well-rounded education with art lessons by visiting artists this school year.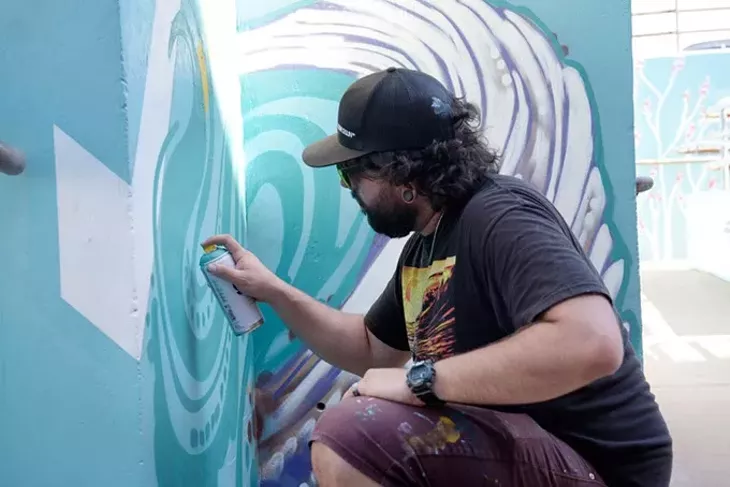 Garett Fisbeck
Artist Sean Vali helps create colorful public art at northwest OKC's Eugene Field Elementary school.
Back in school
Following the success of its FundEd: A School Cafeteria-Themed Dinner fall fundraiser, Current Studio sponsored four artists to teach three-week sessions this semester to second- through sixth-graders.
"We wanted to come up with a model that could potentially be replicable in other schools as well as something that is sustainable for the long-term," Karper said. "It is an opportunity for artists, but it also benefits students."
With dozens of stuffed animals placed before fourth-graders, local artist Balthazar Hensley invited students to deconstruct them. The hands-on opportunity also gives youths unstructured time to explore and invent new forms as well as learn how to sew. Artist Erin Shaw introduced third-graders to color mixing and color theory. Using vanilla wafers, frosting and food coloring, each student created an edible color wheel.
In May, artist Nicole Emmons-Willis will introduce stop-motion animation to second- and sixth-graders and artist Nick Lillard will teach mixed-media sculpture to fifth-graders.
Garett Fisbeck
Local artists Sean Vali and Jason Pawley are part of an effort to bring public art and art education back to Eugene Elementary school students.
It's possible
When Thompson joined the CAB board, she had three goals: improve parent engagement, create a school fundraiser and bring public art onto the school campus. Addressing the loss of a visual arts program also became a top priority. She and fellow board members took steps to reach those goals.
This spring, parents and grandparents began attending two-day-per-week English as a Second Language (ESL) classes taught by a Community Literacy Centers instructor. Parent-teacher communication can be challenging, and Thompson said the board hopes such classes help bridge the gap between parents and school leaders. Breaking down the language barrier is key to easing comfort levels for parents and grandparents to become more engaged with the school.
Recently, artists Sean Vali and Jason Pawley created a forest-themed mural for the campus' courtyard entrance. The work incorporates Eugene Field's deer mascot and brightens concrete walls leading into the school.
Last year, Thompson and Karper saw fellow neighbors and community members become involved with the elementary school. Most arrive aware of the challenges of urban engagement, along with school cuts, and are eager to help, Thompson said.
"What we are doing here with the Eugene Field CAB is the model," Thompson said. "We should be pulling people from the community to support the schools, especially when they are lacking in state funding."
When it comes to volunteering at schools, often, parents tutor students, serve as reading buddies or teach after-school enrichment programs. Non-parents can face initial barriers when engaging with a school, which is why Karper said CABs can play a critical role in enlisting community help.
"As a community member, there is no invitation to become involved and engaged unless there is a community action board," she said.
Karper and Thompson believe their plan is replicable at other elementary schools. Their stories of involvement, along with the work of the community board, encourage others to help neighborhood schools.
"Even though we lost funding for art, we were able to find people in our community that wanted to help," Thompson said. "You hear about the possibility of schools closing down and the overall reputation of Oklahoma City Public Schools, but this is a beacon of hope. Here, despite a lack of state funding, our community came together and supported our schools."
Garett Fisbeck
Local artists Sean Vali and Jason Pawley are part of an effort to bring public art and art education back to Eugene Elementary school students.
Print headline: Brighter futures; A neighborhood and arts district rally to return art and art education to Eugene Field Elementary school.