Garett Fisbeck
Chicken Fried Steak at Stevie's Cafe, Tuesday, Aug. 16, 2016.
Great meals often appear on the way to something else.
The culinary growth of Oklahoma City means driving its streets can be a blessing and a curse for a food lover. Put on a blindfold, spin around and shoot an arrow in any direction and there's a good chance it will seriously wound someone. Arrows are sharp and dangerous.
But the arrow will probably also hit three good restaurants on the way to an involuntary manslaughter conviction.
There's no diner worth spending a dime in the slammer, but Stevie's Cafe, 6072 S. Western Ave., comes close.
The soundtrack, according to the waitstaff, is a reflection of the kitchen's mood on a given day. Based on a few visits, the kitchen is full of happy people.
And happy people make happy food, judging by the likes of Hungry Boy ($5.99). What a name. It would be hard enough to resist ordering this just for the sheer joy of looking the server in the eyes and saying, "I'll have a Hungry Boy, please." But the food that comes is so deeply satisfying Stevie's could change the name to something terrible and it'd still be a best seller.
"Could I get the Invasive Tax Audit?"
If the Invasive Tax Audit had a double helping of biscuits and gravy, two eggs and two sausage patties, then the answer is, "Yes, yes, a thousand times yes."
Massive, fluffy biscuits toe the line between solid and gas. Break one open and it feels like it could float away, which is why customers must quickly apply a liberal dose of creamy, peppery sausage gravy.
Garett Fisbeck
Hungry Boy at Stevie's Cafe, Tuesday, Aug. 16, 2016.
Like the best diners, Stevie's knows how to cook an egg. Order them up fried easy or soft scrambled and bask in the glow of a perfectly prepared breakfast staple. Even the sausage patties were done just right.
Too often, sausage is an afterthought that becomes an immediate regret when customers take a bite of a rock-hard ground pork hockey puck. But these thin discs retained a delicate texture that gave way easily to being cut with a fork but held together when lifted to the lips. It might seem like a little thing, but it's one that shows the cooks know what they're doing.
Some folks do not care about meat, or perhaps they've been hurt before and must guard their hearts. But for those who cannot restrain or repress their emotions, Stevie's has Meat Lover's ($7.49).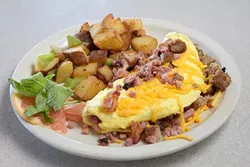 Garett Fisbeck
Meat Lover's at Stevie's Cafe, Tuesday, Aug. 16, 2016.
As the name suggests, it is meant for lovers of meat. Specifically, it's for people who love ham, sausage and bacon alongside a couple of eggs and a heaping helping of home fries.
If the name Hungry Boy got a rise, seeing a plate with a giant slab of bone-in ham is reason for confetti cannons and booth-dancing. The texture of the ham with grill marks across the surface was a delight. Each bite had a bit of chew, releasing more of that salty, slightly sweet flavor mixed with a bit of char.
The home fries are a great side, but if Stevie's is serving it, the macaroni and cheese is a lock. Restaurants try (and fail) to make great mac and cheese all the time, but this simple southside cafe has the recipe down pat.
Given that she put her name on it, Stevie's Favorite Spinach Omelet ($7.49) seemed like it was worth a shot. What an understatement.
The spinach is not wilted and slimy — a sad state of affairs many restaurants serving spinach seem to think is normal. It was crisply fried in bacon grease. The omelet held more, of course: big chunks of perfectly cooked bacon, creamy jack cheese and fresh tomatoes.
It's a rustic omelet in the best sense of the word. Don't go in expecting a thin crêpe of eggs delicately folded around a bit of filling. Stevie's serves meals. Anyone who's hungry an hour after stopping at this restaurant must have forgotten to order, because they do not mess around.
Take the Bacon Waffle ($5.99), but not mine. Leave that one. Get another.
Garett Fisbeck
Bacon Waffle at Stevie's Cafe, Tuesday, Aug. 16, 2016.
The waffle was airy and crisp, but nice and deep. On top, of course, was the requisite sprinkling of bacon. But dig deeper. Let the fork sink into the fluffy squares of batter and it will find perfectly cooked bacon hidden inside the waffle. It's like finding a bag of money inside a hug — it was so good to begin with, but it just keeps getting better.
Every step of the way, this restaurant goes above and beyond. The service is friendly. The food is delicious. It just feels like home. Except few homes serve a chicken-fried steak ($8.99) as good as the one at Stevie's.
This hand-breaded beauty has everything a great chicken-fried steak needs. The crust was crisp and had enough body to hold the gravy, but not so much that it's all you taste. The seasoning was on the spot, as well, with a nice bite of black pepper. The meat wasn't quite fork-tender, but it doesn't take more than a quick chew to make it melt in the mouth.
Stevie's Cafe is about the best argument one could imagine for wandering about Oklahoma City. Take a drive, with or without a destination, and get lost in this massive city. With a little luck, anybody can find a place this great hidden in plain sight.
Print headline: Cafe culture, Classic diner fare gets a personal touch at Stevie's Cafe.