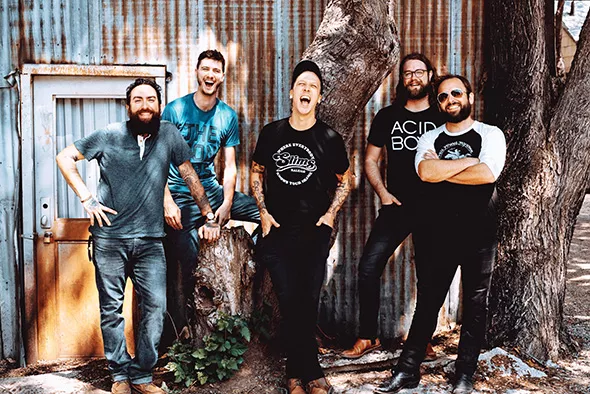 Cal Quinn / provided
American Aquarium is scheduled to play 8 p.m. Sunday at Tower Theatre, 425 NW 23rd St.
Sometimes, the more things change, the more they keep on changing.
Between recording 2015's Wolves and this year's aptly titled Things Change, hardly any aspect of American Aquarium frontman BJ Barham's life has stayed the same.
"Since the last record, I got sober, I got married, I had a kid, I had a band quit, I had a band join, the presidential election happened," Barham said. "It's the understated title of the year, but I couldn't think of anything better or simpler. Take my personal stuff away from it and it's just one of those inevitable facts. … It's just a universal concept, and it doesn't need much explaining."
American Aquarium is scheduled to play 8 p.m. Sunday at Tower Theatre, 425 NW 23rd St. On the band's latest album, Barham's lyrics address the breakup of the best-known incarnation of his band to date ("When We Were Younger Men"), getting sober for his wife ("I Gave Up the Drinking Before She Gave Up on Me") and the despair he felt on election night in 2016 ("The World Is on Fire") but his infant daughter Josephine Pearl's influence might have had the biggest impact on the songwriting.
"I started off writing this record from a pretty negative standpoint, just kind of bitter, not knowing," Barham said. "I just had a band quit. I was watching our country go through the election. I was watching this hatred bubble up, this dark underbelly of America that we thought we'd put to bed 30 years ago. People thought they could say anything they wanted to in public, being hateful, being rude, just being plain-out evil. So it's hard to keep positive during those situations, but a kid forces you to stay positive. A kid forces you to be optimistic because you have to. Because if you stop being positive and you stop being optimistic, what is your child's future going to look like?"
On album opener "The World Is on Fire," Barham asks, "When did the land of the free become the home of the afraid — afraid of the world, afraid of the truth, afraid of each other?" And though the questions initially leave him speechless, he resolves by the chorus that "we just can't give in; we just can't give up. We must go boldly into the darkness and be the light."
It's a sentiment not everyone wants to hear.
"There's some people that just really don't like the record because they couldn't get past the first song," Barham said. "I tried to write a record with empathy. I tried to write a record without insulting someone else's perspective, but if you're making a record in 2018 and you're not addressing the political climate, are you really writing a record about 2018? It encapsulates so much of what our culture is based around now. … A lot of people play it safe and sing songs about trucks and cold beer and pretty girls. That's not the songs that I'm interested in writing. I'm interested in writing songs that touch into the human condition right now. … I'm not saying everybody should go out and make a political record because some people are just going to come out and say, 'I'm right. You're wrong. Fuck you.' And that's not how we're going to have any kind of political discourse. That was the biggest struggle with this record, making sure I said things in a way that didn't offend anybody, that didn't call anyone's beliefs wrong."
The restraint needed to address those who disagree with him with respect has come with time. Barham, whose most popular song is quarter-life-crisis anthem "Losing Side of 25," said he's thankful for the perspective he has at the age of 34.
"I don't know if the 25-year-old version of me could've handled the subject matter on this record," Barham said. "I would've fell short. I would've been crushed just by the sheer pressure of writing about this kind of stuff."
While he has the wisdom of an older man, Barham said playing with the band's new lineup — lead guitarist Shane Boeker, drummer Joey Bybee, bassist Ben Hussey and pedal-steel player Adam Kurtz — has been rejuvenating.
"They breathe a certain kind of life into these songs that hadn't been there since the songs were recorded," Barham said. "I was with the same band for eight years. … Everybody was getting tired and everybody was getting bored. They weren't as inspired as they were when we recorded these songs, so it's nice to surround myself with a bunch of musicians that were excited, that want to be here, that want to play these songs for people. I feel like a 21-year-old kid again."
Fullbright scholars
Provided
Things Change, recorded in Tulsa's 3CG studios with an almost entirely new band lineup, was released in June.
Things Change
was recorded at Tulsa's Hanson-owned 3CG studios and produced by Oklahoma singer/songwriter John Fullbright. Having his "dear friend" Fullbright at the controls gave Barham more confidence to be vulnerable and honest in his lyrics.
"As a songwriter, I was very, very comfortable turning my songs over and letting him produce this record," Barham said. "It takes a lot of trust because songs are basically like this really intimate snapshot of your personal life, and you're turning them over to someone else and going, 'OK, you can make changes to it. … I'm turning over some really serious, sensitive stuff. Be careful. Be gentle.' He was fantastic. He took all of these ideas and turned them into kind of these grandiose arrangements that we absolutely love."
Though Barham is based in North Carolina, he said he has always had a "core fan base" in Oklahoma City, Tulsa and Texas.
"I think anybody in that part of the country can get behind the work ethic this band has," Barham said. "We play between 250 and 300 shows a year, so we work pretty hard for what we got. We write honest songs about regular people."
Barham celebrates that common work ethic in "Work Conquers All" a song based on Oklahoma's state motto, labor omnia vincit.
"Working your way out of any situation, I think that's something that not only people from Oklahoma can get behind, but that's something that Americans can get behind, especially in 2018," he said. "The idea of perseverance, taking a situation and changing it to the way you want it to be through hard work, is part of the American ethos, I think."
Evolution requires change, and change, for the better at least, requires work.
"As a writer, the goal is to progress, not just as a writer but as a person and learn to open up more and learn how to look yourself in the mirror and see those really dark, ugly truths, stare them in the face and write about them," Barham said. "That's hopefully what people are getting out of this record — a guy who's doing a lot of searching of self and just putting pen to paper."
Texas singer-songwriter Jamie Lin Wilson is scheduled to open. Visit towertheatreokc.com.