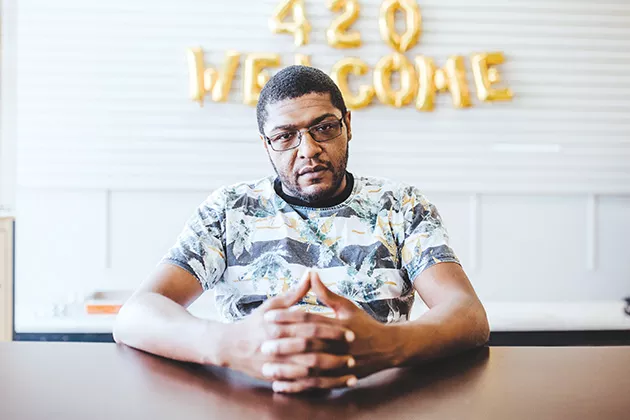 Alexa Ace
Sam Hill Sr. recently closed Cannabis Aid, one of the first cannabis dispensaries opened in Oklahoma City.
One of the first dispensaries to sell cannabis in Oklahoma City has closed its doors.
Cannabis Aid, 1612 NE 23rd St., weighed its last flower sale May 9.
The dispensary previously sold CBD products but was one of the first shops in the city to sell raw cannabis flower on Oct. 26, the first day sales became legal. It was doing $10,000 per day in business during opening weekend, co-owner Sam Hill Sr. said.
But on Jan. 6, co-owner Elijah Mothershed Bey, his partner Carnesha Powell and her 15-year-old daughter Roshawna Stevens were found slain inside their home in northeast Oklahoma City. No one has been arrested or charged in connection with their murders more than four months later.
Hill said their deaths changed the course of the business.
"Ever since Elijah passed away — he controlled 95 percent of the company, him and his wife, so the books, the inventory, all that type of stuff — so when he passed away, me and the family tried to pick up pieces to the puzzle we didn't have all the pieces to," he said.
But a discrepancy between what Cannabis Aid's owners thought they owed Oklahoma Tax Commission and the amount the tax commission demanded resulted in them immediately closing the business.
Instead of trying to resolve the situation, they chose to close the dispensary to focus on other business ventures.
Xavier Schucker, Elijah's 24-year-old son, had been at the business every day since his father's funeral, often running the dispensary from open to close. Shortly before Cannabis Aid finally locked the doors, Schucker suffered a medical incident at work and rushed himself to OU Medical Center. What felt like a heart attack ultimately might have been a panic attack, but he will have more blood work done next month to make sure it's not a larger health issue. He was also the one who found the crime scene, something he had not taken the time to fully process.
"I can say even before this happened, when I came down to help him, I knew I was going to be under a lot of stress being in the cannabis industry, running the shop, all that, but I still didn't really fully comprehend it until I was knee-deep in it," Schucker said. "So then, at that point, it was just adapting and changing. That's what I've always been able to do my whole life, and that's why I've been able to do things and get through a lot more stuff than people would normally say they'd be able to get through, because I'm always able to adapt and overcome it. And so when this happened in January, it definitely was life-changing. That goes without doubt. It definitely changed things. It just made me really have to sit back and process everything. Taking this almost two weeks now, God, I feel so lazy, like I haven't been down there in a week almost. This whole week, really, I've just been really processing, relaxing, getting a lot of sleep in, I'll be honest with you, because before, I was not sleeping a lot."
Competitive market
Despite long hours, no employees and offering deals on flower that put Cannabis Aid in the red, nothing worked after Elijah's death.
"We've been slowly trying to get ourselves out of this hole and were kicking the can down the road as best we can to keep things balanced with the little bit of income we're generating from the store and just couldn't," Hill said.
He said after the deluge of patients from being one of the first dispensaries selling flower died off, Cannabis Aid was making scraps.
"We always tried to be competitive, but we even went to the point of having prices too low to even be self-sustainable for a while to try to drive traffic to see if that could get a rebound going. Nine dollars, tax included; we can't really beat that," Hill said. "Plus you're dealing with all the emotional, which, don't even want to go there, with lack of sleep and then trying to deal with business relationships. Elijah's connections for half the stuff, so I don't even have half their numbers or when they would come to contact me, they'd be like, 'Yeah, we'll be in touch,' and then never be back in touch type of situation. With all the public support you saw after his initial death, after that vacuum, there was nothing, supportwise.
"It went from being $1,000 a day to a $100, $200 a day. Rent's $2,000, electric bill's $1,000, gas bill's $1,000, Cox for internet, security system, alarm system was $700 a month for everything. Hell, the software for compliancy for the point-of-sale system was $400 a month, and that was the cheap option, so you're looking at $8,000 a month total roughly expenses before you're talking payroll, before you're talking supply. That's just the building, the lights, compliancy. And you're making $4,000 a month."
Another investor might take over the location as a dispensary, but Hill said they are more interested in focusing on their venture next door, Lion's Den Lounge. It is a patient-friendly hookah bar that is currently open on weekends and for special events.
And Schucker is more interested in focusing on marketing their processing arm than being behind a dispensary counter anyway. He plans to keep focusing on that brand, Sooner Gold, starting with its vape cartridges.
"Sales is always something I've been good at," Schucker said. "I've worked for insurance companies, I've done retention, I've done sales, I've sold cars. Selling things … I'm very good at talking to people. I make the product myself. I'm going to put out a product that's not just good, it's going to be great because it's going to be something I'm going to actually put all my time, energy and I'm not going to cut corners; I'm going to make sure it's a good product, and not everyone is like that.
"If you're not in the industry for the right reason, you're not going to last. There's so many people that are just looking at the dollar signs, and I'm looking at these patients that come in here and they're getting off opioids because they're smoking cannabis or they're eating edibles or taking tinctures and just seeing the life come back to these people, the color return to their faces. I mean, that's the whole thing."