Alexa Ace
Skydance Brewing owners Nicholas Hodge and Jake Keyes at Brewers Union
In early December 2018, Jake Keyes fulfilled a lifelong dream of opening his own commercial brewery — Skydance Brewing Co. — at Brewers Union with the news of a potential federal government shutdown looming, but its potential effect on his new business didn't hit home until it was too late.
As the federal shutdown, which began Dec. 22, and the dispute over border wall funding drags on as the longest shutdown on record, the closure of the U.S. Department of the Treasury's Alcohol and Tobacco Tax and Trade Bureau is affecting the approval of new labels.
Skydance was able to get the proper clearance to sell its first two beers, Oklahoma Gold ale and Skydance IPA, but only through kegs, leaving its only market the competitive restaurant taps and the taproom of Brewers Union, 520 N. Meridian Ave.
"The biggest thing is that we were a little behind getting our cans designed and developed, so those haven't been submitted," Keyes said. "It's tough because that means I have to buy $7-$8,000 worth of kegs to keep going."
Keyes said the burden would begin to mount if the shutdown lasts a few more weeks, which made him worried after President Trump said that the shutdown could last six months to a year.
"It will really hurt us because we can't just keep putting 30 barrels of beer into kegs," Keyes said. "Draft accounts are harder to get. It's a lot easier to go sell beer in a liquor store. There is more competition for a restaurant that's only got six tap handles, and you've got more breweries than that just in Oklahoma City. We need to get half of our beer into cans."
Keyes said he first began to join his father's homebrewing attempts when he was just a teenager, joking that he'd say he was helping, but in likelihood just getting in the way. By the time he was of age to drink, he got a job at Coaches Restaurant & Brewery in Norman, where he fell in love with craft beer. He and his father began to dream about opening a brewery, but his father got sick about six years ago and entered a nursing home.
After his father died, he wanted to open a brewery in his honor. He joined with Nick Hodge, former president of Red Earth Brewers homebrewing club, to create Skydance. They originally wanted to build their own brewery, but as potential costs began to rise, three tenants at the Brewers Union left to open their own standalone breweries, opening space for Skydance.
"It was time to get us going and get our feet on the ground before we find our own location," Keyes said. "Hopefully, before it's time we're packaging our next beer, [the department] will be back open. We know they're going to be backlogged, so we're going to get stuff in the system. Hopefully we're not too far behind."
There are more than 30 breweries operating in Oklahoma, and its largest brewery — Prairie Artisan Ales, based in Krebs where it has a production facility, including another in McAlester in addition to taprooms in Tulsa and Oklahoma City, 3 NE Eighth St. — is heavily impacted by the shutdown due to its reliance on monthly specialty beers.
Prairie Artisan Ales owner Zach Prichard appeared on MSNBC Jan. 8 after the company's Twitter tweeted at the president, "We are an American-owned company and we want to distribute a new beer, but the shutdown includes the Alcohol Tobacco Tax and Trade Bureau … so we currently can't move forward. Please help. The people want the beer."
Prichard told MSNBC anchor Craig Melvin that Prairie stands to lose between $500 and $550 thousand in revenue due to the delay in release of a new Imperial stout Oh! Fudge made with brownies.
"For the first quarter of this year, we always do a lot of specialty releases, new beers," Prichard said to Melvin. "Over the course of this year, we were planning on about half of our sales to come from those new beers. For the first quarter, it is even higher, 60-65 percent of sales we were planning through these new beers, and we don't have approval for them yet because of the shutdown."
Prichard noted that Prairie has grown from a handful of employees to now employing 75 people.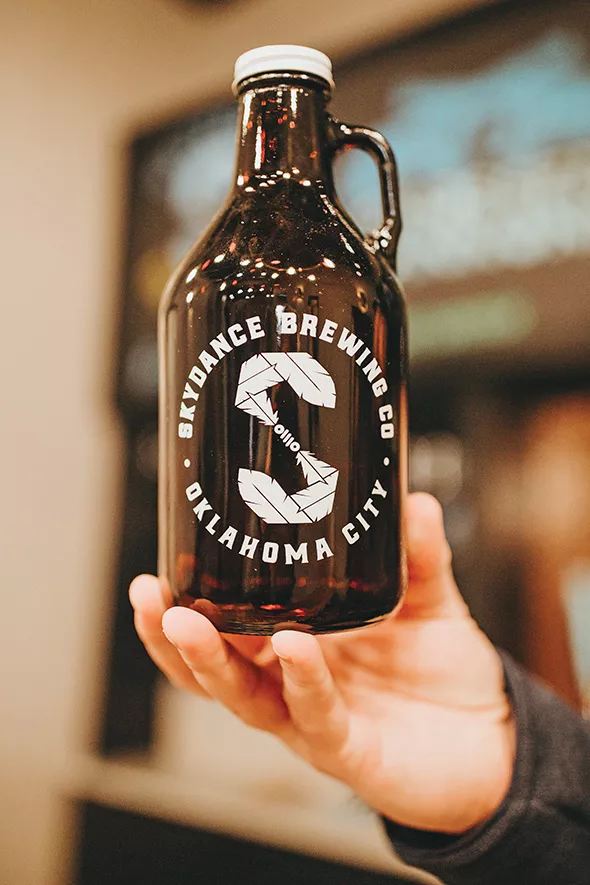 Alexa Ace
Skydance is only able to sell its beer at the Brewers Union taproom and through the competitive draft beer market during the federal government shutdown.
"These are big numbers for us and have a lot of impact on a number of people's lives," he said. "I just want to be able to get these labels approved to sell my beer and keep making new jobs, keep growing the company and doing cool stuff."
Other local breweries like Roughtail Brewing Co., Elk Valley Brewing Company and Vanessa House Beer Co. said the shutdown hasn't affected them because their core line of beers are approved but expressed concern if the shutdown continues to linger and affect the release of summer beers.
Patrick Lively, Lively Beerworks owner and president of Craft Brewers Association of Oklahoma, said that the backlog created at the ATTB will likely push what was normally a 20-day approval process to 40 or 60 days.
"That's just time that you're basically losing on that product," Lively said. "The shutdown affects real people's lives. Our small businesses are affected; obviously, there are hundreds and thousands of federal employees not getting paychecks, which in the grand scheme of things is probably a little bigger deal than our labels getting approved."
Lively encouraged people to contact their elected officials to let them know the impact of the shutdown on everyday lives and businesses.
In neighboring Colorado, U.S. Senator Michael Bennet sent a letter to Treasury Secretary Steven Mnuchin on behalf of the state's nearly 400 breweries, which are part of the country's craft brewing industry that he said represents $76.2 billion and 500,000 jobs in the U.S. economy, according to The Denver Post.
Late last week, the IRS recalled 46,000 furloughed employees, a little over half of its workforce, to work for free to help process income tax refunds. No such movement has been made at the Treasury Department.