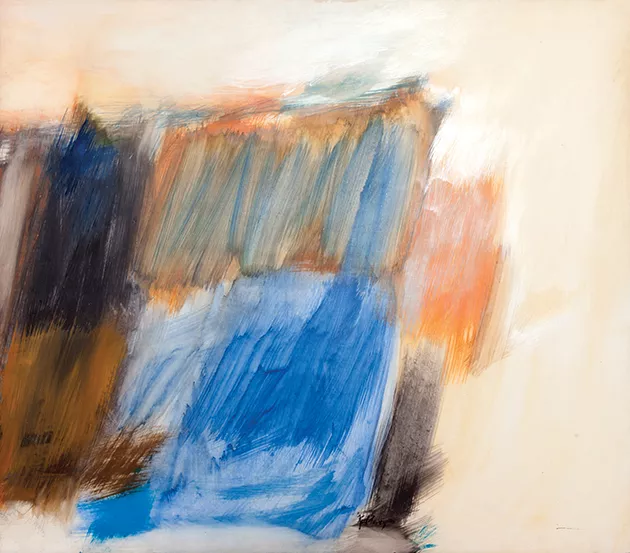 Oklahoma City Museum of Art / provided
Ida Kohlmeyer's "Transverse"
Postwar Abstraction: Variations
through Dec. 31
Oklahoma City Museum of Art
415 Couch Drive
okcmoa.com
405-236-3100
Free–$12
If you have trouble understanding or enjoying abstract art, Oklahoma City Museum of Art curator Roja Najafi offers some reassuring advice that will be familiar to fans of Douglas Adams' The Hitchhiker's Guide to the Galaxy.
"Do not panic!" Najafi recommended in an email interview. "When confronted with an unfamiliar new style that you may not like, especially if it is abstract, don't dismiss your feeling of dislike, shock or unease. Not everyone should immediately like a new style."
Postwar Abstraction: Variations, an exhibition of abstract paintings, is on display through Dec. 31 at Oklahoma City Museum of Art, 415 Couch Drive. Najafi said the modern art form — emphasizing color, shape and the process of creation itself rather than fulfilling art's traditional function of representing subjects drawn from reality — has continually created controversy since its introduction in the early 20th century.
"Abstract art tends to elicit extreme responses in viewers," Najafi said. "Some people embrace the liberty of interpretation offered by abstract art, while others despise it, complaining that abstract art is too simple."
Instead of ignoring these complaints, Najafi said the museum has decided to confront them directly.
"In this exhibition, we decided to choose one key work in each gallery to address this collective skepticism," Najafi said. "In addition to an extended label, these selected works have a wall text answering the very question, 'Why is this here?'"
Inspired by the purposeful distortions of cubism and expressionism, early abstract paintings by Wassily Kandinsky and Hilma af Klint moved art even further away from its traditional roots, but the movement did not become prominent until the years following World War II as artists sought to express something unprecedented and previously unfathomable.
Oklahoma City Museum of Art / provided
Paul Reed's "Step"
"The events surrounding World War II were the most destructive and horrific in the history of humanity," Najafi said. "Lives lost, cities in devastation, governments in chaos and economies in total ruin. Accordingly, the mood in much of the world, and especially in Europe, was one of despair, disillusionment and cynicism. The art of the immediate postwar reflected these sentiments with extreme expressiveness."
Many of abstract art's key figures — Mark Rothko, Jackson Pollock, Willem de Kooning, Robert Motherwell — were either born in the United States or created some of their most influential works after immigrating here, but Najafi said abstract art has a worldwide appeal.
"Although these movements have roots in America, they were internationally popular," she said. "World War II positioned the United States as a global power, and in the years following the conflict, many Americans enjoyed the benefits of unprecedented economic growth. American abstract expressionism is especially significant because it emerged in a climate of Cold War politics and it marked the beginning of New York City's influence as the center of the Western art world."
Postwar Abstraction features rarely shown works by Sam Gilliam, Helen Frankenthaler, Suzanne McClelland, Mark Tobey, Richard Pousette-Dart, Ida Kohlmeyer, Leonardo Nierman and Herbert Bayer alongside "longstanding museum highlights" by Howard Mehring, Leon Polk Smith, Sam Francis, Ellsworth Kelly, Paul Reed and Gene Davis, Najafi said, and other than a shared "commitment to pure abstraction," the paintings are widely varied in technique and composition.
"The diversity of abstraction in this exhibition is shown in works that range across a spectrum of styles," Najafi said, "from expressive and gestural to placid and restrained to austere and mechanical."
Gilliam's color field paintings, for example, feature irregular patterns of geometric shapes inspired by the "crazy quilting" technique developed by African American artisans, while Frankenthaler poured thin paint in large puddles to create oblong splotches in a method she called "soak-stain." Kohlmeyer's "Transverse" is created from fluid gestural brushstrokes, while Smith's "Modular Series: #171 Green-Blue" is a work of hard-edged minimalism composed of interlocking geometric shapes. McClelland's work, inspired by linguistic theory, often features letters and numbers. Nierman, meanwhile, draws inspiration from classical music to create elaborately colored works evocative of natural elements such as volcanoes and whirlwinds.
"The half-century or so following the end of World War II was one of the most fertile periods in the history of abstract painting," Najafi said, "and the works featured in Postwar Abstraction: Variations highlight a period of remarkable creativity. I think the amazing variety of styles of abstraction in the postwar era is a nice surprise."
Oklahoma City Museum of Art / provided
Anne Truitt's "The Sea, The Sea"
Najafi advised viewers should not necessarily seek to understand the paintings on display in Postwar Abstraction intellectually. However, that does not mean that the artists were not thoughtful in their creation. Seminal works by Kandinsky and af Klint, for example, were inspired by philosophy, spiritualism and esoteric movements such as theosophy and eschatology.
"Postwar abstract art, especially abstract expressionism, is more about the journey than the final product," Najafi said. "The goal may not be to illustrate, but to express feelings. When you stand in front of a composition filled with paint drips and splashes of color on a canvas, probably the main goal was not to make a chaotic mess, but rather to depict the energy of the paint and movement. It may help to allow this energy to guide us organically. The artists are expressing emotions by feeling them while executing the artwork. The essence of abstract painting invites us to look beyond what is familiar or what we expect to see in favor of experience."
By allowing the viewers to use their own experience and feelings to understand the work, the paintings on display offer an opportunity to reconsider the way we interact with art.
"There is a value to open interpretation," Najafi said. "Lack of figures or a classic narration doesn't mean lack of meaning or value. Abstract art restructures the way we expect to receive visual information, and it allows us to stretch our minds around a visual experience. Sometimes looking at abstract art is like choosing your own adventure."
Visit okcmoa.com.