Beatles Book Photo Library (BBPL) / provided
Revolution: The Beatles Symphonic Experience begins 8 p.m. Jan. 4 and 5 in Thelma Gaylord Performing Arts Theatre in Civic Center Music Hall, 201 N. Walker Ave.
Maybe orchestras aren't for everyone. Asked to name other acts that might merit similar tributes, Robert Thompson — president of Schirmer Theatrical, the company bringing Revolution: The Beatles Symphonic Experience to Oklahoma City Jan. 4-5 — can only name a few.
"There's probably, I could rattle off six. David Bowie, yes; Queen, yes; Led Zeppelin, yes … Stevie Wonder, yes, absolutely, um…," Thompson said, laughing, realizing he had only listed four. "There's others I've passed on, other projects I've passed on and said, 'No, this just won't work.' … Orchestras don't lend themselves to everything. I don't think Beyoncé for symphony orchestra is necessarily something that works."
Thompson, who also has a doctorate in music from Eastman School of Music and taught a graduate seminar in the songwriting techniques of The Beatles, said the band's music works with full orchestral arrangements because it features elements comparable to classical compositions.
"My big thing about The Beatles is 'Yesterday' is a seven-bar phrase, and not even Bach and Mozart could write seven-bar phrases," Thompson said.
Neuroscientist Daniel Levitin, in his book This Is Your Brain on Music, explains the significance of Paul McCartney's musical accomplishment.
"In 'Yesterday,' the main melodic phrase is seven measures long," Levitin wrote. "The Beatles surprise us by violating one of the most basic assumptions in popular music, the four- or eight-measure phrase unit."
In The Beatles as Musicians, music theorist Walter Everett elaborates.
"The irregular phrase length results from a doubling of the tempo," Everett wrote. "In the verse's first four bars, one clearly feels strong measures alternating with weak. At the same level, the next three bars alternate strong and weak half measures, breathlessly plunging into 'Suddenly' and abruptly ending the desired 4+4 pattern one bar into the second verse, where the strings enter unexpectedly."
In other words, there's a lot going on, even in some of the band's seemingly simpler songs. Producer George Martin's knowledge of classical music encouraged further experimentation, Thompson said.
"There was that integration of classical music in The Beatles early on, even before you got to Sgt. Pepper or Magical Mystery Tour," Thompson said. "In 'Eleanor Rigby,' they thought of using string players, they thought of using piccolo trumpet on 'Penny Lane.' That was actually Paul McCartney, but that was an instrument that you only heard in the works of Johann Sebastian Bach."
Getting better
Revolution, pairing vocalists and rock musicians with Oklahoma City Philharmonic (OKC Phil), presents 25 of The Beatles' best-known songs ("Here Comes the Sun," "Hey Jude," "All You Need Is Love," etc.) in orchestra-augmented arrangements while avoiding the tribute-band route.
"Most of the live performances of The Beatles' [music] that you hear are basically four guys in a cover band impersonating John, Paul, George and Ringo," Thompson said. "That's not what we try to do here. … The Beatles were ostensibly four guys singing about girls, and what we wanted to do in this project was to authentically and creatively embody the music."
The Beatles quit touring in 1966, letting the music they released stand on its own. Removed of a faux-Fab Four, Thompson said, the songs can take on new meanings in new contexts.
"One of the things that was important to me at the beginning of the process was to bring the lyrics a little bit closer to the audience," Thompson said. "So for a song like 'She's Leaving Home,' to have a female voice sing, that changes the whole perspective of the song. It now becomes autobiographical in a way. So we did little things like that, in terms of approaching the lyrics and music to kind of get the audience to maybe hear these songs in a different way."
However, McCartney, John Lennon, George Harrison and Ringo Starr remain present. Hundreds of rarely seen candid photos of the band, taken from the archives of official fan magazine The Beatles Book Monthly, are included in the multimedia presentation accompanying the concert. Even longtime fans will have the chance to see something new, Thompson said.
"One of the things people will be surprised to see is the behind-the-scenes in the dressing rooms before the performances, the camaraderie of the four of them," Thompson said. "I think the audience will get a sense, especially early on in The Beatles' trajectory, of just how close-knit they were."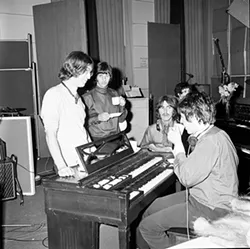 Beatles Book Photo Library (BBPL) / provided
Accompanying orchestral arrangements of Beatles songs, Revolution features a multimedia presentation including hundreds of rarely seen photos of the band.
Thompson said he found one photo, taken the day after The Beatles' 1964 mania-inducing American introduction on The Ed Sullivan Show, particularly shocking for a different reason.
"The next day, the Beatles were given a tour, a little brief tour of New York before they met with the press," Thompson said. "So that Monday morning, there's a photo taken of Ringo and John and Paul in Central Park, and you can see the lake behind them, and over the top of John's head is the Dakota, where John eventually lived with Yoko. When I first saw that photo, I got in touch with the people that own the archives and I said, 'Are you aware what this photo is?' and they said, 'No,' and I said, 'John had been in the United States for less than 72 hours, and here it is, the beginning of The Beatles, the beginning of John Lennon's career and the end of it, it's all right there in that one photo.'"
Lennon died in 1980 after Mark David Chapman shot him in the archway of the Dakota Apartments in New York's Upper West Side. The 1964 photo of the three lads from Liverpool in front of that now-infamous landmark appears in Revolution during the song "Carry That Weight."
Audience members with little knowledge of The Beatles' history can still enjoy the show, Thompson said.
"If you don't know anything about The Beatles — I can't imagine there are people out there that don't, but — I think it's a wonderful introduction," Thompson said. "What we have attempted to create in Revolution was an immersive concert experience."
While it might be hard for him to imagine people unfamiliar with The Beatles, Thompson said he wants Revolution to help pass the music on to new fans.
"The singers and the musicians onstage, they're all young; they're all in their 20s and early 30s," Thompson said. "What we set about was to find a new generation of artists who would be able to perform The Beatles' repertoire at an extraordinarily high level. That was our mission. … What we wanted to do was to remind people that yeah, John and George have passed. Paul and Ringo are still out there performing, but at some point, this music lives on, and it lives on through young artists who embody and understand the significance of The Beatles."
Visit okcphil.org.