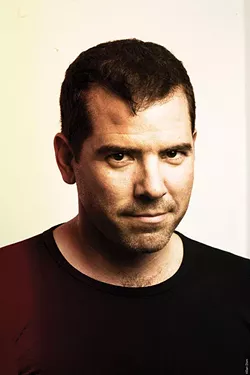 OKC Comedy presents a Graham Elwood double bill tomorrow night. Elwood headlines a stand-up showcase at 8:30 p.m. with openers Michael C. Hall and Spencer Hicks followed by a live recording of his popular Comedy Film Nerds podcast.
A proud second-degree yellow belt in karate, Elwood's many TV appearances include The Late Late Show, The Sarah Silverman Program and The High Road. He was also in the comedy documentary Super High Me.
After soaking up the work of comic maestros like Steve Martin, Richard Prior, John Belushi and Joan Rivers growing up, Elwood first stepped up to the mic at the age of 18.
"I entered a comedy contest hosted by Judd Apatow my freshman year of college. It's on my YouTube page if you want to see Judd in acid wash jeans and a mullet," joked Elwood.
He honed his own comedic voice over many years, performing hundreds of stand-up shows during which he would experiment and improvise a lot on stage, something he still does, incorporating what worked into his sets.
"Dear God, I hope I've changed since I was 18," Elwood responded when asked how his comedy has changed over the years. "No more jokes about term papers and trying to meet sorority girls. That is what I love about being a stand-up comic — whatever I'm dealing with in my life, I can talk about it on stage."
In the late aughts, Elwood had come to a crossroads and considered quitting comedy. He had long desired to do something for military service members in a post 9/11 world, and when his mother reminded him about the USO work Bob Hope did, Elwood decided to follow in his footsteps and headed overseas for seven separate USO tours.
Elwood described the USO tours as the most physically and emotionally challenging and rewarding thing he has ever done.
"Doing shows in small fire bases in the Middle East is something that will stay with me for the rest of my life. Talking about it in my act has been cathartic and connected me to more military people and their families," Elwood said.
Those performances resulted in a stand-up special, Graham Elwood: Live From Afghanistan, and the documentary Laffghanistan: Comedy Down Range directed by Elwood.
After the release of the documentary, Elwood and fellow comedian and filmmaker Chris Mancini created the Comedy Film Nerds website as a home for funny movie reviews and original shorts.
For the OKC recording of the Comedy Film Nerds podcast, Elwood and Mancini will be discussing and, where warranted, lampooning, trailers for upcoming 2015 films.
Elwood said the biggest challenges over his career have been expanding his fan base and staying thin while eating comedy club food. The podcast has made a pretty big impact on the former.
"I have done over 300 episodes of TV and never had fans," he said. "Now, because of podcasts, I have fans all over the globe, some of which that have become friends."
Print headline:
Comedy warrior
Enjoy a sunset moment with comedian Graham Elwood when he headlines a couple of comedy shows and a podcast in OKC.