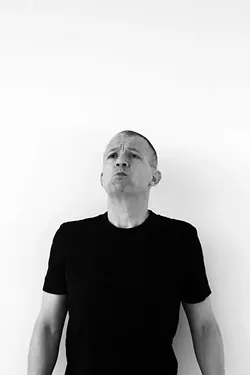 Comedian Jim Norton said he has been invited many times to perform a standup set in Oklahoma.
He finally agreed.
"They better show up at the show because they've been asking me for years to come out there," he said.
Norton also is known for his Sirius XM Radio show with Gregg "Opie" Hughes, Opie with Jim Norton, and appearances on Louis C.K.'s Louie.
He said he cannot recall doing an Oklahoma show prior to his upcoming Mouthful of Shame Tour stop 8 p.m. July 14 at the University of Central Oklahoma's Mitchell Hall Theatre, 100 N. University Drive, in Edmond.
The comedian built a name for himself through relentless touring, so it's a wonder that he hasn't brought his edgy adult humor here before.
"Oklahoma's a market I've been meaning to do for a long time," he said. "I have so many fans there. I'm really looking forward to it."
Radio experience
Norton first joined Hughes and Anthony Cumia in 2000 as a guest on
The Opie & Anthony Show
.
He has since made regular work out of hosting and contributing to radio programs and podcasts, including The Jim Norton Show and Jim Norton Advice Show.
The entertainer said his standup career likely will last longer than his radio work because it is something he can do on his own without a company's backing.
Still, he said his radio experiences have improved his comedy.
"It makes you think topically all the time," he said. "It's an advantage because you're always having to think about what's going on in the news and in the world. It helps you formulate your opinions when you don't even realize you're formulating your opinions."
Norton is also known as a fan of mixed martial arts.
He began co-hosting the Ultimate Fighting Championship (UFC) podcast UFC Unfiltered with Jim Norton and Matt Serra on June 21.
Serra is a former UFC welterweight champion.
"He obviously knows a lot more of the technical stuff that I don't know," Norton said during a recent phone interview with Oklahoma Gazette. "My job is to go on there and just talk crap."
The comedian said he didn't know what to expect when the podcast launched but he is very happy with how it has developed. Serra is knowledgeable about the sport and funny, too.
"I never expect much, and I can't believe how good this season has been," Norton said.
Playing colleges
Norton learned during the interview that his upcoming performance will be on a college campus.
His comedy often features unfettered takes on sex and his life that challenge the constraints of political correctness.
Some comedians, including the comparatively less offensive Jerry Seinfeld, have said they refused to play colleges because of concerns that the crowd might take jokes out of context or could be too easily offended.
Norton, on the other hand, said people who come to his shows generally know what they are getting themselves into. Most of his college shows are attended by non-students.
The Mitchell Hall show is hosted by OKC Comedy booking and promotion company and open to everyone.
"I just do what I do," Norton said. "Wherever I am, people are going to see what it is that I do."
Changing scene
Standards for what should and should not be said in standup have always existed, though Norton said they are constantly shifting.
"What you can't say — that little narrow area — does change every couple of years," he said.
Norton said his first gig was in April 1990.
A lot has changed since then, but in many ways, comedy will always be about building upon a steady grind with a lot of trial and error.
Some of the talented younger comedians he enjoys are Mark Normand and Dan Soder.
Norton performed standup for a decade before he was invited onto The Opie and Anthony Show. He said comedy is easier these days because he is more experienced.
"I don't need divine inspiration," he said. "I just go onstage and try it and see how it works. It's much more free now, so now I feel much more confident."
One big difference between comedy today and when Norton started is the prevalence of the internet. Platforms like YouTube can help increase how quickly a comedian's presence grows, but online clips can also just as easily be used to tear down or damage an entertainer's career.
"You can always look up your mistake or the stupid thing you said during an interview of your stupid comment someone overheard," Norton said. "It's always there."
Even so, Norton embraces social media. He has tweeted more than 18,000 times to more than 441,000 followers.
"The internet's great; I like being told I suck by a lot of people," he said. "I'm glad the internet exists. I love it."
Find tickets for Norton's Mouthful of Shame Tour at ticketstorm.com.
Print headline: Spit-take, Jim Norton's Mouthful of Shame Tour marks the comic's first stop in Oklahoma.