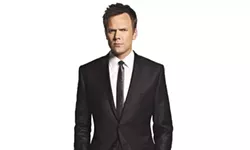 Joel McHale performs Jan. 28 at Riverwind Casino. | Photo provided
Joel McHale's life did not get any slower after graduating from Community, the NBC cult-hit sitcom created by Dan Harmon, in 2015. Almost immediately, he booked an arc on Fox's The X-Files revival in early 2016, and then his new four-camera sitcom on CBS, The Great Indoors, got picked up for a full season at the end of the year.
But his experience playing Jeff Winger on Community is not entirely in the past. When McHale books standup gigs like his 8 p.m. performance Jan. 28 at Riverwind Casino, 1544 State Highway 9, in Norman, a large portion of the ticketholders are emotionally enrolled with Winger, Britta, Abed, Shirley, Annie, Troy and sometimes Pierce at Greendale Community College. It is one of the most ardent cults in current pop culture.
"At the book signings, it was pretty pronounced," said McHale, who published his memoir, Thanks for the Money: How to Use My Life Story to Become the Best Joel McHale You Can Be, in October. "But also at the standup shows. It's younger Community fans and then a lot of women in their late 40's and early 50's who watched The Soup."
McHale's ongoing relationship with the series takes a meta turn this year with the release of director David Wain's A Futile & Stupid Gesture.
Based on the 2006 book chronicling the rise and fall of National Lampoon and cofounder Douglas Kenney, McHale will play his former Community costar Chevy Chase.
"I would call it the greatest coincidence of all time," McHale said. "I met with David Wain about it, we had a long discussion about Chevy and what it was like in the '70s. And physically, Chevy and I are very similar — we're about the same size, so there was that. Now, in theory, you could know someone for several years and be terrible at portraying him. Hopefully, I'm not that. And I'm not really doing an impression. The movie is not about nailing every characteristic of the people who lived then. It's more about the story of Doug Kenney and capturing some of the magic that happen in the '70s. It's not like a National Lampoon movie, and in the same way, it's not a sobering, realistic view of what happened. It's doing a lot of things at once."
McHale, 45, was too young to experience National Lampoon at its peak, but the style of comedy it ushered in helped shape his comedic worldview.
"They really did something different," he said. "They filled up this vacuum that was seemingly waiting there, waiting to be filled up with this young comedy that nobody knew was there before Doug Kenney showed up. In a weird way, it's like a Steve Jobs thing where you go, 'Yeah, this is what people wanted,' but you didn't know you wanted it until they put it in your hand."
A Futile & Stupid Gesture, named for a famous line from National Lampoon's Animal House, stars Will Forte as Kenney, along with McHale, Paul Scheer, Thomas Lennon and Emmy Rossum.
McHale believes the story conveys what it felt like to be in a transformative period in American comedy.
"I haven't seen the film, but I know David Wain directed the shit out of it and it's one of the best screenplays I've ever read," he said.
If the early days of National Lampoon and Saturday Night Live established a benchmark for transgressive comedy, then Community was their metacultural descendant.
Late in its first season, the series transitioned from being just about nontraditional students at a California two-year school and became an astonishingly hilarious free-for-all commentary on pop culture at large.
Scrupulously detailed Martin Scorsese parodies and claymation episodes became the norm, not the exception.
"We knew while we were making Community that a show like this is very rare to come around. We all kind of felt it," McHale said. "We knew we had something going when we kept going to Comic-Con and our rooms kept getting bigger and bigger, to the point where we were in the huge room for a couple of years and they're turning away thousands of people."
In the language of Community fans, perhaps no phrase is more important than a line cribbed from a second-season clip show: "six seasons and a movie."
Thanks to an intervention by Yahoo! when the show was facing cancelation, Community made it to six seasons.
In a time when favorite shows can come back to life with the right amount of investment from Netflix's Ted Sarandos, McHale said he is not counting it out.
"Maybe an oligarch will give us a few million dollars and we can make the movie," he said. "They brought Gilmore Girls back and Fuller House and Arrested Development, and I think that if a movie can be made and there's money to do it and Donald [Glover]'s not too busy being Lando Calrissian, then maybe we can make the movie."
Print headline: Community leader, Joel McHale stays busy with a Riverwind performance and a National Lampoon biopic.