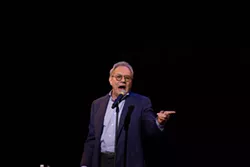 It would have been hard to predict that hotheaded Lewis Black would catch a second wind in his career doing entertainment for children, but that's how the last few years played out.
Pixar Animation Studios chose well when Black was cast as the voice of Anger, the personification of rage, in its hit 2015 feature Inside Out. Before that, Black was perhaps most known for his frequently obscene 2004 HBO special Lewis Black: Black on Broadway.
Black's latest stand-up show The Emperor's New Clothes: The Naked Truth Tour stops Nov. 19 at WinStar World Casino and Resort, 777 Casino Ave., in Thackerville.
The comedian is known for his surly-to-the-point-of-hilarity rants, often about politics or society. He makes occasional appearances on Comedy Central's The Daily Show for a funny, cathartic segment called "Back in Black." Earlier this month, he spent the segment railing on disillusioned millennials who say they plan to not vote.
He blamed laziness as much as apathy.
"You want me to go somewhere and pull a lever?" he mocked. "Why can't I vote the same way I date — by swiping right on the toilet?'"
Black also is not afraid of dismantling seemingly innocuous cultural conventions. One of his most famous stand-up bits derides the existence of candy corn and adults who dress up for Halloween.
The Maryland native couldn't help but spin a few fresh rants while speaking with Oklahoma Gazette ahead of his Nov. 19 show.
Oklahoma Gazette: Your recent 5-minute "Back in Black" segment about millennials and voting is very funny. How long do those take to create?
Lewis Black: They make the decision on what the topic will be and then they run through a couple of drafts and I come in and I work with them on it. We read it over again with a whole bunch of people in the room. Then we rehearse it, I might improv some stuff and if it works, we'll throw it in. We do one last draft, and then we go to show.
OKG: What's one reason millennials haven't yet shown up to the polls?
LB: Apparently, they've never felt disappointment. I mean, seriously. The thing that really got me was when there was one millennial who was saying, "Well, Bernie [Sanders] lost, so that really crushed me." I don't know how they were brought up. Some of them — and I don't think it's all of them by any stretch of the imagination — seem to have been brought up inside of an incubator. … What did you do when your best friend lost the presidency in high school for student council, or did everyone at your school get to be a president? … People lose, and that's how you decide you either want to get out of something or pursue something and get better at it.
OKG: You're probably doing a lot of political stuff on this tour, right?
LB: Yeah, but I try to focus on how this shit affects us. A lot of what I've talked about over the last several years is, "Can we do something?" I don't care what it is; just let's do one thing. … This is madness, what we're doing now. We're acting like the world has ended. Part of the problem is we're at 50-50, 52-48 or however the hell you want to put it. But it's still a matter of compromise. We have all these problems to deal with, and we don't deal with any of them, none of them.
OKG: You're known for your bit on Halloween and candy corn. Have you softened your stance on Halloween over the years?
LB: No; I hold firm: It's absurd. Candy corn is a piece of shit. Now they're selling it in a variety of colors. There's July Fourth candy corn, which is red, white and blue. Now they've made it into an industry of shit. There's candy corn granola, candy corn Oreos. I mean, come on.
It's a kids' holiday, and adults wander around in costumes. What's the matter with you? Any day they want, an adult can dress up in a costume. That's what it's like to be an adult. Kids don't get that option; that's why you give them the day.
OKG: Is it weird having a really young base of children who know who you are?
LB: I mean, they kind of do and they kind of don't. But I'm hoping that will suck them into my comedy eventually. I can destroy the minds of another generation.
OKG: It's a great long-term investment for you.
LB: Yes. It was a lot of fun. I actually have dinner tonight with [Inside Out director] Pete Docter, which is nice. He's really a brilliant son of a bitch.
OKG: Probably a lot of people, especially children, recognize you just by hearing your voice.
LB: Well, yeah. I was on Scooby-Doo! Mystery Incorporated and Teenage Mutant Ninja Turtles, so it's kind of funny to be in there. It's also funny to me that I'm not doing any mature, adult cartoons. I'm doing all this kid stuff, which I think is just hysterical.
OKG: Is there anything you want to say to Oklahomans going to your show?
LB: They'll have a lot of fun. ... I just hope there's no earthquakes when I get there. This is now the earthquake capitol of the world, and they completely deny it has to do with fracking. It's unbelievable. What do they think it is? Is something coming out from the Earth at them?
OKG: Hopefully you don't experience anything like that while you're here.
LB: Good. I'd like not to.
Print headline: Dark humor, The famously grumpy Lewis Black brings his stand-up tour to WinStar World Casino and Resort.