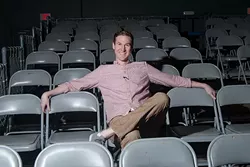 Spencer Hicks at the auditorium at Oklahoma Contemporary, where they used to perform. mh
When Oklahoma City comedian Spencer Hicks reflects on his time doing standup, he talks not only about the evolution of his material but also the growth of the OKC comedy scene.
"I've been doing this for 10 years now, and in my opinion, this is probably the best time for comedy in Oklahoma City that I can remember," said Hicks, age 35. "I wouldn't call myself the last man standing from those earlier days, but I'm proud that I've hung around this long."
The culmination of a decade in the funny business is the reason Hicks said he's recording his first live comedy album 7:30 p.m. Wednesday, July 29 at Will Rogers Theatre, 4322 N. Western Ave.
"It's something I've been meaning to do for awhile, for years now, actually," Hicks said. "I just want to have something to show for all these years doing standup. I see it more as a cap on what I've been doing than a catalyst for anything new. I'm not expecting this to launch my career. I just want something that shows people that I was here once upon a time."
If there are any local comedy fans who didn't know he was here, they haven't been paying attention. Hicks has cultivated a reputation for his guy-next-door vibe and wickedly, deceptively funny sets that he has honed in clubs and open mic showcases since the mid-2000s.
Hicks, along with fellow funnymen Cameron Buchholtz and BradChad Porter, founded OKC Comedy a few years ago. Its Funniest Person in OKC contest concluded last week. He hosts weekly trivia nights for The Lost Ogle, emcees several local events every year and is still a regular at the metro's scattered comedy clubs.
His local success has translated into some national recognition, too. He has opened for household names like Rob Delaney, Paul F. Tompkins and Dave Chappelle.
"Opening for Dave was the highlight of my career," said Hicks of his two-night opening gig at Rose State last winter. "I remember hearing Killing Them Softly (Chappelle's landmark standup special) in my buddy's car in college and thinking it was one of the funniest things I'd ever heard. I became a huge fan of Chappelle's Show after that, so to open for him was a total thrill."
Hicks said that all those years playing local clubs couldn't have prepared him for the experience.
"It's the most scared I've ever been doing comedy," Hicks said, then laughed. "I've seen people like Jim Gaffigan, Bill Burr, Brian Regan. They'll bring openers with them or have openers, and I remember sitting in the crowd and seeing a guy walk out and thinking, 'Man, this is not the guy any of us have paid to see. I automatically don't like him.' But some of those comedians, you leave there and you're a fan. That's what scared me to death, that I was going to be that person that no one came here to see. Everyone in this crowd knows I'm just here to take up space."
Hicks was worried for nothing. He did so well that Chappelle brought him back out on stage after his own set for another round of applause. He was relieved that he got laughs at all, much less did well.
"It was the greatest experience of my career, definitely," he said.
It wasn't the best experience of his life though.
Hicks, a new father, said having a family of his own now has altered his aspirations as well as his material.
"I think having a son definitely changed some things for me, at least internally," Hicks said when asked where he wants to go from here. "Before I had the kid, going out and doing comedy was definitely easier, for one thing. It's not a strain now, and I'm not going to quit comedy, but I've definitely slowed down."
He said his material has evolved, too. Hicks doesn't mind comics who "work blue" or tell risqué jokes (he's a huge Louis C.K. fan, for example), but he feels like any attempt at that kind of set might be "forcing it" at this point in his life.
"When I first started out, I was definitely doing some dirtier stuff," Hicks said. "I think it's something a lot of comics go through. You tell yourself, 'This is the last bastion of free speech; I'm gonna tell rape and abortion jokes, and nobody can stop me.' Those jokes sometimes get laughs, whether for the shock value or because they're just funny, but that's just not the stuff that's taking up space in my brain these days."
Hicks said his set is going to be comprised of his favorite material gleaned from the past decade of making people laugh.
"It's gonna be my favorite jokes," he said, and grinned. "They might not be the jokes everybody likes the best, but it's the stuff I like the most from the past ten years. I'm really excited about it."
Print headline: Tracking laughs, Spencer Hicks has a decade's worth of standup material, and he is finally gleaning it for his first album.