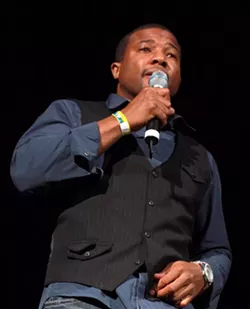 Comedian Tony Tone — Photo Steve Capers / provided
Since the presidential election last November, an honest-to-goodness medical phenomenon has cropped up all over America.
The symptoms usually resemble mild stress at best, borderline PTSD at worst; patients complain to their doctors about lack of sleep, stomach pain, headaches, loss of appetite. Psychologists have even coined a nickname for it: Post-Trump Stress Disorder.
So if it's true that a steady diet of apocalyptic news reports and heated Facebook arguments can send a person to the ER, it stands to reason that a stiff dose of laughter might be just what the doctor ordered.
Tony Tone, a self-described "non-political" comic, will be on stage March 1-4 at The Loony Bin, 8503 N. Rockwell Ave. Based out of Memphis, Tennessee, Tone said his act combines multiple comedic disciplines but tries to leave the strife of politics outside the auditorium.
"My work is a combination of nostalgia, sound effects, impressions, funny observations from life, stories about growing up, just having fun," Tone said. "It's not a politically driven act at all. It's just about having fun."
Audiences should get a kick out of it, especially the impressions. From Optimus Prime to Arnold Schwarzenegger, Tone slips in and out of character onstage like a veteran actor. One especially impressive bit sees Tone as Michael Jackson entering Heaven's gates, but not before he meets James Brown, Bernie Mac, Redd Foxx and Ray Charles. The impressions are spot-on, rapid-fire and very funny.
Tone, who has been a full-time standup comic for over 20 years, bases much of his act around his memories from childhood. A memorable bit about getting "ass-whoopings" from his mother takes on a life of its own, climaxing with Tone reenacting a slow-motion getaway from his furious mom, set to the music of NFL films.
All in all, it's a slick, tight routine, one earned through countless performances over two decades.
"I've been doing this a long time, man," Tone said. "First tried it in 1990 at a college I went to in Kentucky, just at clubs around town, and the rest is history. I hit the road in 1993 and didn't look back."
He has appeared on BET's Comic View, HBO's Def Comedy Jam and P. Diddy's Bad Boys of Comedy, shot a TV series pilot and has a couple movie credits on his resume, including Tyler Perry's I Can Do Bad All By Myself. But Tone said his most memorable gig was a 2005 celebrity basketball game and roast of NBA Hall of Famer Magic Johnson at the Kodak Theatre in Los Angeles.
Tone, who has performed in OKC several times, said the Loony Bin gig comes at the end of a short, two-week tour before he heads back home to Memphis.
"It's just a fun night and a good way to spend an evening," Tone said. "I'm really looking forward to it."
Following Tone at The Loony Bin is Dan O'Sullivan March 8-11, Dustin Ybarra March 15-18, Matt Sadler March 22-25 and Ralphie Roberts March 29-April 1.
Visit okc.loonybincomedy.com.
Print headline: Relaxed Tone, Comedian Tony Tone steers clear of politics and other things causing stress in his standup sets at The Loony Bin.