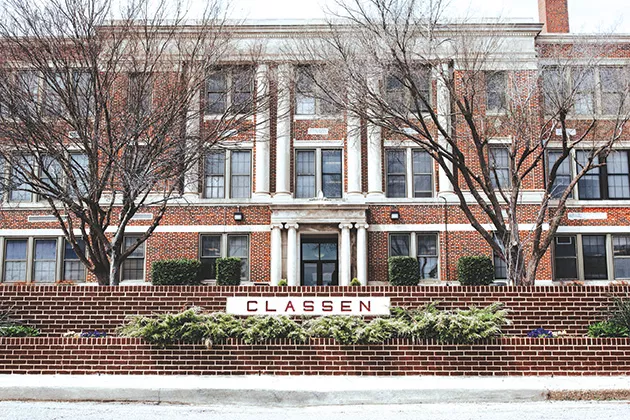 Alexa Ace
Classen School of Advanced Studies will expand into two campuses; Northeast Academy will house the high school.
Principals Scot McAdoo and Chris Thomas are working together to help merge Classen School of Advanced Studies with Northeast Academy (NEA), but some feel it will not be equitable.
The merge is part of Pathway to Greatness, a plan to improve equity and efficiency at Oklahoma City Public Schools (OKCPS). The current Classen building, 1901 N. Ellison Ave., will serve fifth- through eighth-grade students, while the NEA building, 3100 N. Kelley Ave., will serve ninth- through 12th-grade students.
"We're excited about the opportunity for our school to expand," said McAdoo, who has been serving as the Classen principal and will lead the new NEA. "That's going to provide extra opportunities for our students. We've always kind of been limited by enrollment in this building, and now moving to two campuses allows us those extra opportunities."
Two campuses
Thomas, the Andrew Johnson Elementary School principal who is transitioning to Classen SAS Middle School, said he is excited to join the school. Despite living in the same neighborhood, he said he never really understood the full grasp of its academics.
"As I see those nuts and bolts, my admiration for the program just increases, and my excitement level increases by being a part of that," he said. "I've been kind of playing around with #CometCity because I feel like the school and our 'one vision, two campuses' kind of encompasses the whole metro area. I mean, we are going to be a comet city; this is a magnet for the city."
According to OKCPS superintendent Sean McDaniel, NEA will adopt the Classen curriculum, comet mascot and colors, effectively starting a new chapter in the building's historic eight decades.
"[Northeast Academy] will officially become Classen SAS High School, and their curriculum, colors and mascot will follow," McDaniel wrote in an email to Oklahoma Gazette. "That said, OKCPS will honor our commitment to current Northeast students by exploring options that will allow them to continue with their health sciences, ROTC and MetroTech programs that currently exist. We also look forward to working closely with Northeast families and alumni to honor the legacy and traditions of Northeast High School during this transition."
McAdoo said he is excited to welcome more students into the Classen family.
"We've connected with the Northeast staff and students to make sure that they feel welcomed into what is kind of a challenging situation; it must be for them. We're going to go into their building and they are going to come into our program, so that kind of creates a unique opportunity," McAdoo said. "With that said, we've already developed some relationships between our student leadership group and their student leadership group."
District 5 board of education member Ruth Veales, who represents NEA, said students seem excited but parents and alumni feel like they have not been heard.
"The parents have been in communication with the alumni, and they have concerns as far as the naming of the school. They feel that there have been promises for conversation regarding having that discussion. … They are not opposed to the merger, but it is just the name and they're concerned about the history of their school and the autonomy of students that went there before," she said. "They feel that they have not been included in the conversation."
She said the history of NEA, which was established in 1936 and played a big role in integrating OKCPS, is important and wishes the school had received the support it deserved.
"As I have even described it, 'We're going to come into your house and completely wipe out all of your members of your house.' That too brings concerns because we identify with our history," Veales said. "If you have the support system necessary, you have greater chances to have the success. The history of [NEA] is that they have had that greatness when they had the support that was necessary for them, but because of the lack thereof, we're in the position that we are now."
Ward 7 councilwoman Nikki Nice, an NEA alumna and city council representative for the surrounding communities, said collaboration between the two schools is nothing new.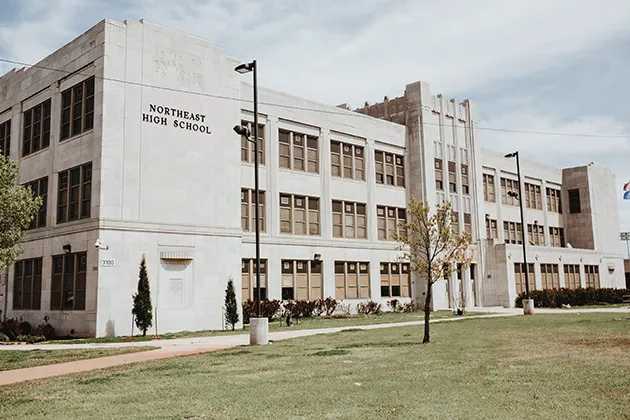 Alexa Ace
Northeast Academy will become Classen School of Advanced Studies High School.
"Classen students would participate in extracurricular activities with us," she said. "It wasn't uncommon for us to interact with Classen students at the time. However, now, when we're looking at just a complete name change — erasing the name of Northeast to make it Classen — I don't think that's something that helps to celebrate the history or the memory of the many things that have been accomplished at Northeast and under the Viking name and under the relationship that had already previously been established between the two schools."
Nice said the concerns over the history, name and mascot are not just from parents and alumni but also from students.
"Those ideals are things that [students] take to heart and they take to mind when it comes to making decisions, so it's not just a parent situation," she said. "I think that's where the disconnect is for anyone with the school board to say that because when you have people who have been in the Oklahoma City Public Schools, you get it; you understand why your school name is the way it is, you understand why your community is surrounded by that particular school and what it stands for. … Where is the equity when it comes to the community students to be a part of this process when it comes to Northeast?
"No one wants anything negative to happen when it comes to students because education is first. As long as education is successful, it's going to be a very positive impact, but if you do not have young people that live across the street that are able to attend the school that sits in their backyard — that is a very negative impact on any community."
One vision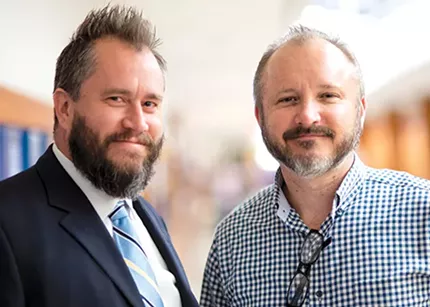 Miguel Rios
from left Chris Thomas will lead Classen SAS Middle School while Scot McAdoo will lead the high school.
NEA has a variety of college preparatory programs and career academies in health sciences and engineering, but come August, the school will adopt Classen's international baccalaureate diploma program and visual and performing arts program.
"The district is accommodating the closing of that building by allowing Northeast students at that magnet school to attend Classen," said McAdoo. "Those students completed an application to attend that Northeast biomedical/engineering academy, and this is their next opportunity."
McAdoo, who once served as NEA principal, said they will hold Northeast students to the same high standards as Classen students.
"I'm not talking about some distant reality. I served in the building, and I really connected with a lot of those kids," he said. "They are not responsible for what has happened to Northeast over the past five or six years. … But I do know this: Classen's program has a legacy of being one of the top schools, certainly in the state and even nationally. And when those kids come over, we have high expectations, a high level of rigor in our instructional programs. … That will extend our Northeast students who, in many cases, applied here and got accepted years ago and decided to go to Northeast because of their location and transportation."
Nice hopes NEA's long history is never forgotten. She also acknowledged various alumni who went on to have prosperous careers.
"To hear that there are some that are part of the school board that say another name and not Northeast looks better on a resume for students is very disappointing to hear," she said. "I'm a proud alum of Northeast High School, and I know many others are proud alums; and we proudly display that on resumes and talk about it wherever we go because it is a fabric of who we are."