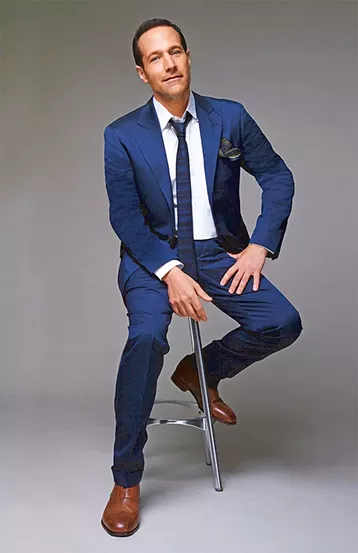 Jeff Klaum / provided
Christmas music makes up a significant percent of pianist Jim Brickman's discography.
Award-winning pianist Jim Brickman is coming to town Dec. 11, and though he won't be carrying presents on a sleigh guided by a band of reindeer, that doesn't mean he's coming empty-handed. Accompanied by two vocalists and a violinist, Brickman and his crew will deliver an invaluable present, one that can't be wrapped in colorful paper or topped with a sparkling bow: holiday cheer.
For the second time in two years, Brickman will make his return to Oklahoma City, this time offering his take on old holiday favorites as part of his Joyful Christmas tour. In just over a month's time, the musician will cover venues in over 30 cities across the United States.
However, the tour wouldn't be complete without including OKC as one of the anticipated stop-ins for his live shows. As Brickman puts it, deciding where to perform is a bit like playing hopscotch, and he's glad to be scheduled in a place he can look forward to coming back to.
Having grown up in Cleveland and Chicago, he describes OKC as a sort of mirror reflecting the values he acquired throughout his childhood years; the city maintains a certain "understanding of what hard work is and what ethic is and family," he said.
"I feel like it's very relatable to me. … I feel more comfortable in places that are more like the way I grew up," Brickman said. "It's always been such a kind response. Plus they also have Bricktown, so I figure if they're gonna name a part of the city after me then the least I could do is be kind and generous."
And all this time, we thought its namesake originated from the seemingly endless amount of bricks comprising the focal point of the district's unique architecture.
But it's not just the city and its people that motivate Brickman to come back for another performance. He also appreciates the closeness he feels with the audience when playing smaller venues.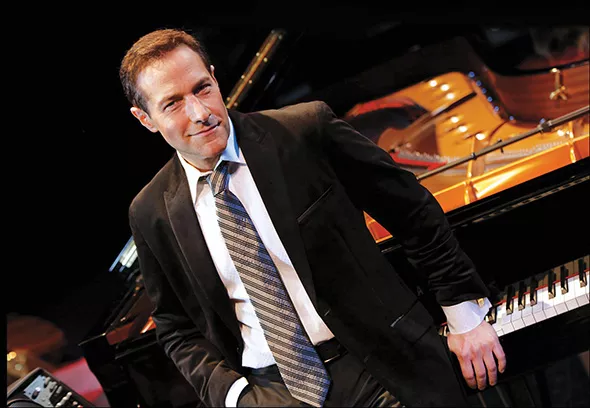 Jeff Klaum / provided
Jim Brickman plays at OCCC's Visual and Performing Arts Center Theater Dec. 11.
Hosted at Visual and Performing Arts Theater at Oklahoma City Community College (OCCC), an intimate setting that seats an audience of about 1,000, a more personal experience will be available for those hoping to tune into the holiday spirit.
"I love the intimacy of a place [that size]," Brickman said. "Those are the kinds of things that I'm really drawn to when it comes to the Christmas show because people are gathering and they're celebrating the season. … It feels like my friends are just hanging out at a Christmas party."
Though it requires him to be more in tune with the audience, it's unlikely he'll be struggling to turn his viewers on to the spirit of his music. Aside from what he describes as an intuitive sense for how his audience feels and responds to his music, those who attend will likely already be anticipating an atmosphere filled with holiday joy.
"My music lends itself, I think, to the holiday because it's very emotional. It's a really nice soundtrack — a very nice, peaceful aspect to the season," Brickman said. "The spirit everybody's in … they're in a more celebratory, happy mood and so it's special."
Anything goes
In addition to a number of holiday favorites from his Joyful Christmas album, Brickman will also perform some of his more popular hits, taking a play-it-as-it-comes approach. The audience is in for a treat even if they've experienced his shows in the past.
According to Brickman, nothing he plays is written down. Of course, when there's a set planned out with other musicians sharing the stage, he can't be too spontaneous with his songs. Still, he retains an extemporaneous element with his compositions, and once he and the crowd warm up to one another, the pianist might at times have those in the room feeling as if they've come to hear a Christmas jam rather than a rehearsed compilation of holiday music.
"I always wanted my music to be something that lifts people up, that makes them smile, that connects them with their emotions," Brickman said. "Everything in my point of view is hopeful, idealistic, happy. I feel like especially now in the world, all of us are looking for a way to escape and daydream and have hope and promise."
Now over two decades into his career, it would seem he has been able to do just that. People who went to see Brickman perform when they were kids are now the parents of a new generation of concertgoers attending his live shows. To this end, he said, it's important to cultivate the audience and provide them with the momentary escape they've been looking for.
"While it's happening, you don't realize that 22 years has gone by, but that's life, you know, so seeing that cycle is kind of cool," Brickman said, reflecting on his success. "I would never think that far ahead."
"I know his work; I have his albums," said Richard Charnay, director of cultural programs at OCCC. "He's a lovely guy, and he's great to work with. He does a great show, and he's got a nice following."
Over the years, Charnay has played a key role in booking Brickman's performances. He said it's not unlikely for Brickman to return to OCCC in the near future, but it probably won't be for a Christmas special.
In the meantime, Brickman will enjoy his holiday tour while it lasts. Having released upward of 12 Christmas albums, the season is undoubtedly an important part of his life, one he hopes to share with those interested in joining him for the occasion.
"I always just loved Christmas, always loved doing Christmas music, and it's become so much a part of my career," he said. "People love the holiday music, and I've always loved the melody and the beauty of holiday songs."
Visit jimbrickman.com.