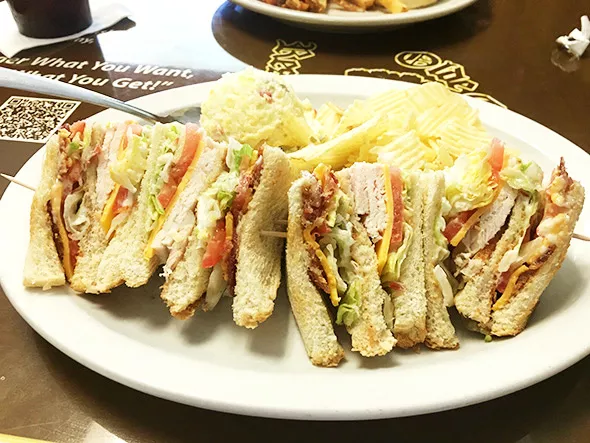 Jacob Threadgill
A cheeseburger with french fries at Olde Orchard Restaurant
Olde Orchard Restaurant
7339 NW 23rd St., Bethany

405-787-3332

What works: Service is quick and friendly and everything is made from scratch.
What needs work: Don't mess with tradition.
Tip: Save room for dessert.

In honor of our issue that releases the week of the country's celebration of independence, I wanted to find a restaurant serving American classics from scratch. I lucked out, and all I had to do was take a trip west on 23rd Street until I got to Bethany.

Celebrating 45 years in service, Olde Orchard Restaurant, 7339 NW 23rd St., in Bethany is a classic family-run restaurant done right. Founded by Richard Conrady as a place where his seven kids could eat and eventually get some experience, it has stayed in the family. Youngest daughter Amy Franklin is Olde Orchard's operating owner.

"We put our heart into it," Franklin told Discover Oklahoma.

Open 6 a.m.-8 p.m. Monday-Saturday, Olde Orchard makes its meals fresh, and service could not be swifter. Before I left for my first trip to Olde Orchard, and I believe my first Bethany experience, I wasn't sure how long it would take to get out there. I realized it's a lot closer than anticipated.

Once you're in the Windsor District of Oklahoma City, you're basically almost to Bethany. There's something heartening about pulling into the parking lot and looking at the sign to find a burned-out "a" in Orchard and missing "u" in Restaurant. It tells me it's the kind of place that doesn't need fancy signage to attract customers.

Stepping foot into the restaurant really does feel like going to your grandparent's house—minus Fox News blaring in the corner. There are a lot of kitschy knickknacks lining the booth, but I found the fact that they've hung a lot of historic Oklahoma pictures from the state's founding fascinating.

Guests seat themselves, and I cozied into a booth that displayed a photo of downtown Guthrie in 1893 while it was still the territorial capital. I temporarily got lost in thought as I looked at a photo that showed a crowd of people teeming for a market, and I wondered how exactly they built those buildings just a few years after the land run.

The waiter bringing our orders to the table awakened me from my daydream. Hadn't I just placed the order a few minutes before? I did, but that's how quick service is at Olde Orchard.

The restaurant doesn't sacrifice quality for speedy service. I expected everything might be frozen, but the fries that came with my burger were hand-cut and warm and crispy. Franklin told Discover Oklahoma that they don't use frozen beef for burgers.

My wife enjoyed the burger while I munched on a few of her fries; she gave them extra points for using mustard as the only condiment, which I also like. The acidity of the vinegar in the mustard cuts through the greasy burger.

I had a craving that day, and the only thing that could fill that void was a turkey club sandwich. Sometimes called a clubhouse sandwich, it is thought the double-decker sandwich cut into quarters originated at Union Club of the City of New York, which is still operational, in 1889—the same year sooners got the jump on the Oklahoma Land Run.

I understand both sides of the great mayonnaise debate, but there are certain dishes in which it's necessary. I prefer to make an oil-based coleslaw or use yogurt when making tuna salad, but I've got to have mayo on a club sandwich. Olde Orchard delivered the Goldilocks ratio of mayonnaise on the sandwich — not too much and not too little. Combined with crispy bacon and thick-cut turkey — I wouldn't surprise me if is cooked in-house — my craving was more than filled.

I opted for potato salad instead of fries with the sandwich and was happy to see I also got a side of potato chips. The potato salad was freshly made, if slightly sweet from the relish, but the potato crumbled for easy bites that went down cool on a hot day.

Olde Orchard serves breakfast all day, in true diner fashion. Its breakfast offerings are somewhat nondescript. It has six kinds of omelets alongside egg plates that offer grilled Polish sausage, grilled pork loin and chicken-fried steak to go with hashbrowns, home fries, fruit or grits, biscuits and gravy or toast. It has recently added a thick Belgian waffle to the menu with pancakes and French toast.
Jacob Threadgill
Reese's Pie with peanut butter and chocolate layers with housemade pie crust
One of the restaurant's signature items appears to be stuffed baked potatoes, which are only available Monday-Friday. Fried catfish, which is cut and battered in-house, is another popular entrée, and Olde Orchard offers all-you-can-eat catfish 5-8 p.m. Fridays for $10.99.
Smothered liver and onions is a dish I've never actually tried, but there must be a reason it has stood the test of time. If you're looking for an alternative to chicken-fried steak, I'd recommend the breaded pork loin.
There are certainly restaurants where dessert isn't necessary. I'd urge you to save room for some of Olde Orchard's homemade pie. I'm staunchly in the pie over cake corner because I love crust. When I was a kid, I'd eat all of the filling from a double-crust pie just so I could save the crust for last. I tried a piece of the Reese's Pie, which features a peanut butter layer topped by a chocolate cream one and whipped cream, and it was excellent. The crust was so light that it almost melted in my mouth. I could feel the individual flakes of pie crust hitting my tongue one at a time.
Now that I know Olde Orchard is a lot closer than I realized, I look forward to returning and might just order dessert first.