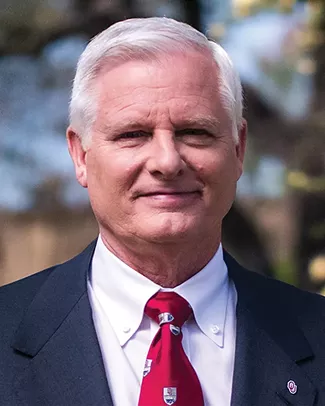 University of Oklahoma / provided
OU president James Gallogly announced his retirement two days after his only spring commencement ceremony.
A former high-powered executive sweeps into office with experience in an unrelated field. Before he even reports for his first day of work, he sees that a building bearing his name might not be completed due to financial concerns and he proceeds to sledgehammer away at the reputation of his predecessor.
On his first day at work, he fires six administrators. Some vocal opponents lose their jobs after speaking out on his policies while reports of gender discrimination and racial incidents rise under his watch. According to several administrators who remained anonymous out of fears of reprisals, he responded to one criticism by allegedly telling a senior administrator, "Tell him that I am the meanest son of a bitch he has ever seen, and if he ever crosses me again, I will destroy him."
His administration then follows through on the threat, hiring a conservative law firm that previous employed U.S. Supreme Court justice Antonin Scalia, former Fox News anchor Megyn Kelly and former White House counsel Don McGahn to do the dirty work.
And no, this is not the President of the United States we're talking about, but you would think, right?
All of this happened in the 10 months since James Gallogly became University of Oklahoma's 14th president. On Sunday, May 12, Gallogly announced his "retirement" from OU, releasing a statement on Mother's Day afternoon, producing a deluge of "I'd like to retire after a 10-month career" jokes on social media.
Journalists and keen observers of politics and business are familiar with the term "dead drop." It is what happens when spokespeople send press releases on potentially controversial matters just before 5 p.m. on any day, but especially on a Friday when journalists are pondering their escape from work. It is perfunctory due diligence designed to fulfill a duty, but just barely.
Announcing the end of one of the most controversial and brief tenures in OU history on Mother's Day afternoon is not just a dead drop. It is the deadest of drops.
Gallogly's statement extolled virtues of cost reduction, which I am certain resonated with the landscapers who were dismissed from their jobs under his tenure. Everything he did was an effort toward financial responsibility, including hiring the Jones Day law firm to investigate retired OU president David Boren for financial impropriety but, in a classic Kenneth Starr-like move, pivoting to sexual impropriety.
But Gallogly never meant to besmirch Boren. That is, of course, fake news.
"Unfortunately, a false narrative has been created that the explanation of the university's financial condition, the disclosures of improper gift reporting, and changes to various people serving in the administration were somehow intended to diminish the legacy of our past president," Gallogly said in his Mother's Day statement. "That false narrative is now also being used to question the motives and propriety of the ongoing investigation of alleged misconduct by person(s) yet to be disclosed by the university. The university was required by law to commence an investigation upon the receipt of complaint(s). That process has been ongoing according to its procedural mandate. The Jones Day law firm was hired to conduct an independent and unbiased, expert investigation and issue a report which the firm has now done."
According to a March 2017 story in Bloomberg, at least 14 former Jones Day attorneys went to work for the Trump administration, a paragon of "independent and unbiased" action.
Gov. Kevin Stitt, who runs state government like a business where people retire after 10 months of brisk work, released a statement on Gallogly's impending departure.
"James Gallogly is an upstanding individual who stepped in to lead the University of Oklahoma through a historical financial crisis. He hit the ground running," Stitt said. "I am confident that the OU Board of Regents will make a wise and timely selection to succeed Gallogly."
I wonder how many times the name J.C. Watts came up in the Stitt household over the weekend.
Just six weeks ago, Oklahoma Gazette published a cover story about the malaise that had descended over OU since Gallogly took office and how campus life had become infected with racially charged language and incidents of blackface being worn as acts of provocation. Based on statements from Stitt, chairman of the OU Board of Regents Leslie Rainbolt-Forbes and Gallogly, it seems unlikely that the regents will hire an "OU whisperer" to soothe campus nerves in the wake of Gallogly's tenure. Considering that cash donations to the university were down 31 percent as of February, perhaps they should.
Gallogly was right for insisting on financial responsibility at the university, given that spending was outpacing revenue at OU, but his responses sowed so much discontent and disarray among the staff, faculty and student populations that it will take years for OU to get past this dark time in its history.
Gallogly presided over only one spring commencement ceremony, which was held two days before his announcement and featured journalist/noted badass Soledad O'Brien as speaker. In her speech, she referred to her recently deceased mother Estela O'Brien, who once told the former CNN and NBC anchor to ignore most people's advice because most people "are idiots."
"So you might be a bigger idiot if you listen to them all the time because you will be told in very many ways all of the things that you cannot do, that you should not do, that you will absolutely, positively fail, so please don't listen to them," she said. "They just don't know. They're speaking from fear, and as you head out into the world, you need to be fearless. Problems can be solved."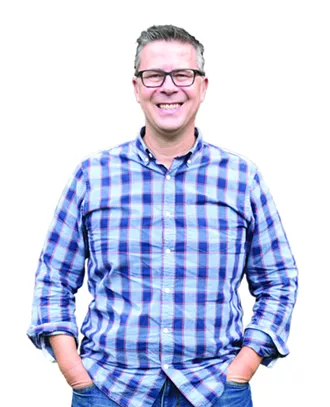 O'Brien's mother was right, and the OU Board of Regents has problems to solve. In the face of this short, strange episode in its history, let us hope that they are fearless in correcting course.

George Lang is editor-in-chief of Oklahoma Gazette and began his career at Gazette in 1994.


Opinions expressed on the commentary page, in letters to the editor and elsewhere in this newspaper are those of the author and do not necessarily reflect the opinions of ownership or management.