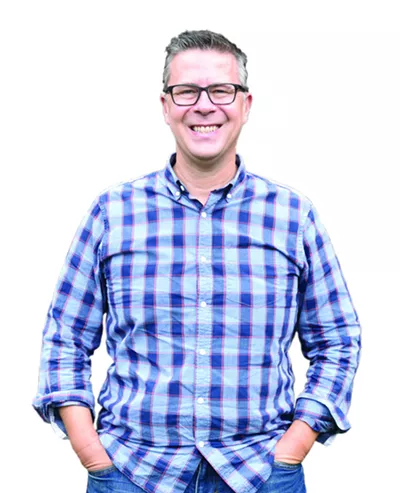 Late last year, a candidate for public office was interviewed by Oklahoma Gazette for an election preview story, and everything went perfectly well — at least until the interview ended. As the reporter got up to leave, the candidate had the temerity to ask if he could read the story before it went to press.
Just to be clear, Oklahoma Gazette does not do that. No newspaper should do that, yet people now ask for the privilege of editing stories about themselves with alarming frequency. When I started in this business, no one would dare make such a request, but something has changed.
My theory is that advertorial content — advertising that looks like a news article — has warped the ethical backbone of too many publications. The result is that readers and potential interviewees believe that if a magazine or newspaper will publish a piece of self-dealing drivel that was bought and paid for by its subject, then reporters, editors and publishers are complete pushovers at best and prostitutes of the written word at the very worst.
Like the devil, advertorial content can take many forms, some of which are easy to spot while others come heavily camouflaged. Some publications will run advertorial content with a "Special Advertising Section" label at the top, but that is as good as it gets. At worst, an advertorial for a business receives no labeling at all and runs adjacent to a display ad for that same company.
Shortly after I became editor-in-chief of Oklahoma Gazette, I received a call from an editor at a local magazine who I've known for a couple of decades. This editor had been told by a local merchant that Gazette was offering his business a piece of advertorial content accompanied by a display ad, and he wanted a similar deal from this magazine. He then used this line of hot garbage with another local news organization.
It was a lie that defamed my publication in an effort to scam two others.
I don't know if he found a newspaper or magazine willing to suck up to his company at the expense of their journalistic credibility, but I could point him to The Oklahoman in case his business ever reopens.
In the Feb. 10 issue — the Sunday edition, so the ad rates are higher — a story ran on a local restaurant chain with the headline, "Charleston's Bricktown great for game time." This story ran under a banner: "Oklahoman BrandInsight — connecting marketers to The Oklahoman reader." At the end of the story, the newspaper printed a qualifier for the preceding content, saying that the "article is sponsored by Charleston's Bricktown, a Hal Smith Restaurant."
The story was not what the industry typically calls "sponsored content." That is when a business decides to sponsor, say, Oklahoma City Thunder coverage. In this scenario, that business cannot be the Oklahoma City Thunder, and it cannot exercise editorial approval over a Russell Westbrook profile. It is simply trading cash for association with the paper's Thunder coverage.
The Oklahoman's BrandInsight content is purely advertorial, but that line about "connecting marketers to The Oklahoman reader" couches it in the language of reader service. The lengthy explainer/disclaimer that runs on NewsOK.com goes farther in pushing this idea.
"BrandInsight content is by-invitation and it is reviewed by NewsOK editors for appropriateness," the paragraph reads. "However, it allows businesses and organization [sic] to engage directly with the NewsOK audience on areas in which they have special knowledge. These sponsored native advertising articles are not intended to promote products or services, but rather provide valuable information to our readers."
So, when The Oklahoman publishes a BrandInsight piece with the headline "OBU to add on-campus MBA classes," it is not to promote Oklahoma Baptist University's on-campus masters of business administration program?
Then there is the Dec. 18 story titled, "Regent Bank passionate about non-profit banking." This is a story designed to recruit nonprofit organizations to the bank, plain and simple. It only uses sources from the bank, and it does not quote anyone from the nonprofit community, which would be a nice angle if this were an actual news story.
The online version of the Regent Bank story is accompanied by two click-through ads for the bank. One of the ads features the same photo of Whitney Randall, Regent Bank's director of nonprofit banking, that is featured in the story.
The Oklahoman has a business section that reports on banks, a food section that reports on restaurants and an education reporter whose beat includes higher education. If these stories "provide valuable information" to The Oklahoman's readership, why are they not being assigned to staff reporters?
There is a perceived value to what looks like a news story. When I worked in public relations for a bit, I learned what "earned media" is and how the value of a news story that results from PR outreach is calculated based on advertising rates, and a news story with color photography is worth some serious dollars.
Advertorial is not the same as earned media, but when it takes up real estate in Section A, it looks a lot like it, but it is taking up space that could otherwise be allocated to actual news.
When the managers of Oklahoman BrandInsight claim that the stories are "reviewed by NewsOK editors for appropriateness," I wonder just how much oversight is applied to this content. After all, when the Charleston's Bricktown story ran, the entire body of text was dumped into the page layout with no paragraph breaks. It might be the longest paragraph ever published in The Oklahoman.
I wonder what that did to the story's perceived value.
This is, of course, the work of the trusty copy editors GateHouse employs in Austin, the same ones who wrote the April 2018 headline for Steve Lackmeyer's column, "Urban Agrarian reborn, and will add shop in downtown Edmonton."
Because when you're looking to expand your organic food store based in Oklahoma City, you don't think of Edmond — you immediately start scouting locations in the capital of Alberta, Canada.
But hopefully you don't buy a piece of advertorial to promote it.
George Lang is editor-in-chief of Oklahoma Gazette and began his career at Gazette in 1994.
Opinions expressed on the commentary page, in letters to the editor and elsewhere in this newspaper are those of the author and do not necessarily reflect the opinions of ownership or management.