Gazette / file
Seared scallops are served with Della Terra pasta.
Since opening Social Deck + Dining in the former Chae Modern Korean space, 1933 NW 23rd St., last December, owners Jordan and Jamie Winteroth are still very much in the perilous first year of a restaurant.
Under the headline "No, most restaurants don't fail in the first year," Forbes did its best in a 2017 story to debunk the common misconception.
Citing an American Express commercial, writer Adam Ozimek does his best to debunk the misconception that 90 percent of new restaurants fail in their first year of operation.
I've always heard a number closer to 60 or 70 percent, which is backed up in studies by Cornell University and Perry Group International, but a 20-year study looking at 81,000 independent restaurants across the country published by a pair of economists in 2014 found that the number of first-year restaurant closures (17 percent) is lower than all other service startups (19 percent).
Market specifics certainly play a large role in those numbers. With the rash of new restaurant openings in Oklahoma City this summer, there's certainly a case to be made that the city is over capacity for independent eateries.
Social is the first restaurant from the Winteroths — Jordan spent a lot of time as manager with A Good Egg Dining Group — and Social is at its point in its life cycle where it has been well-received by those leaving reviews on Facebook, Google and Yelp! with a 4.7 (out of five) aggregate between the sites, but it's still gaining traction.
"Business has been up and down," Jordan Winteroth said. "We've had really good months and things were really starting to shine, and then July was pretty tough. We think that was from people traveling. With school getting started back, we're hoping that people start getting back into their routines again."
He said they will be sponsoring give-back nights at local public schools and are hiring a marketing team to continue to increase business. After a pair of recent trips to Social, I was thoroughly pleased with pretty much everything I tried at the restaurant, and people should seek it out. I think it works well as both a date night kind of restaurant and a brunch destination.
Social sets itself apart in the market by offering brunch service seven days per week. In recent months, the menu has been adapted to carry its popular baked egg dish with lamb meatballs to its dinner menu and add smaller portions of chicken-fried steak, katsu sando and tikka masala to its lunch menu.
"Baked eggs are the most popular dish, and people keep coming back for it," Jordan Winteroth said. "We added it to the dinner menu because people were disappointed that they could only get it for brunch. … [The] one complaint was people thought brunch was more breakfast than lunch, and brunch should have both."
Served with housemade flatbread, a spicy tomato sauce and lamb kefta meatballs, there is a reason the baked eggs ($14) are so popular; they're really good. Flecked with onion, mint and garlic, the meatballs are well-positioned in the tomato gravy and topped with feta cheese. It's basically shakshouka with meatballs, which is hard to beat.
At a lunch with a few other guests, the table seemed unanimously pleased with the buttermilk waffle ($9) topped with blueberries, the chilaquiles ($12) in a dark red chile de arbol sauce and the bacon, egg, lettuce and tomato sandwich ($12).
On future visits, I'd like to try Social's take on eggs Benedict that uses Ora King salmon cakes with sourdough and hollandaise ($16), which is the same price the cakes go for on the dinner menu as an appetizer. I'd also like to give Social's version of a Dutch baby a try. The thick, eggy pancake is also available in the metro at The Jones Assembly's brunch and En Croûte, and of course, Oh Baby! in The Collective food hall specializes in the dish with both sweet and savory applications.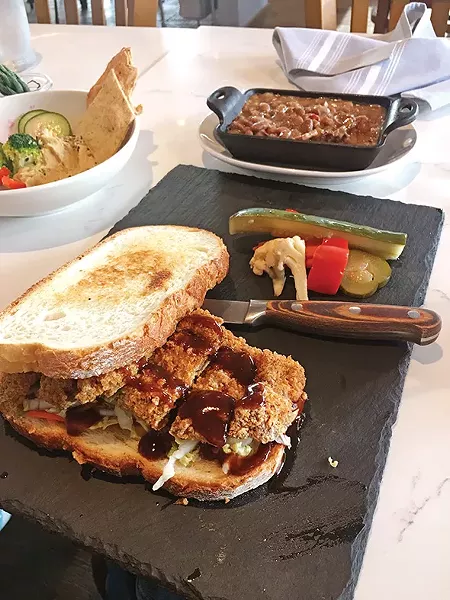 Jacob Threadgill
Katsu sando with cowboy cassoulet
A dinner trip to Social continued the foundation started by a good lunch visit. The meal began with an order of everything hummus, which is joined by housemade flaxseed crackers; salted, roasted beets; cucumbers; red peppers; and broccoli covered in house oregano vinaigrette. All of the veggies were seasoned nicely, and I liked the fact that except for the beets, they were served raw to retain maximum nutritional value. I recommend this as a starter because it has an ample amount of vegetables and allows you to explore other side items with your entrée.
I originally thought about ordering broccoli with the katsu sando for dinner but opted for the cowboy cassoulet instead. The beans are cooked with multiple types of pork and arrive bubbling in a small cast-iron skillet. They're smoky and wonderful.
I was surprised when Winteroth said the side item hasn't sold well over the summer.
"The cassoulet will pick up more traction during the colder months," he said. "We didn't want to change up the menu too quick, but next spring and summer, we'll be taking that one out for a cooler."
The katsu sando ($13) has gone through a little bit of a new preparation since opening. Originally served with dry napa cabbage, the fried pork cheek is topped with cabbage and carrots with a light vinegar dressing. I liked the fact it's now more like an Asian coleslaw, but the last few bits of the sandwich were a bit soggy.
"[The kitchen] probably didn't strain the cabbage properly," Winteroth said. "We just switched it up after some customers said they'd do it differently, and we started playing with it."
The pan-seared sea scallops ($28) are a home run on the dinner menu. The scallops were cooked perfectly, not overdone, and the Della Terra pappardelle pasta was nicely al dente. The chunks of Parmigiano-Reggiano were so big and wide you had to do a double-take to distinguish them from the pasta.
As its name says, Social puts an emphasis on encouraging conversation between parties. Booths are sat close together, and other guests can be seated at long communal tables. It worked at dinner; my wife and I struck up conversation with the group next to us as our entrees arrived.
With a commitment to use fresh and local ingredients and offer brunch options every day, Social is executing its mission as it closes in on its first-year anniversary.