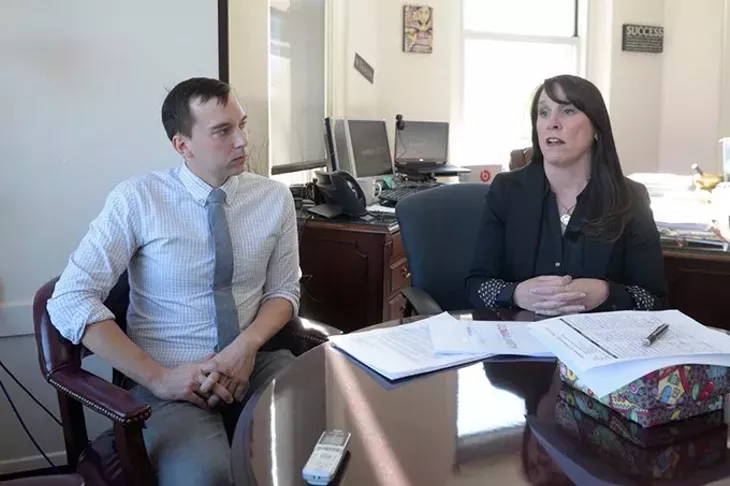 Garett Fisbeck
Colin Strickland, community school coordinator, and Alisa Stieg, principal, talk at Edgemere School, Wednesday, Nov. 16, 2016.
At Oklahoma City's Edgemere Elementary School, challenges follow many children into classrooms each morning, but the community school model brings light.
Longtime educators in high-poverty schools, like Alisa Stieg, understand that the struggles are not just for academic success but also to improve the lives of children from economically disadvantaged homes.
Hungry bellies prevent students from retaining classroom lessons. The stress of a dysfunctional or unstable home can lead to acting out, which disrupts the learning process for all students.
Leaders at Edgemere enacted a community school framework to address these challenges with a robust academic program for the school's 200 students. It provides an array of in-school mental, physical and social services to students and families.
"Our purpose is to find out what is broken," said Stieg, who was named principal in 2014. "What are the barriers, and how can we build a bridge for the child? We want the child to cross over to the other side where, as an adult, they have the opportunity to be employed and live a rich and fulfilling life. We are trying to un-break a broken system."
Edgemere is one of 54 elementary schools in Oklahoma City Public Schools, the state's largest public school district. Edgemere, a Title 1 school with a long history of serving students from Jefferson Park, Paseo and Crown Heights-Edgemere Heights neighborhoods, distinguishes itself as a community school, a preferred model of education reform by former U.S. Secretary of Education Arne Duncan.
Community schools combine education with strong school and community resource partnerships. School staff and community partners work to meet the needs of students and their families, a majority of which live in or on the edge of poverty. More than 90 percent of students qualify for Title 1 services, which are determined by the federal government. The nonprofit group Friends of Edgemere School advocated converting the prekindergarten through sixth-grade school into The David R. Lopez Community School at Edgemere Elementary. Lopez is a former Oklahoma Secretary of Commerce and OKCPS interim superintendent.
At Edgemere, education also means a Sunbeam Family Services counselor sits with troubled students at lunch. It means school leaders share donated holiday meals with families who would otherwise go without. It means a college student volunteers to teach strings lessons after the school's program was cut.
Today, in Edgemere's third academic year as a community school, more than 30 organizations, businesses and churches, along with a lengthy list of parents, neighbors, professionals and college students who volunteer weekly, work with the school.
Signs of early success are obvious. Student artwork adorns hallways. Pupils sit rapt in the library as their teacher reads to them. Children wave and smile to school staff as they pass each other in the hallways. One classroom was converted into a tutoring space for volunteers to meet one-on-one with students. In the front office, blue fliers provide parents a starting place to fill gaps in basic needs like food, clothing, housing and health care.
"Our school system can't do it alone," Stieg said. "It takes every other individual from outside the walls of this school to contribute their time, talents or treasures."
Garett Fisbeck
Students play soccer at Edgemere School, Wednesday, Nov. 16, 2016.
Building resources
As the community school coordinator, Colin Strickland is mainly responsible for fostering the partnerships and programs established over the past three years. The partnerships can be broken down into three categories: resources, enrichments and academics.
For resources, Strickland works with local businesses on school supply and book drives. He fields calls about needs and facilitates donations. Strickland knows who to call to help families in crisis. He refers families to myriad local nonprofits and government agencies.
Organizations like Boy Scouts of America, Arts Council Oklahoma City, El Sistema Oklahoma, Girls on the Run and Oklahoma Children's Theatre complete the enrichment plan with afterschool learning programs. For academics, Strickland welcomes volunteers into the building daily. Some read to children, while others tutor in subjects like math and English. Students also discover friendship and mentorship among the volunteers.
This week, more than 30 Edgemere families received Thanksgiving food baskets. In a few weeks, holiday gifts will be shared with families in need. With each meal, each gift, each day, Strickland said, the bonds between the parents and school leaders strengthen.
"It opens communication between families and the school," he said. "We might not be able to track down resources for every single person in need, but we've started the conversation: 'How can we help? How can we connect you?'"
Support
When school began Aug. 1, one of the first questions posited by Heather Coffey's fourth-graders was, "When are we starting afterschool programs?"
"They kept asking," Coffey said and explained afterschool programs energize classrooms and individual students. "They get to be involved in extracurricular activities that most schools do not offer. Typically, only students whose parents can afford and can drive get a chance to be involved. It's a huge difference."
Coffey's first interaction with urban schools was as an adult teacher in Oklahoma City. She grew up 60 miles west, in a small rural school district. There, the sense of community translated to strong student and teacher support. She noticed communitywide support wasn't as developed in the urban schools she taught at before Edgemere.
"When I walked into Edgemere, I felt like I was back in my hometown," Coffey said. "The teachers and students get support, both in time and in finances."
For the past six years, Jackie Fix — a Friends of Edgemere School board member and parent — has watched the school closely and contends the community school model has served both teachers and students well.
"The students know that teachers care about them," Fix said. "Teachers are telling their students they will succeed. That changes attitudes. It helps the kids with their approach to life and prepares them for when they go home and deal with situations they shouldn't have to."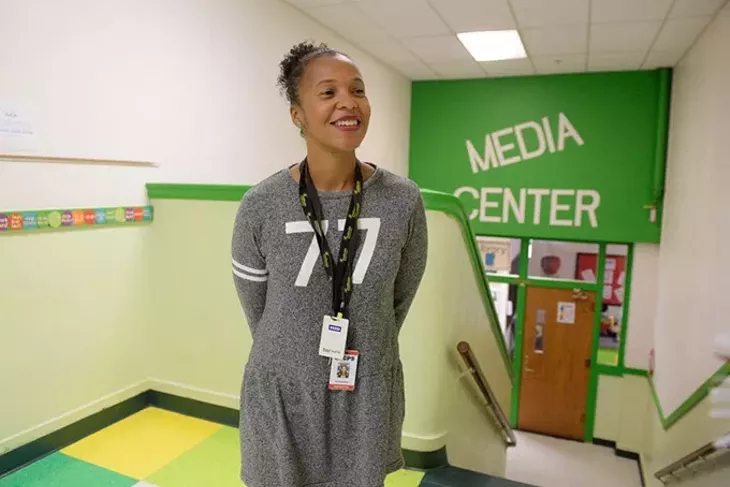 Garett Fisbeck
Kimberly Miller, Sunbeam Family Services, talks about her involvment at Edgemere School, Wednesday, Nov. 16, 2016.
On point
School leaders like Stieg and Strickland are optimistic that Edgemere has established the right supports to close achievement gaps and influence the future of impoverished students from nearby neighborhoods. At the same time, the two realize the community school model requires long-term work. The effects of poverty and complex social structures, exacerbated by levels of inequality and minimal funding, will continue indefinitely to challenge Edgemere and other schools.
"I don't think we will ever get to the place where we feel like we've arrived," Stieg said.
Both want Edgemere to become a school of choice, one where all parents want to send their children.
"There are resources in place here so that any child can be successful," Strickland said. "There is no reason why this can't be a neighborhood hub. It is just a matter of resources and connecting."
Provided this degree of care and communal support continues, it might only be a matter of time.
Print headline: Allied effort, Edgemere school leaders, along with the community, labor to erase the achievement gap by addressing the root of the problem: poverty.