provided
Apollo Woods is the founder of OKC Black Eats and organizer of the first Black Foodie Summit.
Connecting Oklahoma City's expanding food scene has been on Apollo Woods' mind since he moved back to Oklahoma in 2016 after two decades away.
Woods is employed in the oil and gas industry but has a background in marketing and hosting events like the Get Connected mixers in Houston he emceed for years.
Woods grew up in Duncan but has many family members in OKC.
"I left Oklahoma in 1999, and Oklahoma City then to now is totally night and day," Woods said, noting that when he would post food pictures to social media, friends would respond incredulously, "That's in Oklahoma City?"
Woods became a weekend adventurer, going out every Saturday to find a new restaurant. But he wasn't always able to find exactly the kind of destination for which he was looking: small mom-and-pop restaurants, especially those that are black-owned.
He started hosting monthly mixers in 2017 but was looking for a way to combine social events with his love for food. After prayer and meditation, the solution woke him up at 4 a.m.: OKC Black Eats, which has become a marketing firm and online catalog of black-owned restaurants across Oklahoma City and the state. Woods said he has found 32 black-owned restaurants between Oklahoma City and Tulsa.
"I just wanted to bring more awareness to the black culinary scene here," he said. "Now, I can't stop. The stories I've got are bigger than the food. … We're building a directory so that it circulates the dollar in the community. Reports say that the black dollar only stays in the community for six hours."
Foodie opportunity
After starting OKC Black Eats on Facebook last August, the page has over 1,400 followers, and the group is hosting its first event, The Black Foodie Summit, 4-8 p.m. Saturday at Ice Event Center & Grill, 1148 NE 36th St. The free event features food from 12 restaurants and vendors and includes a panel discussion hosted by Woods with Yelp community director Julie Scott, public relations business owner Krystal Yoseph and Ice Event Center owner Marc Flemon.
The event will operate like one of Woods' mixers but highlight local food instead of relying on one caterer. Participating food vendors include Chef Curry To Go, Tipsy Treats, Tati's Delights, M'Eye Chef Catering, Vesa's Soul Food, Leap Coffee Roasters, Toni Soul Chef, Desserts by Marshelle and Ice Event Center.
"With the direction of Oklahoma City heading towards growth, this event comes at the right time," Woods said. "The excitement I've heard from the chefs and operators — even those in culinary school right now — they feel like they have an opportunity to do something. Hopefully this grows to be a thing and shows the diversity of Oklahoma City. We want people coming back next year saying that they were inspired to open a brick-and-mortar or food truck."
Even though Woods has a demanding full-time job, he volunteers his experience in marketing with restaurants he profiles with OKC Black Eats. Woods helped Chef Curry To Go, 5701 N. Western Ave., establish a brunch the first Saturday of every month that donates a portion of its proceeds to a featured nonprofit. Woods also helped the restaurant with marketing on social media.
"The first brunch we had was standing-room-only for hours," said Lisa Curry, who co-owns the restaurant with her husband chef Kendall Curry. "He's showed us different ways to market ourselves, from more polished posts to using sponsored posts. Everything he shows us, we've continued using and it's worked."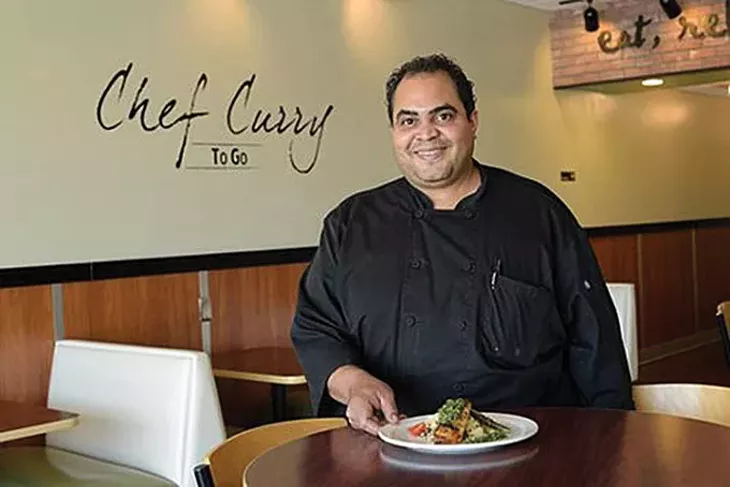 provided
Chef Kendall Curry is owner of Chef Curry to Go and will participate in the Black Foodie Summit.
Community cuisine
Curry said that The Black Foodie Summit is important because it showcases a variety of cuisine in the black community. Chef Curry To Go doesn't have fryers or microwaves and makes every meal from scratch. She said that people get confused thinking that they offer food flavored with curry.
"When people think about us being African-American-owned, they think all we do is soul food," Curry said. "I either hear that we serve 'curry food' or 'Why don't you have anything fried?' It's all cooked to-order."
Curry said they will offer a tomato basil soup shooter, spinach and artichoke dip and pork loin spiced with cumin, coriander and cinnamon at The Black Foodie Summit.
"I'm happy about the summit so that it can showcase everything that we have to offer," Curry said. "We have a lot of variety, and not just soul food. Off the Hook [Seafood & More] is seafood; [Caribbean restaurant] Carican Flavors is so good. We serve modern American comfort food, but we have great soul food at places like Bistro 46 [Restaurant & Grille] and Ice Event Center."
First and foremost, Woods said that he hopes exposure through OKC Black Eats allows residents of Oklahoma City to support locally owned restaurants.
"People are super friendly in Oklahoma City," Woods said. "How do we translate that to going from one side of I-35 to the other? The bigger calling is building community. Whether it is black culinary community or the Asian District, food brings people together. When you sit down with a table with good food, whatever else you're dealing with in life goes away. Sometimes people will just sit — maybe they're having a bad day — with a cup of coffee. It never fails; I'll see a manager come and sit with them. You don't get that with a lot of chain restaurants."

Visit facebook.com/okcblackeats.