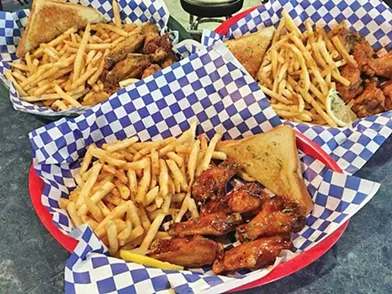 provided
Ice Event Center and Grill is known for its jumbo chicken wings.
Fried catfish and chicken wings are the reason Ice Event Center and Grill became successful, but it has been elevated in recent years by focusing on becoming community space for Oklahoma City's African-American community, according to co-owner Marc Flemon.
When it opened about seven years ago at 1148 NE 36th Street, in the northeast corner of the Northeast Town Center shopping center, Flemon said that the initial concept for Ice was purely social in nature, to be a bar space where people could dance, host parties and have a few late-night food options.
"I saw an opportunity to be more than that," Flemon said. "I saw an opportunity to be a central gathering place for black culture, education and all things that are important to the community but was missing. We already had bars and restaurants, but we didn't have a gathering place where you could take a dance class or have a community forum, attend dinner theater or host a gospel concert."
Ice now offers dance classes Monday-Saturday led by instructors who teach swingout — a style that combines traditional swing dance with stepping and other disciplines — and line dancing.
"There are so many variations of line dancing, but it's great cardio and good networking," Flemon said with a laugh.
While dance classes with trained instructors cost $5, most events at Ice have free admission.
Last December, Ice began hosting a free jazz and blues night every Monday at 8:30 p.m., which is led by a house band featuring keyboardist Adam Ledbetter (of Adam & Kizzie) and Chanda Graham.
"They are powerhouses in Oklahoma City for jazz and blues. They understand how important it is to promote jazz music on the northeast side. You can go to Plaza District, Edmond or downtown and see the same artists, but there's never been a conscious effort to promote it in this neighborhood. Jazz is an original contribution to African-American and American music, and we want to make sure to promote it."
Jazz and blues night begins with an opening set by the house band, but then the night opens up for advanced musicians to join the group and jam. Flemon said artists routinely drive from Edmond and Shawnee to perform, and he has gotten artists from Tulsa and Dallas to create a unique and organic jam session that can last all night.
"If the music is moving and the spirit is high, I'll let them play all night," he said. "It's becoming a major event for us."
On Mondays, the grill offers a dinner plate with a choice of fried pork chop or chicken wings with mashed potatoes and gravy, stewed cabbage and a dinner roll for $12.
It's indicative of how the menu has changed over the years. Hamburgers, Philly cheesesteaks, shrimp and loaded baked potatoes, the latter of which can be filled with chicken, chili or cheesesteak, are available for $6 on Wednesdays and Thursdays for lunch.
On Tuesdays, Ice hosts an adult game night with cards, jumbo Jenga and $2 margaritas. Wednesday is Dope Poetry Night, which Flemon said might be the largest open mic poetry night in the state, regularly attracting over 100 attendees.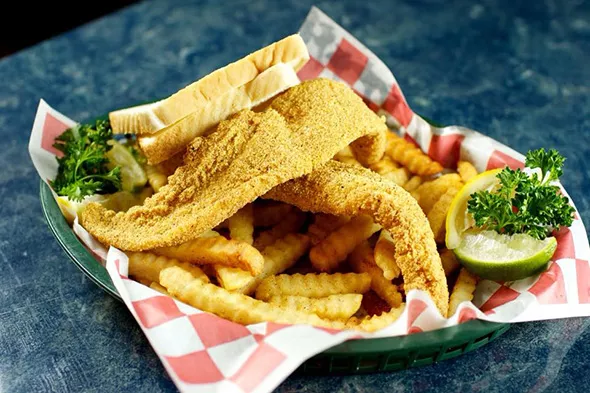 provided
A lunch catfish plate with french fries and bread
Thursdays are for live music with the R&B Ice house band that features four singers, including Thaddeus Johnson, who was a semi-finalist on the most recent season of American Idol on ABC. The event is free, but Flemon does recommend calling ahead to reserve a table because Thursday is Ice's most popular event.
On Fridays, Ice alternates between hosting a stand-up comedy night with a nationally touring comedian and karaoke. Ice is open for private events on Saturdays and hosts a made-to-order brunch with an omelet station, shrimp and grits and chicken and waffles the first Sunday of every month that features a pop-up store comprised of local vendors.
I heard about the food at Ice Event Center from Apollo Woods, who runs the great resource OKC Black Eats, and I certainly wasn't disappointed with the food, but I became excited about the center after speaking with Flemon.
Jazz and Blues Mondays sound like a blast, as does the Thursday night performance. I also like the ability to go to a comedy act right down 36th, rather than having to fight tons of traffic to go to other comedy clubs.
I went to Ice for lunch recently, and even though I arrived before noon, I was comforted to see a handful of other patrons in there. I knew it was more popular as a late-night option, but it opens at 10:30 a.m. Monday-Saturday and offers lunch specials.
I got catfish, and I was very pleased with my lunch but would've liked to see a vegetable option other than fried okra. I'd like to see them add some green beans, black-eyed peas, collard greens or even some coleslaw with the fish. The catfish plate with french fries and a water is only $9. The catfish filets were delicately fried. I could hear the cook drop them in to order; it wasn't too greasy, and there was plenty of seasoning on the corn meal batter. Each table is equipped with tartar and hot sauce, ketchup and mustard.
Flemon said that the kitchen is at its busiest at 1:30 a.m. on Friday and Saturday nights. For the most part, those kind of alcohol-fueled late nights are behind me, but I'm glad Ice is serving the same food all day and it has such an interesting and affordable event center.