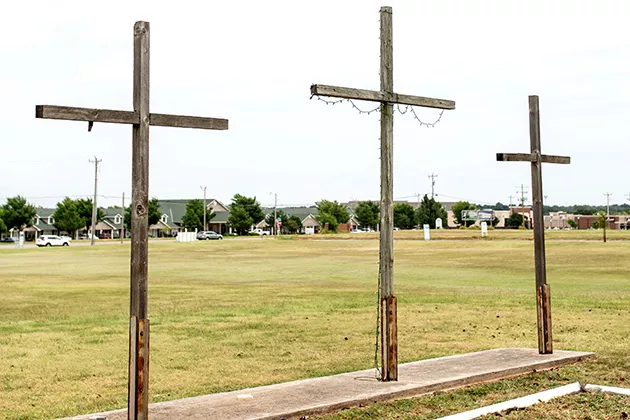 Alexa Ace
Edmond Trinity Christian Church hosted the "Isaiah Lewis: Where do we go from here?" event July 29.
On May 29, the family of Isaiah Lewis, an unarmed black teenager who was fatally shot in May, announced they have filed a civil rights lawsuit against the city of Edmond. The announcement was made exactly one month after Lewis was shot four times in a residential neighborhood following a police altercation.
The toxicology report was made public in late June, bringing the circumstances surrounding Lewis's death back into the spotlight. Prior to the release of the report, there was broad speculation throughout the community that Lewis had been under the influence of drugs or alcohol.
Jenny Wagnon, a spokesperson for the Edmond Police Department, referenced drug paraphernalia that had been thrown over a fence near the spot Lewis was shot — a claim that was repeated by several news outlets, including The Edmond Sun and KFOR.
Another report by KOCO cited Lewis's girlfriend at the time as the source of the claim, saying, "Lewis' girlfriend told police that he was on some kind of intoxicant and that he had stripped naked."
The claim was even repeated by the president of the NAACP, Garland Pruitt, who said during a press conference on June 29, "There's no excuse for a 17-year-old man having a mental and drug-induced behavior to have died."
Speculation about drug usage is something T. Sheri Dickerson, executive director of Black Lives Matter OKC, said often happens after an event like this.
"There was a lot of assumption, innuendo and allegations tossed around about the belief that Mr. Lewis was on various types of psychotropic drugs," Dickerson said. "PCP was one that they were constantly throwing out there, and they do that often in a situation to where black and brown persons are involved in an incident. They want to criminalize us."
A later article by News 9 following the release of the toxicology report was quick to negate any claims that Lewis had been on any psychoactive stimulants. The opening lines of the story read, "The attorney for the family of the 17-year-old Edmond student shot and killed during a confrontation with police has released the presumptive toxicology results. According to the results, Lewis was not under the influence of PCP."
The report did find a small amount of THC, one of the psychoactive compounds found in cannabis, and the commercial antihistamine Benadryl.
"Regardless of what showed up," Dickerson said, "does not mean that Isaiah Lewis shouldn't be here."
Cultivating dialogue
provided
Cece Jones-Davis organized the "Isaiah Lewis: Where do we go from here?" event July 29 at Edmond Trinity Christian Church to foster conversation after the shooting of Isaiah Lewis.
An event called "Isaiah Lewis: Where do we go from here?" was July 29 at Edmond Trinity Christian Church.
The event's organizer, Cece Jones-Davis, said the goal was to keep the memory of Lewis alive and continue cultivating dialogue in the community.
"Tonight is the first step, and that is an organized community conversation that I am unaware has happened around Isaiah Lewis. So that's the first step, to have the first organized opportunity to come together and ask questions," Jones-Davis said.
Jones-Davis moderated a panel discussion with Dickerson; Sara Bana, a community advocate and co-founder of Ending Violence Everywhere Coalition; and Nathan Yemane, a psychologist from Bethany.
"He talked about what it means to grieve as a community. ... When stories and narratives are told in a way that are dishonoring or assassinate character, plant seeds in peoples' minds unfairly, that diminishes the social status of the bereaved," Jones-Davis said. "They automatically have to go into defense when they should be mourning."
Vickie Lewis, mother of Isaiah Lewis, was interviewed July 26 on Being Real Wit It, a social commentary and news podcast hosted by two men of color.
"I'm taken to the brink of insanity every night, because in my thoughts, my child is murdered every night," she said during the interview. "And shortly after, I die. … Every day, it gets a little easier to do the day-to-day things, except the sleep — sleep escapes me."
Jones-Davis stressed the importance of creating and maintaining support systems within the community during a time of tragedy.
"In these instances, even when we don't have all the details yet, we still, as moral stakeholders, as community members, we still need to make sure that we organize spaces and have conversations to acknowledge the incidence of the tragedy no matter what," Jones-Davis said.
Not only is it crucial to raise awareness of these situations, she said, but also to have discussions within the community about the issues a death such as Lewis's brings to light.
"The first thing is we wanted to make sure that we gave space, that we created space, that we were intentional in organizing a conversation," Jones-Davis said. "We wanted to, in some small way, give the dignity and the importance of the situation and honor the importance of it. And then we wanted to allow people to participate and to gather in a safe space to talk about this."
Of all the people who spoke at the event, Jones-Davis said she found Vickie Lewis's words most impactful. She expressed her admiration for her and the strength and fortitude it took for her to speak in her son's memory.
Vickie Lewis's appearance at the gathering was a surprise to many people there — in part because Lewis was not aware of the event until just days before it took place.
In her podcast interview three days before the gathering at Edmond Trinity, Vickie Lewis was asked if she would be in attendance.
"Well, I didn't know about it. I was approached in May or June about it, and it was supposed to be July first, I believe, and then it was postponed or cancelled," she said. "I had some questions about it, I didn't hear anything back, and then my children asked me if I was going Monday, and I'm like 'What are you talking about?'
"My son's picture is plastered all over this flyer, so I guess I will be there because I want to make sure he's not misrepresented. … I would like an agenda. I would kind of like to know what the whole premise is. I know it's a community forum, but … I guess I will be there."
Jones-Davis said she did not include the Lewis family in the planning of the event because "it was hard to know if such an event would be triggering for them."
"We are so glad she came," Jones-Davis said. "Her presence was inspiring."
The Edmond Police Department was unable to comment due to the ongoing nature of the investigation.