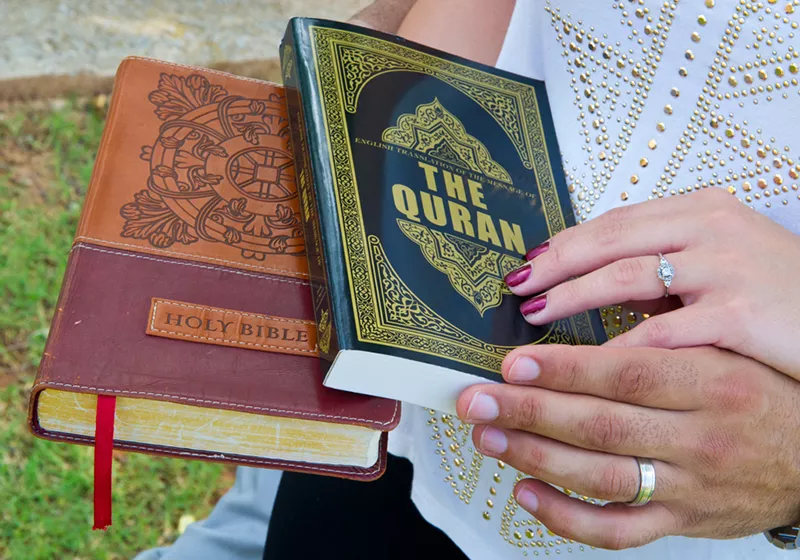 Shannon Cornman
Photo/Shannon Cornman
As staunchly conservative and overtly religious as Oklahoma can be, the state is still not immune to cultural trends, even trends that affect the way people practice their faith. Prior to 1960, only 20 percent of couples were in an interfaith marriage — between Protestants and Catholics, for example. According to poll results published in The New York Times, 45 percent of couples that married in the first decade of this century were in interfaith marriages.
Cydney Dixon was raised in Fort Wayne, Indiana, as part of the Evangelical Lutheran tradition. She moved to Oklahoma in her late teens and started working at a local IHOP. That is where she met Samer Alkahder, a Jordanian student who moved to Oklahoma because he was considering wrestling at Oklahoma State University. The two began dating in 2011, and in January of 2013, they were married at an Oklahoma City mosque.
Shannon Cornman
Cydney Dixon, an Evangelical Luthern and Samer Alkahder a Muslim with their Bibles, find balance in life as husband and wife.
Alkahder describes himself as a cultural Muslim. He does not practice all aspects of the faith, but he does keep many of the traditions, including dietary restrictions and avoidance of alcohol. The couple is among an increasing number of young Americans who are marrying across religious lines, thereby embracing the complications that come from wedding two distinct traditions.
Rabbi Abby Jacobson of Emanuel Synagogue said interfaith couples face two very serious obstacles.
"When the couple has children, choosing or helping them choose a faith can be difficult," Jacobson said. "Second, walking the line between teaching about a faith and practicing the faith is a very difficult line to walk, even if someone is only somewhat connected to their faith tradition."
Alkahder and Dixon, now 27 and 23, have yet to discuss what to do when they have children. Dixon is still working on a degree, so children are an undetermined number of years in the future. At issue immediately is finding ways to communicate about the different traditions, particularly how women are viewed and treated.
This is not just a struggle for interfaith couples; some marriages are impacted by intrafaith traditions as well. Tommie Marshell was raised in a Southern Baptist home; her father is still a Baptist minister. Her husband recently left a staff position at a local Acts 29 church, a tradition that blends 16th-century Calvinist theology with a complementarian — some critics say hypermasculine — approach to Christianity. The organization was popularized by Seattle megachurch pastor Mark Driscoll, but he stepped down from leadership over Acts 29 last year.
Although Southern Baptists are traditionally complementarian — the belief that men and women are designed by God for different roles, the role of the wife being more domestic and child- centered — Marshell's experience was of a father who was more egalitarian in approach. The sudden immersion into a complementarian environment was difficult.
Marshell described the process of moving from congregant to leadership.
"Once we got behind the scenes, I noticed that there was not an equality that they preached about," she said. "It made the sermons not make sense. The belittling of women is intense. But what makes it really bad is it's so subtle, it's so manipulative that I don't think most see it at first. I didn't see it at first, but little by little, I realized I didn't have the 'DNA' they expect members to have."
DNA is shorthand in the tradition for women or men who share the complementarian approach. Those who fight the system or speak out against it are described as not having the proper DNA. Marshell said she and her husband communicated regularly and openly about the status of women and how she felt as a woman in the environment.
"Once I started talking more to my husband about the things I saw, he listened and started looking for the things I was mentioning. I always referred to them as the 'ickies' because that's how they made me feel. I think every church has them, but theirs were core issues. They weren't just preferences; they were core."
Islam, too, has a reputation of being non-egalitarian in its treatment of women. Dixon said she and her husband have discussed several issues, including modesty — she admits to changing her clothes occasionally to make peace — and her right to live by her traditions, not his. Thus far, the couple has successfully navigated the differences, as have Marshell and her husband.
Jacobson said "clear, open, honest communication" is critical to the process, not just with each other but with grandparents as well. Grandparents can be an overlooked component of marital success, especially when faith traditions collide.
"In a world of two and three careers, grandparents are often directly involved with the raising of children," Jacobson said. "Whether it's picking them up once a week or having them spend the weekend, they will have an influence in a child's development. It's important to say up front what traditions the couple will and will not practice, just as you would tell them about sugar, bedtime, allergies and everything else."
Marshell and her husband solved their issue by withdrawing from the particular tradition. Her pastor father was helpful in the process, pointing out issues of theology and practice as well as providing guidance and counsel. Dixon and Alkahder are not practicing either faith for now, although he says it is a matter of laziness on his part, something he intends to correct soon. This year will bring a new challenge, though, as Dixon will be meeting Alkahder's family face-to-face for the first time.