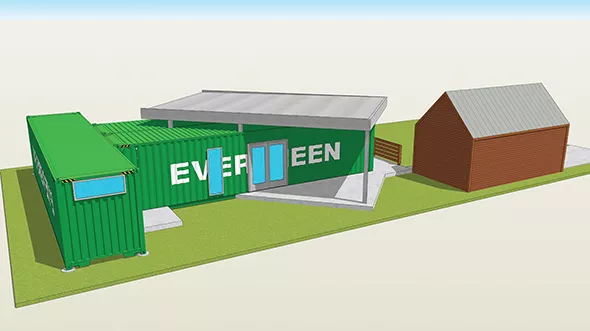 Greg Roberts / provided
Home builder Greg Roberts is hoping to complete his shipping container home in downtown Edmond by mid-2019.
Intermodal containers made shipping more efficient in the latter part of the 20th century, but now many of the steel units are finding a second use as part of homes and businesses.
Edmond developer Greg Roberts plans to bring a container home to Edmond in what he believes is the first use of the units for a structure in the downtown Edmond area.
Shipping container architecture isn't completely new to central Oklahoma; OK Sea, a multi-use development made up of shipping containers at NE Third Street and Oklahoma Avenue in Deep Deuce, opened in 2015, and 309 Monterey at 309 NW 10th St. incorporates shipping containers in its design.
Roberts has been in real estate for more than 20 years and has lived in Edmond most of his life.
"This container project is a fun, new thing that seems to be pretty trendy, and I think this will be the first container house in Edmond," Roberts said.
The container itself made a huge change in the shipping industry. The idea for an intermodal container came from former trucker Malcolm McLean, according to the book In Their Time: The Greatest Business Leaders of the Twentieth Century by Anthony J. Mayo and Nitin Nohria.
According to the book, McLean, who started with one truck and grew it to a larger company, found himself behind the wheel again with the economic downturn of the 1930s.
In 1937, he was forced into a long wait when delivering cotton to a New Jersey harbor. The inefficiency of the process bothered him, and he envisioned a better way to move containers from land to sea and back. It wasn't until nearly 20 years later that McLean unveiled his invention, and even then he faced obstacles from shipping companies and longshoreman unions. But less than 15 years after unveiling his containers, he had built the largest cargo shipping business in the world.
As these containers revolutionized shipping, there started to be a lot of them around. As such, people began to find other uses for them, including as portable showcases for trade fairs, according to CNN.
In 1994, futurist Stewart Brand wrote his book How Buildings Learn from an office made out of a converted container, a process he highlighted in the book.
And now, with tiny houses and "less is more" becoming big in real estate, the container home is right in the middle of it.
"Watching the trends in real estate, everything's going smaller," Roberts said. "And so back in the day, a 4,000 square-foot house was what everybody was dreaming for. Now, everybody is wanting more efficient, more technology and smaller and cooler. And that's exactly what these things can provide."
The home will be located off Fretz Avenue and Boulevard Street on Hurd Street; while the address isn't officially assigned at this point, Roberts expects it will be 226 W. Hurd St.
He said he expects the home to appeal both to students and to the "millennial market" of young families.
The Hurd Street home will be made up of three separate shipping containers.
"It's essentially going to be one 40-foot container across the back, and then there will be two 40-foot containers across the front, and they will make a T," he said.
The home will be two bedrooms with a "flex" room that could serve as another bedroom, making it overall a three-bedroom, two-bath home.
"We're going to try to keep some of the container doors intact, like in the back bedroom, so that the interior of the unit has still got that industrial, hard feel to it," Roberts said. "It will be … 960 square feet; it'll be cool drop-down ceilings, and the doors and windows will be custom done for the unit itself. I think that the cool factor is going to set this thing apart from the house next door."
Roberts expects the project to be finished around June or July. While he has worked with customers for the past 25 years in custom homebuilding, his primary job is to buy and sell real estate. But the allure of the container home struck him as a particularly ripe opportunity.
"This was just kind of a fun, new angle to get into, and I thought it sounded worth taking a risk, so we're jumping into it," he said.
Sun up
Roberts said it would be possible to set up a container home and run it through solar power, which might appeal to those with land in a more rural environment.
"If we set it up properly, we could have this thing set up … to have it completely controlled by the sun," he said. "We don't have solar panels on this particular one, but they're very easy to modify and add into."
Lake houses, secondary houses or even an additional structure in the backyard could be possible depending on zoning and other requirements, Roberts said.
"There's a lot of applications for this type of housing," he said. "Think about a hunter's cabin; drop it off on a 200-acre piece of land and you don't have to build a cabin. You just drop this thing off, and you have the solar panels on it and it's self-sustaining."
Greg Roberts / provided
Home builder Greg Roberts is hoping to complete his shipping container home in downtown Edmond by mid-2019.
This first rental home is a bit of a test for what Roberts plans to be an expansion into container homes both in Edmond and elsewhere.
"It's kind of the phenomenon that's going on," he said. "They're just kind of stylish. … I think it's the way the trend is going, smaller and more amenities-packed."
If this goes well, Roberts hopes to expand.
"There are definitely plans for more," he said. "We're establishing the foundation right now, putting the team in place with the architect and the container supplier, all the way down to the piering guy and the crane and the electrician."
Some of this is old hat to Roberts, but some container-specific construction elements are new.
"I've never had to deal with a crane operator before," he said. "There's a definite learning curve."
He thinks this is just one of many projects that will spring up as part of what he described as an ongoing renovation of Edmond's downtown area.
"Mine will just be the first of many cool projects, but that's all I can do at this point, just that one," Roberts said.
Having spent most of his life in Edmond, Roberts said he feels like now is a great time to get involved with a trendy Edmond project.
"It's fun to be part of the grassroots in downtown Edmond," he said. "Edmond's revitalization has been fun to watch, and to be part of that growth with a new, trendy, cool thing, it'll be cool to get into the middle of it."
Visit gregrobertsteam.com.