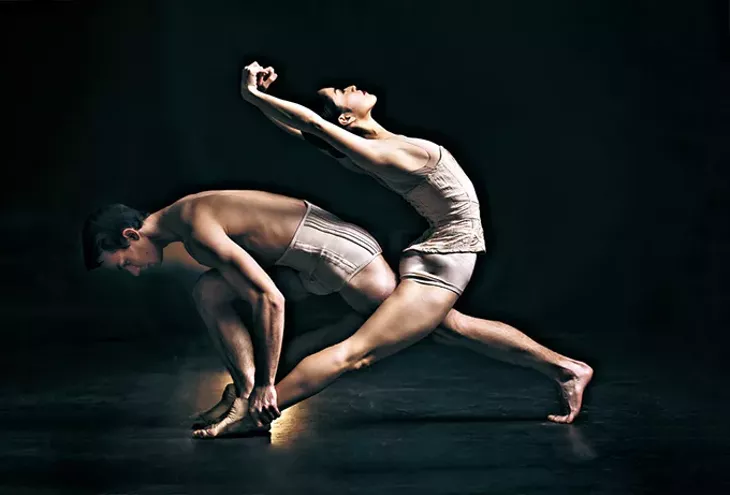 Shevaun Williams and Associates Commercial Photography / Oklahoma City Ballet / provided
Principal dancers Alvin Tovstogray and Miki Kawamura in Jiří Kylián's Petite Mort
Celebrating a decade of work with Oklahoma City Ballet, artistic director Robert Mills has seen the company's abilities increasingly recognized on the national and world stage, but they're still waiting for some people in their hometown to get with the program.Just securing permission to perform Petite Mort, the featured work on the triple bill opening on April 11 at Civic Center Music Hall, 201 N. Walker Ave., was a feat, Mills said.
"This isn't handed to anybody," Mills said. "We had to go through a lot to even get this work, so we're proud of that, we're headlining with it, we're leading with it and we're hoping that people come into the theater to see their own homegrown ballet company that was chosen to dance this incredible work that is not given to many."
After Mills inquired about Petite Mort, a work by internationally renowned choreographer Jiří Kylián, a representative from the Kylián Foundation had to observe the company in action to assess the dancers' capability. Cora Bos–Kroese, who danced in the work's debut at the 1991 Salzburg Festival and traveled to OKC to direct the ballet's rehearsals after another representative determined that the dancers were up to the task, said "the company is of a very good standard [if] they have the ability to actually perform the work of Jiří."

"They have to have a classical technique to a certain level, and they need to have musicality and be able to move — actually, that's the big one," Bos–Kroese said. "They need to be connected with their partners to be able to do all the off-balance stuff, and it looks kind of like it's not so fast, but actually, a lot of the things are quite speedy but they have to make it look like it's easy and flowing and connected with each other, so they have to be on the ball."
Petite Mort, originally commissioned in commemoration of the 200th anniversary of Mozart's death, begins with a synchronized and tricky performance featuring six male dancers holding swords.
"It's not easy, because the swords are hard to control," Bos–Kroese said.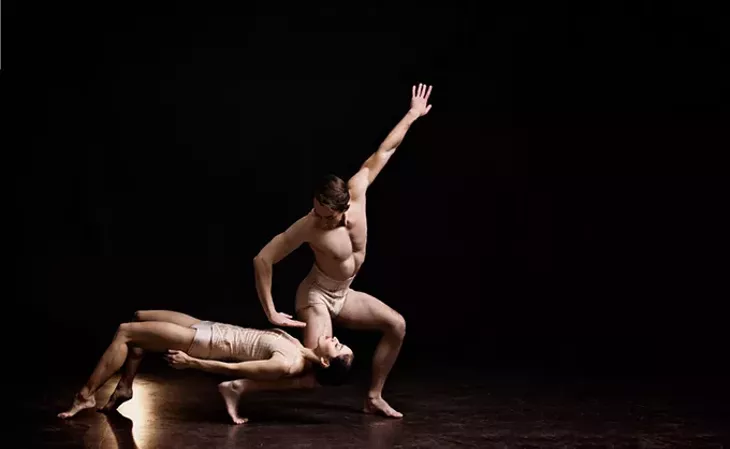 Shevaun Williams and Associates Commercial Photography / Oklahoma City Ballet / provided
Principal dancers Alvin Tovstogray and Miki Kawamura in Jiří Kylián's Petite Mort
The male dancers then pair off with female dancers for a series of intricate duets symbolizing the intimacy for which Petite Mort is named.
"It's the French word for 'small death,' which actually means 'orgasm,'" Bos–Kroese said. "So the piece is very much directed to the tension between men and women, and so it's a representation of that, but it also represents life and death and war and survival and being in the moment in this time when you're doing this now. It's very important in all Jiří's works that you've been born and that you're going to die at some point and you're in life at this moment."
Mills said OKC Ballet has had to advance significantly in the past several years in order to obtain permission to perform a work by "a genius sort of figure in the world of dance" like Kylián.
"Quite frankly, when I took over this company 10 years ago, the requests didn't come readily," Mills said. "The first George Balanchine work that I asked for, we were denied. I had to strengthen the company to get to a point where we could dance it. … So I think the evolution of our company in Oklahoma City is evident. It's evident in the works that we are allowed to perform now."


Shevaun Williams and Associates Commercial Photography / Oklahoma City Ballet / provided
Principal dancers Alvin Tovstogray and Miki Kawamura in Jiří Kylián's Petite Mort
Vibrant contrast

Accompanying Petite Mort on the triple bill is Petal, a work by choreographer Helen Pickett, who performed as a dancer with William Forsythe's Ballet Frankfurt for more than a decade. Mills said the work provides a noticeable contrast to Petite Mort.
"To me, when you see the ballets onstage, they're starkly different in many ways," Mills said. "They're starkly different in how they're choreographed. They're starkly different in movement quality, and they're starkly different in how the stage looks. They're almost mirror opposites of one another."
While Petite Mort is intimate and dark, featuring flesh-tone costumes and set to two of Mozart's piano concertos, Petal features pastel yellows and pinks and music by contemporary composers Philip Glass and Thomas Montgomery Newman. One thing that these works by two powerhouses of modern dance have in common is that Mills has been planning on having OKC Ballet perform them for several years.
"Those two ballets are two ballets that I really wanted to bring to our audiences here probably the entire time that I've been directing the company," Mills said.
The third work on the bill, The Means to Fly, is an original by Mills himself, which he began creating last summer when he was chosen to participate in the National Choreographers Initiative. Though he's extremely proud of his work, Mills admitted to being a little intimidated debuting it alongside ballets by such notable artists.
"Helen Pickett is creating works for ballet companies around the world, and Jiří Kylián is one of the most famous choreographers alive today in our industry. So to think that it was a daunting idea for me to program myself on the same program, it is. Sometimes, as an artistic director, you kind of have to take a big leap of faith and do your best. … I'm pleased with what we've put together so far on The Means to Fly, and I think it will hold its own against these really two huge figures in dance."
With this triple bill, Mills hopes to expand the audience's idea of what ballet means and how it can relate to their lives."I'm trying to show our city what ballet can be in the 21st century," Mills said. "Ballet is a living, breathing art form that is informed by the world that we're living in today. And people don't come to these mixed bills that we have, and it's interesting because they're the exact performances that will change people's perceptions as to what we do."
Mills compared the works included in the triple bill to the dancing seen on popular dance shows like So You Think You Can Dance. While OKC Ballet's dancers have more experience with classical forms of dance, the steps are more accessible to general audiences.
"I would love to see our city come out to see this," Mills said. "Not only to celebrate where the company has gone over 10 years and to celebrate the fact that it's dancing works by people like Helen Pickett and Jiří Kylián, but they need to understand that ballet is not just that staid classicism that you're telling stories about fanciful monsters and sorcerers and swans that turn into people."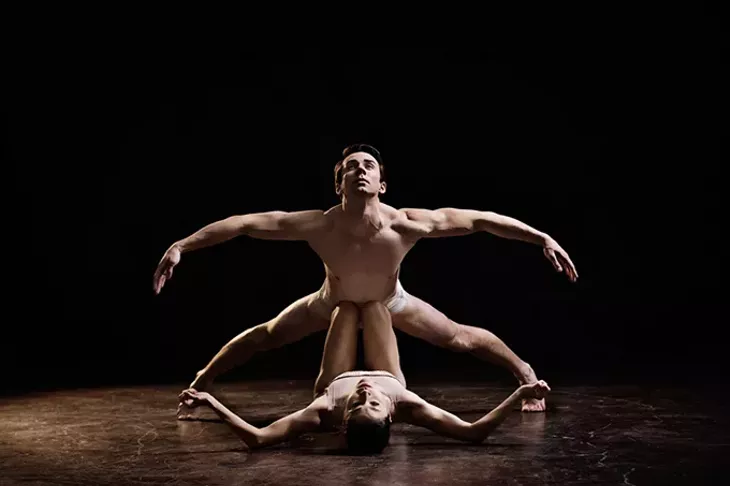 Shevaun Williams and Associates Commercial Photography / Oklahoma City Ballet / provided
Principal dancers Alvin Tovstogray and Miki Kawamura in Jiří Kylián's Petite Mort