provided
There will be 17 black-owned food vendors at Black Foodie Summit.
Black Foodie Summit
noon-6 p.m. July 13
Bistro 46 Restaurant & Grille
2501 NE 23rd St.
okcblackeats.com
405-283-3806
$10
For OKC Black Eats founder Apollo Woods, gathering over a meal is only the means to start a discussion.
This year has brought a new opportunity for Woods, who took the leap of leaving a corporate job in the oil and gas industry to devote his efforts full-time to OKC Black Eats, a marketing and consulting company focused on increasing the circulation of dollars in the black community.
Woods' research over the past year has uncovered 45 black-owned brick-and-mortar restaurants in the metro, 11 culinary trained chefs, 19 black-owned food trucks and 31 home-based caterers.
"The perception is that OKC Black Eats is only for black foodies, but it's for black-owned restaurants and food trucks to elevate their exposure. … I think about, How do I make this dining experience a melting pot so that you don't even think about the black in OKC Black Eats? You just think about the fact there is some really good food or that it's a nontraditional place to go," Woods said.
He works with businesses to increase their online and social media presences and organizes a variety of community events, from participating in Northeast OKC Renaissance group's developers' conference that sold out Tower Theatre earlier this year to health seminars and brunch events designed to increase the business for restaurants.
He was particularly proud of a brunch event in February that brought 200 people to Carican Flavors, 2701 N. Martin Luther King Ave., including 50 people who had never eaten at the Caribbean restaurant before.
"[Carican Flavors owner] Miss Sharon [McMillan] said it was the busiest they'd ever been. That's a great feeling," Woods said. "You introduce so many new people to the restaurant, and the restaurant gets to know that it's possible to be that busy all the time."
He has also started hosting a "lunch date, no date" brunch series every other month in which he takes his brunch crew to a non-black-owned restaurant to introduce people from different backgrounds to restaurants with which they might not have been familiar.
"I want worlds to come together, and there is a lot of great stuff coming up in Oklahoma City, and I want people to visit all four quadrants [of the metro]," he said.
On July 13, OKC Black Eats hosts the second annual Black Foodie Summit at Bistro 46 Restaurant & Grille, 2501 NE 23rd St. The event is expanding in its second year, hosting a free pre-party event July 12, a meet-and-greet with Texas-based chef Ja'Nel Witt (winner of season 11 of Gordon Ramsay's reality cooking show Hell's Kitchen), who is participating in a panel discussion and cooking demonstration.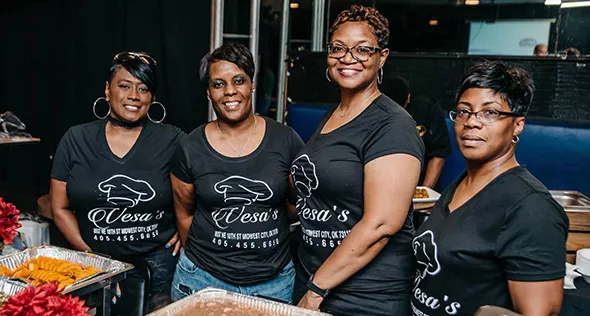 provided
Vesa's Soul Food will be a food vendor at the second Black Foodie Summit.
"I've known Ja'Nel since we met at the University of Houston," Woods said. "[On Saturday,] she'll be cooking something great and share her experience as a minority chef traveling across the world."
Black Foodie Summit also includes a bartender competition and a cocktail experience called Adventurous Bartender in which participants roll dice to mix and match creative cocktails. There are also 17 black-owned vendors that will showcase their food and products.
"We want it to have different layers of experiences, so it's food, games and a photo booth and video," Woods said. "It's a huge, interesting dining experience."
General admission tickets to the event are $10, which includes access to samples from all vendors. OKC Black Eats uses proceeds from the event to fund OKC Black Eats' charitable foundation. Woods wants to expand healthy cooking demonstrations through the foundation using proceeds from the Foodie Summit.
"It means teaching people how to take things from their pantry, very simple things, and make something that's healthy," he said. "What we understand about processed foods is that with all of the salt, fats and sugar, you're going to eat it and be hungry again within an hour. Now the meal that you thought was inexpensive [ends up costing more], and you could've taken that same money and gotten whole foods and really healthy grains."
He referenced a recent event filled with soul food classics catered by chef Kendall Curry of Chef Curry to Go where he made vegan macaroni and cheese that was so popular guests did not realize there were no dairy products.
"We went through three pans and they had no idea," Woods said. "We're getting away from the stigma that healthy food can't taste good or that the only vegetarian option is a salad. This is special and different this time. I was excited last year, but I see something else coming. I want it to become like some of the other larger scale cultural events that we have, and that it gives me an opportunity to put black culinarians in front of an audience and say, 'This is not just for African Americans to participate in.'"
Woods also wants the foundation to facilitate a "farmers match" program that will connect local farmers with restaurants to increase the availability of locally grown produce for restaurant guests.
As Black Foodie Summit expands this year, Woods is focusing on continued growth and takes inspiration from the popular Asian District Night Festival as a cultural event for the city. He wants to provide a similar showcase for black-owned restaurants and businesses.
"I was excited last year, but I see something else coming," Woods said. "We've got Juneteenth and the MLK parade, but there's nothing highlighting African culture that people from across the city are participating in and gives us a chance to show our culture is beautiful."
Visit okcblackeats.com.