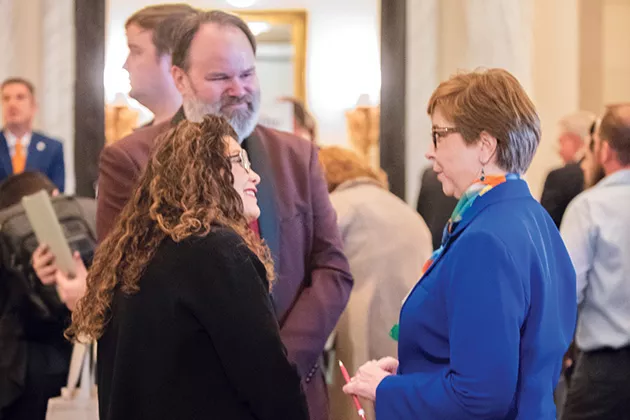 Miguel Rios
LGBTQ+ advocates urged their legislators to support a bill banning conversion therapy for minors last week during Freedom Oklahoma's lobby day.
For the first time ever, Freedom Oklahoma lobbied at the capitol in support of a bill with momentum that would protect LGBTQ+ individuals. Historically, the nonprofit organization has had to play defense and oppose a slew of bills that would discriminate against the community.
The Youth Mental Health Protection Act (House Bill 3872) passed out of a House of Representatives committee last month.
"We've supported bills in the past, of course. We have many allies in the Legislature that have filed pro-LGBTQ issues," Allie Shinn, Freedom Oklahoma executive director, told Oklahoma Gazette. "This is the first time, however, that we really have a shot of moving the legislation along. Having gotten this out of committee, we know that the first step to a more equal world for LGBTQ folks is to help people understand that sexual orientation and gender identity are not a choice. Regardless of how the bill turns out this session, we've taken incredible steps forward on that."
Authored by Rep. Jason Dunnington, HB3872 would ban conversion therapy for minors. The bill did not get a hearing when it was first introduced last year, but it was refiled this session. The only change in the language from last session is that it now also protects individuals who are appointed a guardian regardless of their age.
"Especially when it comes to conversion therapy, kids under the age of 18 are three or four times more likely to attempt suicide or to abuse substances … not just when you're a teenager but many for the rest of their lives," he said. "We can stop that by ending this horrible practice in the state of Oklahoma, and we can only do that when we all fight together. … We'd never get there if it wasn't for organizations that have been engaged for decades now. It's just getting to a point where we're finally getting traction."
The bill must be voted on again and passed by Thursday to continue.
"We're excited about the opportunity of moving that important legislation forward for all the young people in our state," Dunnington said to a group of LGBTQ+ members and allies. "It's important that as an advocate for the LGBTQ community, we have even more advocates, more people that understand that maybe someone in our family is gay or our neighbor is gay or someone we went to church with or maybe one of our parents and that's OK. The more that we have advocates that also say, 'That's OK,' and, 'All people are just people,' the further we're going to get on issues like this."
Protecting youth
HB3872 defines conversion therapy as "any practice or treatment that seeks to change a person's sexual orientation or gender identity." This includes attempts to change behaviors or gender expressions or to eliminate or reduce attraction toward persons of the same sex.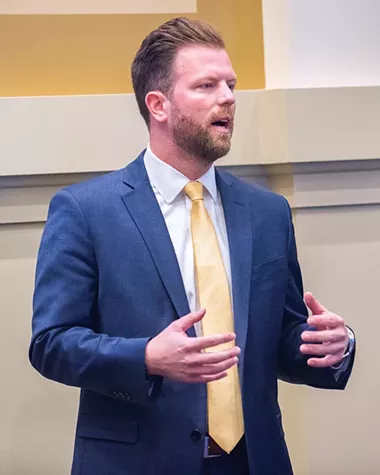 Miguel Rios
Rep. Jason Dunnington refiled the bill that did not receive a hearing last year. It passed out of committee last month.
The bill would allow licensing boards to revoke a professional's license if they attempted conversion therapy on individuals. Because of that, the bill would not affect anyone without a license.
"Whether this will keep a person from being able to visit with their therapist about being gay is probably the No. 1 myth-buster that we're having to do," lobbyist Gwendolyn Caldwell told advocates. "This bill in no way stops someone from having a conversation, working their way through it like any other life issues, trying to figure out who they are. … What this bill really does is it stops people from trying to fundamentally change who another person is."
If passed, Oklahoma would join 20 other states in enacting statewide bans against conversion therapy. When Gazette first covered this bill in February 2019, only 15 states had passed conversion therapy bans. After that, three more states banned the practice through Legislative statute. Virginia already banned the practice this year in the same way.
Utah also banned conversion therapy this year, but Republican Gov. Gary Herbert did so through an executive order after a similar bill failed to pass in the Utah Senate.
Most national health and medical organizations have warned against the use of conversion therapy. An estimated 698,000 LGBTQ+ adults have received conversion therapy, and about half received it as minors, according to a 2018 study by The Williams Institute at UCLA School of Law.
Advocacy day
Miguel Rios
Rev. Lori Walke hands Sara Cunningham, founder of Free Mom Hugs, an "LGBTQ+ Representation Matters" sign.
Part of a Freedom Oklahoma lobby day, several advocates for LGBTQ+ rights came together to learn how to lobby and urge legislators to support HB3872.
"It was such an exciting and inspiring day. We had LGBTQ folks and their allies from across the state come and advocate for the world that we believe in," Shinn said. "We heard from several people who had never even spoken to a legislator before, who had never been to the capitol before. They said that they really felt empowered to learn that they're the expert on LGBTQ issues and that they have a real and meaningful impact to make at the capitol."
Reps. Chelsey Branham and Kelly Albright were present for a portion of the advocacy training to show their support as well. As the only openly LGBTQ+ member of the Oklahoma House, Branham said it was crucial to lobby on behalf of everyone and have allies fighting alongside.
"It's rare that we have a bill that is good for us coming through this building, and it's rare that if it is a good bill, it goes very far," Branham said. "Until there are more of us in those places making these decisions, we will continue to struggle in these areas. … We have to not only make sure that we maintain ground but continue to ramp up our representation."
Several people told Oklahoma Gazette they had productive conversations with their legislators. Some said their representative had no idea conversion therapy was even happening in the state.
"Overall, it was just an incredibly beautiful and successful day regardless of where legislators landed. Our folks were so excited to be an important part of the civic process," Shinn said. "Whether it gets off the House floor this year or whether we're looking into next year to really make an impact, we know we had countless conversations with legislators who were previously unfamiliar with this issue. This year has been an incredible step in the right direction."
Visit freedomoklahoma.org and oklegislature.gov.