TEEM / provided
Deborah Palmer graduated from TEEM's culinary arts program in December.
Deborah Palmer and Joby Johnson were two of 10 incarcerated Oklahomans who found hope and healing in the kitchen this fall. The duo participated in culinary classes provided by Oklahoma City-based nonprofit organization TEEM, The Education and Employment Ministry, at 1501 N. Classen Blvd.
Since 1987, TEEM has assisted those recovering from addiction or reentering society after incarceration with employment opportunities and social services.
From 8:30 a.m. until 3:30 p.m. for five days a week, the friends prepared entrees from sushi to gumbo and everything in between, TEEM executive director Kris Steele said.
While TEEM has offered culinary art classes to inmates since 2012, Steele said the latest graduates are the first ones in over a year. The program was stalled when TEEM's headquarters changed locations in 2016.
Equipped with a new state-of-the-art kitchen and new chef Steven Joule, program organizers hope the culinary arts program will change lives.
"We started with culinary arts training because there are a myriad of opportunities within the food service industry," Steele said. "Graduates of the program can become waiters or waitresses, cooks, greeters, receptionists, shift managers, caterers and, of course, chefs as well."
All graduates receive a ServSafe certificate upon completion of TEEM's monthlong culinary arts program. Certificates are administered through National Restaurant Association, representing mastery in food preparation, holding and serving and helping job applicants stand out, Steele said.
Before classes begin, inmates undergo an intensive screening and thorough interview process. In general, class participants are nonviolent offenders who are nearing the end of their incarceration. The idea is to offer inmates education they can use immediately upon their prison release.
Visionary meals
Steele said Palmer, 35, is a shining example of the program's success.
Not even a month after graduating from TEEM's culinary arts program and being released from prison, Palmer has interviews lined up with some of Oklahoma City's most acclaimed restaurants.
"Before I took this class, I didn't even know what a poached egg was," Palmer said. "I can make that easily now."
Palmer hopes to cook for guests at Oklahoma City's 21c Museum Hotel's restaurant, Mary Eddy's Kitchen x Lounge. While cooking for guests at Mary Eddy's would be a dream come true, Palmer said it pales in comparison to cooking for her favorite people: her 17-year-old son Logan and her 5-year-old twin daughters.
Palmer was released from prison on Dec. 21, a few weeks after she graduated from TEEM's culinary arts program. For the past four years, she served time in prison for drug offenses. While in prison, Palmer's mother cared for Logan while her sister cared for her daughters. Palmer dreamed of cooking meals for her children when she was in the kitchen with her TEEM classmates.
"I was a boxed dinner kind of girl," she said. "I joined the program mostly with the hope of learning how to cook meals at home for my family after getting out of prison. I never really imagined I could take it much further than that."
Part of teaching inmates to become good cooks, Joule said, is teaching them how to believe in themselves again.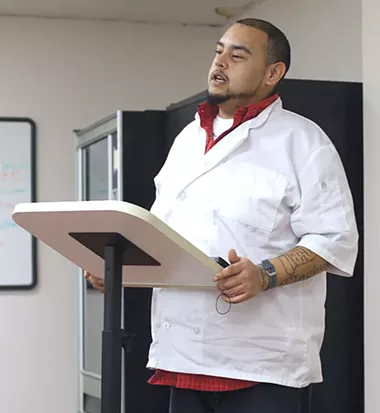 TEEM / provided
Joby Johnson graduated from TEEM's culinary arts program in December.
"One of my favorite parts of the class takes place during the restaurant- and menu-building stage where students are put into teams and they have to come up with a concept, restaurant name, menu and costs," Joule said. "Watching people's eyes light up with visions and dreams of things to come, and putting those things on paper quickly makes it real for each person."
A Bible verse Joule lives by is Proverbs 29:18: "Where there is no vision, the people will perish: but he that keepeth the law, happy is he."
For Johnson, 27, reclaiming his life's vision has been an uphill battle.
"Right now, I'm just trying to focus on the basics — getting a job, a car, a stable place to live," Johnson said. "The fun can come later."
His definition of fun changed dramatically during the three years he spent in prison for drug-related offenses.
He admitted to using and selling marijuana.
"I was addicted to drugs, but I also enjoyed getting a quick buck; that was addicting to me too. I thought I was having a good time," Johnson said. "I know now that that's not what fun is, that's not what life is about."
With the help of family members and TEEM, Johnson is working on obtaining employment with a restaurant in the Oklahoma City metro, preferably one that specializes in seafood.
"Lobster… that's hands down my favorite meal to make and to eat," Johnson said. "I love seafood."
While anxiety and regret hits him from time to time, Johnson said the dream of cooking for his 6-year-old daughter regularly keeps him going.
His daughter currently lives with family members, but Johnson said with each move he makes toward stability, the possibility of the two bonding over home-cooked meals becomes more of a reality.
He hopes to make his daughter spicy taco salad, one of his favorite dishes. Johnson cooks the entree by combining cooked ground beef, lettuce, cheese, avocados and crushed spicy Dorito chips, scooping the mixture into heated taco shells or bowls and topping it off with a signature sauce.
Johnson graduated from TEEM's culinary arts program in December shortly before being released from prison.
Palmer said talking to her children about her cooking classes and favorite meals allowed them to bond even while she was still in prison. Now that she's out, she said she's lucky enough to already be cooking in the kitchen with her son.
"Logan's competitive just like me," Palmer said. "I'll tell him I can make a steak now, and he'll say, 'Me too. I bet I can make it better.' We'll both make a steak and let our family decide which one tastes better."
In the past 30 years, Steele said, TEEM has served more than 15,000 Oklahomans.
"There is no such thing as a spare Oklahoman," he said.
Culinary arts training is just one way TEEM hopes to equip inmates with what organizers call "micro-credentials," or education that is provided in a time-conscious manner and focused on building job-related skills. Micro-credentials usually come with certifications from high-demand industries, Steele said.
While TEEM will continue offering culinary arts training, Steele said organizers hope to expand upon partnerships with area vocational schools to offer TEEM participants training in areas like information technology (IT), construction work and electrical safety. In addition to educational and employment training, TEEM offers participants free legal aid and case management.
Visit teem.org.