Nazarene Harris
Restaurateur Rick Bayless gives OKCPS students a cooking class.
Between running restaurants in Chicago and earning the title Top Chef Master on a hit Bravo TV show, North-west Classen High School graduate Rick Bayless has seen his fair share of surprises. He couldn't, however, hide the shock and awe he experienced when walking into the family and consumer science class at Oklahoma Centennial Mid-High School.
The Foundation for Oklahoma City Public Schools organized for Bayless to give a cooking class to the ninth- through 12th-grade students enrolled in the modern-day equivalent of home economics.
"When I went to school, we had nothing like this," Bayless told the students. "There was no place within the school where I could actually cook."
Bayless was also surprised to notice that there were no boys in the audience.
"Where are all the guys?" he asked the audience. "I am delighted to see your faces, but it's just as important for the boys to learn this stuff."
With a handful of ingredients including granola cereal, sweet potatoes, green beans, prunes and beef-flavored soup, Bayless explained to the group that shows like Top Chef required him to be creative in the kitchen.
"How do you make something that looks good, tastes good and is actually pretty good for you with just a handful of random ingredients?" Bayless asked the students. "That was the challenge I faced on Top Chef."
The same challenge is one that Oklahoma City Public Schools (OKCPS) students might face at home, class teacher and professional chef Carrie Snyder-Renfro said.
"These kids are hungry all the time," she said.
According to OKCPS spokeswoman Beth Harrison, 90 percent of students within the district fall below the poverty line and likely suffer from food insecurity.
Learning to be resourceful is incredibly valuable to students within the OKCPS district.
"One thing you learn in the cooking business is that creating contrasting textures is a simple way to enhance the nutritional value and taste of almost any meal," Bayless told students as he continued with his cooking class. "We want something that is both smooth and crunchy."
Bayless started with the sweet potatoes that were picked from the school's garden.
"How would you guys cook these?" he asked the students.
Students suggested boiling, baking and frying the yams.
"To get the most concentrated flavor out of these, we will wrap them up in foil and bake them," he said.
Bayless suggested using a bowl to warm up the granola cereal in a microwave. Sprinkling the granola on top of the sweet potatoes adds flavor, texture and nutritional value to the meal.
With one dish down, Bayless moved on to the beef soup.
"How would I add texture to this?" Bayless asked the students.
He picked up the green beans.
"Green beans can be pretty boring when we just boil them in water and serve them," he said. "But what if I told you that when you dice these up and fry them, they are pretty amazing?"
Bayless suggested boiling the soup on the stove and topping a bowl off with diced and fried green beans.
"People like us, we are society's creative types," he said. "We can't be scared to try new things."
Community garden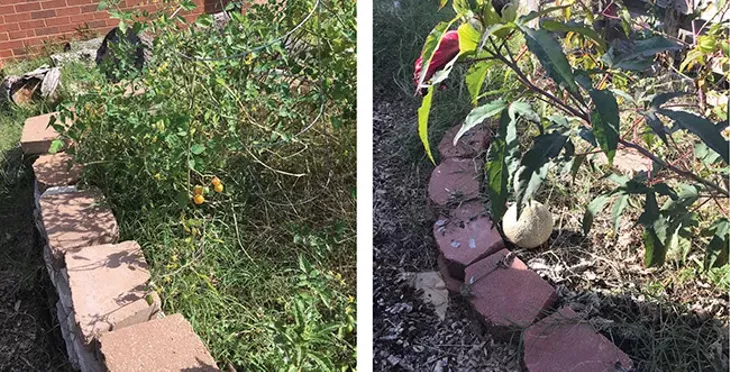 Nazarene Harris
Fresh vegetables and fruit grow in the school's garden.
Bayless asked the students if they would give him a tour of their school garden.
Just outside Snyder-Renfro's home economics class is living proof that the chef's class is indeed resourceful.
Snyder-Renfro and her home economics class created the garden last year with soil, seeds, bricks and wood. Today, it is ripe with fresh produce including cantaloupe, figs, cherry tomatoes, bell peppers and sweet potatoes, all of which the class uses in cooking projects.
Tending to the garden allows students to learn a plethora of lessons, Harrison said.
"We've seen urban gardens pop up all over the metro in recent years," she said. "Teaching our students how to garden allows them to learn about nutrition but also about the environment and work ethic. Producing something that is so vital to their wellbeing also helps give them a sense of self-confidence."
Sixteen-year-old Cassandra Arnhart said she signed up to take the cooking class elective because cooking with her mom is her favorite pastime. Arnhart hopes to be a chef when she grows up and open a restaurant in Oklahoma City that she'll name Heather Citras, after her mom. The mother-and-daughter duo watch Bayless on TV regularly.
"I can't believe this is even happening," Arnhart said as she let tears of joy stream down her face. "He is my hero."
Snyder-Renfro said that Bayless' visit contributed to her students' self-confidence.
"This is a big deal for them," she said. "He is a celebrity, and just him being here tells them they are worthy."
Arnhart took a photo with Bayless after his cooking class, and the chef gave a signed copy of his recipe book to the group.