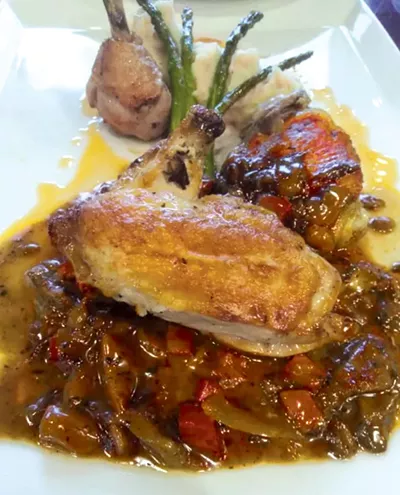 Provided
A half chicken served over mushroom and pancetta fricassée is a new menu item at Bistro Twenty Two.
It is not often that you find a restaurant space that feels like home the first time you walk through its door.
Bistro Twenty Two at 1417 E. Danforth Road in Edmond is tucked into the corner of a shopping center, and it does a lot with a limited amount of space. I was initially unsure of where to enter the restaurant because I noticed booths essentially right next to the entrance, but that's just because things get a little cozy.
There is a total of 10 booths and tables situated around a charming wine- and liquor-focused bar. It's the kind of vibe that brought me back to a neighborhood Italian restaurant I went to growing up. In an age when some variation of counter service is becoming the norm, it was nice to sit down and enjoy a meal at this quaint and cozy eatery operated by Clay Falkner (Signature Grill) that features classic French-inspired dishes from executive chef Ryan Murphy.
Bistro Twenty Two celebrated its one-year anniversary in early December and is on the heels of reshuffling its menu and operating hours. General manager Bob Flynn said that after crunching the numbers, they recently decided to end lunch service in favor of opening an extra evening [Mondays]. The restaurant is closed on Sundays.
"Edmond is a hard town to do lunch," Flynn said. "We decided to save on the cost of operating for lunch and give people what they really want [dinner]."
The change in hours brought with it a new menu. A new appetizer, baked Brie cheese inside a puff pastry, is served with toasted almonds, red grapes, apricot jam and toast points ($16), and Flynn said has been one of the most successful additions.
New entrees include a grilled rack of lamb with an ancho chili and cherry gastrique and wild rice and carrots ($48); a half chicken served over prosciutto and mushroom fricassée with mashed potatoes and asparagus ($26); salmon topped with candied pecans over wild rice and braised Swiss chard with a champagne beurre blanc ($28); and baked halibut with Asiago risotto, Swiss chard and roasted tomato sherry butter.
The new items join successful menu items like classic and shrimp escargot, Gouda bison burger ($18), Reuben sandwich that features housemade corned beef and sauerkraut ($14) and a pork chop with whole grain mustard pan jus, grilled broccolini, Yukon gold potatoes topped with pancetta, herbed goat cheese and caramelized leeks ($28).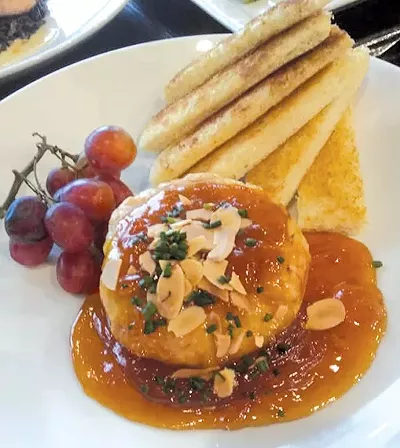 Provided
Baked Brie is a new menu item at Bistro Twenty Two in Edmond.
The appetizer crab cassoulet with warm cream cheese, Havarti, tomatoes and spinach topped with breadcrumbs remains one of the most popular items on the menu, and it showcases Murphy's training that included The Coach House and the former MMR Prime Steakhouse.
"[Murphy] can probably recite The Joy of Cooking off the top of his head," Flynn said. "I really love that his flavor profile is that nothing is super spicy; he doesn't hide behind heat to get his point across. He blends a lot of different techniques while adding the French side of it."
I was able to walk into Bistro Twenty Two and be seated without a reservation on a Monday evening, but that turned out to be a missed opportunity because the restaurant recently started a Monday Night Supper Club that offers 10 percent off the final bill if you make a reservation on a Monday. Flynn said reservations for Fridays and Saturdays are necessary and are recommended for Thursdays as well.
I started the meal with the B-22 house salad ($9), which is butter lettuce tossed in a basil vinaigrette and topped with herbed goat cheese, crispy bacon and toasted almonds. For its price, the portion underwhelmed me. It was five leaves of lettuce dressed and topped with the cheese and bacon. I thought the cheese canceled out the subtle vinaigrette; I would've preferred the cheese to act as a dressing because it was an interesting preparation.
For my entrée, I ordered the pork chop. As impressed as I was with the size of the chop, I wanted more than two small potatoes cut in half, but it was nice to see the herbed goat cheese make another appearance during my meal. I was equally excited for broccolini, especially since it was grilled. The difference between broccolini and broccoli might be small, but I like the fact the broccolini is sturdy enough to withstand the grill.
The pork chop was cooked to a chef-suggested medium temperature. It was half-covered in the whole-grain jus with plenty on the side for dipping. The jus had plenty of flavor that comes from the fond created when searing the pork chop, but it was missing an element in the holy trinity of salt, fat and acid. I think the chef wanted the vinegar from the mustard to provide the acid part of the dish, but it got lost on my palate.
A small element in an otherwise tasty sauce and the size of a salad are minor critiques, and I enjoyed the meal and environment in the small and cozy restaurant. I like that it offers bistro classics like escargot and cassoulet while also offering something as fancy as rack of lamb and something as proletariat as a New York-style Reuben sandwich.
If you plan a trip to Bistro Twenty Two, call ahead for a reservation, especially at the end of the week.