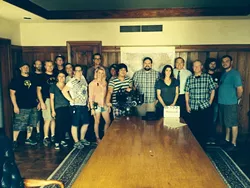 To appreciate Oklahoma City's recent success, it helps to understand its past, which is filled with financial, natural and man-made disasters, the combination of which has hardly been seen by any other American city.
But OKC proved resilient through economic collapse and terrorism, and that is the message of Mayor Mick Cornett's documentary, Oklahoma City: The Boom, the Bust and the Bomb, which opens to the public this weekend.
"It's hard to imagine a city enduring more than we did during that time period," Cornett said about the 25-year time period chronicled in the film.
OKC saw its economic profile sky-rocket in the 1970s due to the oil boom. But that success came to a screeching halt when Penn Square Bank was shuttered in 1982. The bombing of the Alfred P. Murrah Federal Building over a decade later left the city in literal shambles.
"We have a new generation moving [to Oklahoma City] who don't have the same experiences that I had and a lot of us who grew up here have," Cornett, 56, said. "I just find it to be a fascinating story when you look at what we went though, especially when you consider where we are now."
OKC has become one of the nation's recent urban success stories as voter-approved MAPS projects transformed entire neighborhoods and the former NBA Western Conference champion Thunder have raised the city's profile among the global sports world. But when Cornett considers the city's successes of the past two decades, he believes it is a direct result of its turbulent history.
"We were shaped by what happened in a way that is unique to us," Cornett said.
The film includes interviews with nearly 25 people, including Bob Blackburn, executive director of the Oklahoma Historical Society.
"I think what makes this film so significant is it connects the dots unlike anything that has been done before," Blackburn said. "People have cherry-picked one part of [the city's history], but no one has taken on the ambitious challenge of connecting the dots like this film does."
Cornett spent three years working on the documentary, which he said could have been done quicker if not for having to complete it in addition to his duties as mayor. The film also put Cornett behind the camera, asking questions, which is a familiar exercise, given his background as a journalist.
"I consider myself a storyteller, even in my political work," Cornett said. "I still feel like I approach things as a journalist."
Oklahoma City: The Boom, the Bust and the Bomb opens at Harkins Theatre on Friday with four showings daily. Visit Harkins Theatres' website (harkinstheatres.com) for more information. Beginning Friday, there will also be an option to rent the movie on any mobile device or purchase the DVD at okcmovie.com.
"[Cornett's] real story is how we have reinvented a city that how has this new personality," Blackburn said. "I thought it was a very ambitious project, but when I saw the results, I was really pleased. It helped me understand my own community better."
Print headline: Big Boom, Cornett chronicles the city's turbulent past in a new documentary.