Jacob Threadgill
The Spicy Turkey BBQ Bacon Smokecheesy sandwich at Schlotzsky's Austin Eatery is a new sandwich added after its rebrand.
Schlotzsky's Austin Eatery
3323 Northwest Expressway
schlotzskys.com
405-842-3066

What works: Its signature sourdough bread remains great both as a sandwich and as a pizza crust.
What needs work:Sweet Hawaiian rolls on sliders feel out of place for an Austin rebrand.
Tip: The macaroni and cheese is good, but the sauce is more like an Alfredo.
Over the past decade, Austin's acceleration from Texas liberal enclave to becoming a national trendsetting brand has been showcased through the proliferation of concepts like Alamo Drafthouse Cinema, Torchy's Tacos and the "Coachellafication" of SXSW.
Just saying the name "Austin" brings connotations of hipster artists and food trucks, and it has become a brand in and of itself — so much so that the Atlanta, Georgia-based corporate decision makers of Schlotzsky's are embracing the franchise's 1971 origins in Austin with the national rollout of its rebrand as Schlotzsky's Austin Eatery.
In the Oklahoma City metro, all of the 12 locations officially made the switch to Austin Eatery last week. The culmination of years of focus groups and market testing is making its way to all 370 franchise locations across 36 states over a three-month period before it finally makes its debut as Austin Eatery in the city where Schlotzsky's began.
Schlotzsky's president Kelly Roddy told industry site Skift Table that the name "Austin Eatery" tested well outside Texas and that it "didn't conjure up any negative feelings" nationally.
I have a hard time believing that Austin — a city known for its aversion to chains — will not have some pushback against the corporate decision to take an Atlanta version of Austin nationally.
The rebrand to Austin Eatery includes new menu items, logos and an overhaul of dining areas and kitchen operations. The inside décor has gone from simplistic red, green and black to neon blue accents with collages of images from Austin, including the famous "hi how are you" frog mural.
Local franchise owners are responsible for covering the costs of the Austin Eatery renovations, which Roddy told Skift Table range in cost from $30,000 to $175,000, and is a slight increase of its store remodel that is required every seven years and normally ranges from $25,000 to $150,000.
Despite the fact I am skeptical of the acceptance in Texas, the rebrand appears to be a shrewd business decision that is indicative of Roddy's leadership. At select locations that made the switch to Austin Eatery last year, average annual store sales jumped from $964,660 in 2017 to $1.6 million in 2018.
At its zenith, there were 759 Schlotzsky's locations in 2001 with $400 million in sales, but the company posted an $11 million loss two years later. It filed for Chapter 11 protection in 2004 and was purchased by Atlanta-based Focus Brands in 2006. Interestingly, Focus Brands is a subsidiary of Roark Capital Group, the same hedge fund that owns Inspire Brands, Sonic's new corporate owners.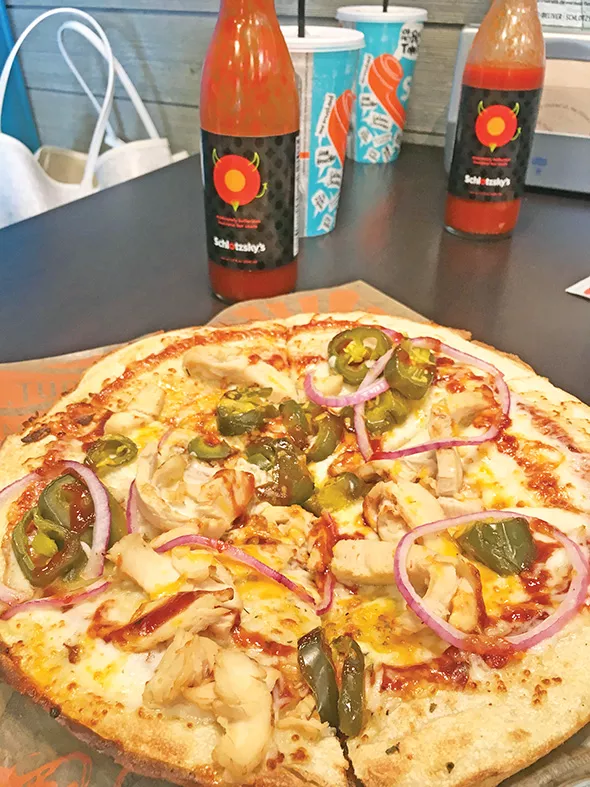 Jacob Threadgill
BBQ chicken pizza at Schlotzsky's
In total, Roark Capital's portfolio is more than 40 brands of some of the most recognizable names in the service industry like Arby's, Carl's Jr. / Hardee's, Jamba Juice, Buffalo Wild Wings, Jimmy John's Gourmet Sandwiches and McAlister's Deli. There are no doubt entire strip malls in this country that feature only brands owned by a hedge fund named after protagonist Howard Roark in Ayn Rand's The Fountainhead. The scope of Roark's holdings puts the retooling of Schlotzsky's into perspective; it is done to increase long-term profits for its stockholders and local franchise owners.
Menu additions like flatbreads meant for sharing and Texas-style smoked brisket are Schlotzsky's way to increase dinner options that now include beer and wine offerings at select locations like Norman, where local beer hits the glass from those cool, new Bottoms Up automatic beer dispensers.
I am sure there are plenty of Oklahomans that reflexively do a "horn down" hand symbol upon hearing the word "Austin," but the 3323 Northwest Expressway Schlotzsky's location entertained a healthy Monday lunch crowd, so that means the franchise's signature sourdough bread that is made from scratch is still bringing in Oklahoma City customers.
I tried one of the new Austin Eatery's sandwiches, Spicy Turkey BBQ Bacon Smokecheesy, which includes smoked turkey breast, smoked cheddar cheese, jalapeños, bacon and barbecue sauce with red onion, lettuce and tomato on a jalapeño cheese bun.
Jacob Threadgill
The Poultry in Motion mac and cheese
The bread remains Schlotzsky's calling card, and the cheese and turkey surprisingly had a nice smoked flavor, but the bacon did not add anything. I could not tell it was there and removed it from the sandwich; there was no need to eat the extra fat and calories.
Sliders have been added to the menu and are served on sweet Hawaiian rolls, which I would not say exactly connotes Austin, but the brisket was solid for a quick-service restaurant, and the pineapple kale slaw adds even more sweetness. The Sweet N' Sassy slider includes apricot preserves and apricot cream cheese. The chipotle Angus slider tops roast beef with chipotle mayo, two types of cheese and Hatch green chiles.
While the slider and flatbreads are easy to share, three new baked macaroni and cheese options feel more like a sit-down dinner option. I tried the Poultry in Motion mac with sliced chicken, tomato, bacon and red onion with cheddar cheese and "mac sauce." It's nice to have a baked pasta option that can be ordered through a drive-thru window; the same goes for its pizza and flatbread options.
However, I found the cheese sauce to be more like an Alfredo than a cheddar cheese-based béchamel sauce. It was fine, but not exactly what I was expecting. I think either the Brisketeer or Smoky Brisketeer mac and cheeses would have been better options and ones that might actually be found at an Austin food truck.
Even with the new name and interior, Schlotzsky's Austin Eatery feels similar to its recent past; all of its popular sandwich items remain on the menu. If you are already a regular, there is nothing to be concerned about, and it might give a new customer a reason to try the chain.
In the Golden Era Simpsons episode "Lisa vs. Malibu Stacy," Lisa Simpson's attempt to introduce a progressive Lisa Lionheart doll that promotes positive female role models is thwarted when the Malibu Stacy company (a thinly veiled Barbie) rushes out its misogynistic regular doll "now with new hat."
Schlotzsky's Austin Eatery is Roark Capital's "now with new brisket."