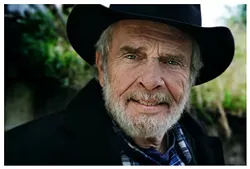 If you're tired of these dirty old sidewalks and you want to see country music legend Merle Haggard in concert this week, you're going to have to do it for a good cause.
Haggard performs back-to-back shows Thursday and Friday at Grand Casino Hotel & Resort.
The Thursday show was a late addition to the Kennedy Center honoree's schedule and will benefit the local nonprofit organization Start Helping Impacted Neighborhoods Everywhere (SHINE), organizers said.
"Merle has a personal connection to this," said Oklahoma County District 2 Commissioner Brian Maughan, who founded SHINE in 2010 to help both student and adult nonviolent offenders through education programs, volunteerism and community service. "In his youth, you know, he got in trouble. We've shown how programs like this can help guide people into a more positive direction with their life."
SHINE turns 5 years old this month, and it has come a long way from its inception as an Oklahoma County jail diversion program for nonviolent offenders.
Students for SHINE program members receive their certificates and graduation cords for completing a minimum of 100 community volunteer hours, often helping with neighborhood beautification efforts, property cleanup or specific projects for other nonprofits.
Maughan said 76 metro students completed the 100-hour requirement last year; and one student even completed 676 volunteer hours.
"Every person who buys a ticket sponsors 65 kids," Maughan said.
Maughan will present both Haggard and mutual friend Wanda Jackson with the organization's first SHINE Legend awards. The two 77-year-old musicians certainly embody the term "legend."
Jackson, also known as the First Lady of Rockabilly or the Queen of Rock, is a Maud native and Oklahoma City resident who first rose to prominence in the 1950s for her no-nonsense performing style that blended elements of both country and rockabilly. She shared early tour bills with icons including Elvis Presley, Roy Clark, Buddy Holly, Jerry Lee Lewis and Roy Orbison. She's often credited as being one of the first women to perform and record rock 'n' roll music. In 2009, she became the first female Oklahoma musician inducted into the Rock and Roll Hall of Fame. She's also an inductee into both the Oklahoma Music Hall of Fame and Oklahoma Hall of Fame.
She headlined last year's SHINE Awards Benefit in Oklahoma City, which also raised money to support the Students for SHINE program.
Haggard, who turns 78 the Monday after kicking the footlights out at these two shows, is a Country Music Hall of Fame inductee. Like Jackson, he is also a member of the Oklahoma Music Hall of Fame, having been born in California to the parents of Great-Depression- transplanted Oklahomans. He also, of course, is famous for his hit song "Okie From Muskogee."
SHINE has been replicated in other American cities, like Houston, as well as by the national government of Rwanda, Maughan said.
Tickets start at $65 via the casino's site for the 8 p.m. Thursday show. Friday's concert is sold out.
print headline: SHINE on, Thursday night's Merle Haggard concert in Shawnee helps fund a local aid program and will honor Haggard and rockabilly icon Wanda Jackson.