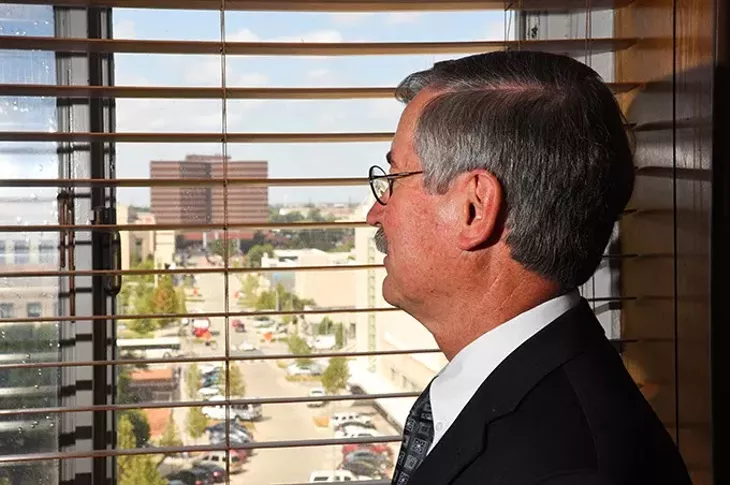 Mark Hancock
Judge Ray Elliott looks out of his office window in the Oklahoma County Courthouse towards the Oklahoma Coutny Jail, 9-16-15.
Editor's Note: This is the fifth installment of an ongoing series about Oklahoma County Jail, its development and history, ongoing structural issues and possible remedies. Visit okgazette.com for ongoing coverage.
"The politics of the issue are very difficult," said Oklahoma County Commissioner Ray Vaughan as he described political arguments over whether or not voters should be asked to foot another sales tax to replace the county jail.
Many argue the debate must go beyond bricks-and-mortar to include a new jail's operations, its potential impact on the county's justice system and on its surrounding community.
Oklahoma County Chief District Court Judge Ray Elliott said he understands concerns county commissioners have about the current facility. He also worries about where a new one might be built.
"Right now, the jail is right over there; I can open my window and see it. Sometimes, it takes three hours to get a prisoner from there to here," he said. "If a new jail is built five miles from here, or 10 miles from here, are we, as a judiciary, going to have major problems?"
Elliott said a core responsibility of the Oklahoma County Sheriff's Office is to assist the court system by getting inmates before judges on time.
"You see the potential problem? Do you think that was something the group sat around the table and discussed?" he said. "I suspect not, because they don't have to deal with that."
Discussions must include judiciary, district attorney and public defender representatives, he said. Each would add valid requisites as to how a new facility should be operated.
Oklahoma County Chief Public Defender Bob Ravitz agreed.
As a daily player in the local criminal justice system, Ravitz witnesses the intense manpower load required to run the current lockup. He also experiences frustration (as do some of his clients) at its lack of adequate booking facilities, attorney-client meeting space and medical and psychological services.
"Most of these issues can't be remedied, short of building at least an annex building," Ravitz said. "But that only touches the surface of problems that we see on a daily basis."
He said Oklahoma County's Conditional Bond Release Program works with his and the district attorney's offices to release inmates while they await trial. The office is located within the county's administrative building instead of the jail, where people could be more efficiently evaluated to determine if they qualify for the program.
Ravitz also said there are not enough assistant district attorneys or public defenders for indigent clients who can't afford legal representation.
"We only have a finite number of lawyers. If you keep increasing the number of detainees – they arrested more people the first 20 days of August then they did the whole month of July – it just causes more problems," he said. "My people are walking around with stacks of files, and don't have enough time to see their clients to even work out a plea bargain with prosecutors."
He also believes any worthwhile discussion about jail's future must include his office, the DA's office, a judge, county commissioners, local police and community representatives.
Russell M. Perry, editor and publisher of The Black Chronicle, senses the time may be right for that type of discussion to happen.
Perry believes lack of input from the county's political leadership at the time the current jail was built resulted in a chaotic rush to complete a building that ended up not serving the community as well as it should have. He said he sensed a similar urgency more than 10 years ago when Oklahoma County Sheriff John Whetsel convinced commissioners to call an election to ask voters to again fund the construction of a new facility.
Now, however, he said the county's elected leaders are open to considering and planning a lockup in a broader context that incorporates its role in the criminal justice system.
"There is a lot to be said and done in our justice system when it comes to the image of police and our urban community, specifically African-American young men," he said.
Perry highlighted President Barack Obama's recent visit to the federal prison in El Reno and his move to commute nonviolent crime sentences, and added that in Oklahoma County's jail, the majority of inmates are nonwhite.
"We need a criminal justice system that is balanced and fair when it comes to policing, and jailing and punishing," he said.
Oklahoma County Commissioner Brian Maughan was the only commissioner to appoint a non-county official to the latest jail task force. He, too, believes a broader discussion is needed.
"Any hope of us getting anything passed is going to require a coalition to build public confidence," he said. "We need blue-ribbon panel of citizens to talk about this issue."
Vaughn, who created the latest jail funding task force, said he favors considering the lockup's future in a broader context, and added that proposal evaluations are becoming more global in nature as state law, county court system and Oklahoma County services are considered.
"We know where we are headed, and working on it piece by piece, but it is really hard to do without any funding," Vaughn said.
Gov. Mary Fallin also formed a task force earlier this year to evaluate how the state deals with crime, including its criminal statutes.
"They are looking at what state laws need to be amended to make sure we are using our resources correctly," he said.
Print headline: Lockup lockdown, For any jail facility to succeed, county and city leaders and the public must be involved in its planning.