Ryan Magnani / provided
Oklahoma City Thunder teammates and local performers showed up for a good cause at last year's Why Not?? Comedy Show.\.
Why Not?? Comedy Show returns to Oklahoma City for the third consecutive year Oct. 26, bringing along with it a lineup of celebrities and comedians alike. Hosted by Demetrius "Juice" Deason and his longtime friend, Oklahoma City's favorite point guard Russell Westbrook, the show is expected to be another night of pure fun and entertainment all for a good cause.
In fifth grade in their hometown of Hawthorne, California, Deason and Westbrook formed a friendship that would last for years to come. The two played basketball together in both middle school and high school before parting ways to attend college. Deason enrolled in Pacific Union College while Westbrook accepted an offer to attend University of California, Los Angeles (UCLA). Like his good friend, Deason had hopes of becoming a basketball legend, a dream that would never be realized following a back injury he suffered on the court.
Fortunately, he had something else in mind for his future: a career in comedy.
"When I messed up my lower back, I came back home and people always told me I was funny, that I should try comedy," Deason said. "So I went to one of my friends' shows and I didn't know it but he had me on the show. … I've been doing comedy ever since then."
After deciding he would pursue this new line of work, Deason realized he needed a brand of his own, so he launched his own company, Layups2Standup.
"[It] speaks for me," he said. "It was the perfect combination of switching things over," he said regarding the platform's namesake.
Speaking from experience, Deason said "using your feelers in life to transition to success" is the best way to bounce back from an otherwise disappointing failure, a lesson he hopes people will utilize in pushing forward in their own lives.
Now a successful comedian, he has been coming to Oklahoma regularly, building a name for himself while sustaining his reputation as an NBA enthusiast. When Deason asked Westbrook to do the show with him for the first time in 2015, he agreed.
"I told him I had an idea; I was about to do a show in Oklahoma. We created the game plan for it and we've been doing it ever since for about three years," Deason said. "It's taken off from there with the help of Russell coming out to a lot of my events and a lot of other of my NBA friends coming out to help me take it to the next level faster."
Laugh responsibly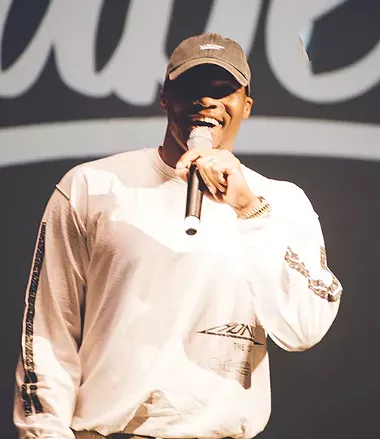 Ryan Magnani / provided
Russell Westbrook chops it up with the crowd at the 2017 Why Not?? Comedy Show.
The event was held at The Criterion before transitioning last year to Tower Theatre, 425 NW 23rd St., selling out each time.
All proceeds are donated to a specific charity chosen annually. This time, they chose to partner with Regional Food Bank of Oklahoma, where 25 kids are sponsored and guaranteed daily meals for the next year.
A separate event for the kids was also arranged and took place Oct. 11 at Dave and Buster's, 5501 N. May Ave.
"[Deason] is just one those guys who's just full of passion, and he's full of commitment, and he's a real hard worker. You just wanna work with people like that," said Chad Whitehead, operating partner and talent buyer at Tower Theatre. "[The show] really just checks all the boxes of something that we would want to partner with someone on."
According to Whitehead, the event is set up like a standard comedy show while retaining its own flavor. He said last year Westbrook and Deason "hammed it up for a little bit to help warm up the show" and later a public donation was handed over to the designated charity.
Comedian Gary Owens will be headlining this year's event, and other comedians are scheduled to deliver performances. Many of Westbrook's Oklahoma City Thunder teammates are also expected to be present in the crowd.
The event is reserved for its current date to give the players a break before returning to the court for another season of hard work and athletic grit.
"It's the start of the season, so hopefully they've all had a little bit of a break so they come and relax in good spirits," Whitehead said.
He explained the greatest challenge was making sure the show could be scheduled at the right date since the NBA does not release its schedule until long after Tower Theatre plans its own.
"There's always little bumps on the road," Deason said. "I figured it out for the most part to make it work. With everything, there's always gonna be trials and errors. … It's just the little tedious different things that could come up."
And it's by no means a cheap production. Deason said ticket pricing is determined by the market, but due to the size of the venue, which seats just shy of 800 people and will seat even less with the addition of sponsors' tables, the ticket price was raised to cover logistics and ensure the charity would still receive its anticipated donation. That said, he took care to keep prices in an affordable range.
"Juice is the one who does all the heavy lifting on this," Whitehead said.
The participants seem to be in good spirits, looking ahead to what lies in store for the evening's festivities. Deason is especially hopeful that the audience will be receptive to the show's theme.
"Why not help? Why not give back? Why not have a great night of laughter?" he asked. "That's our message: Have a good time and make sure we help people as we're doing it."
Visit towertheatreok.com.