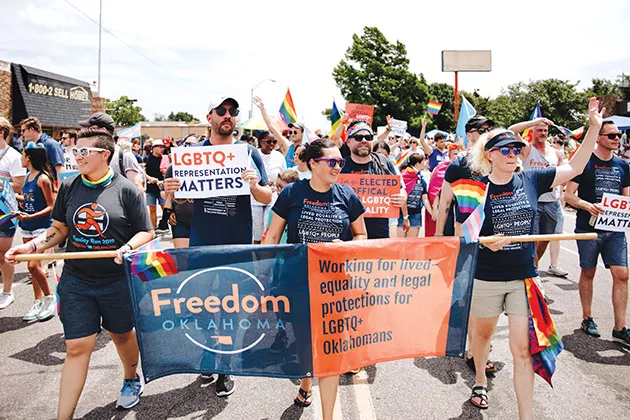 Stephanie Montelongo / provided
This year, Norman became the state's most inclusive city, Oklahoma City elected its first openly gay city councilor and Oklahoma City Pride Alliance hosted the largest Pride in state history.
To the ballot
Oklahomans have filed four statewide initiative petitions and one referendum in 2019.
The referendum, filed in August, was to let voters decide whether or not they wanted "permitless carry," the first bill signed by Gov. Kevin Stitt to go into effect. The referendum did not gain enough signatures. Ultimately, the law, which allows firearm owners to carry guns without licensing or training, went into effect Nov. 1. Stitt publicly opposed the referendum during the signature-gathering period.
Unlike the referendum, an initiative petition to expand Medicaid (State Question 802) garnered more than 300,000 signatures, far surpassing the roughly 178,000 needed and making history as the most signatures ever gathered for a ballot initiative. Though the signatures are still being verified, many expect the issue to appear on a 2020 ballot. Gov. Stitt will choose when the initiative will be voted on, and he could either call a special election or choose from elections in March, June, August or November.
The measure adds a new article to the state constitution to expand SoonerCare to include low-income, non-elderly adults who earn up to 133 percent of the federal poverty level. Medicaid expansion in Oklahoma would cover approximately 200,000 people who are currently uninsured. Stitt has publicly opposed this initiative.
Another initiative aims to end partisan redistricting, aka gerrymandering. Filed by People Not Politicians, a coalition led by Let's Fix This and League of Women Voters of Oklahoma, the measure (State Question 804) intends to amend the state constitution and create a nine-member independent redistricting commission to take the politics out of redistricting.
Republican leaders in the Legislature (they control both chambers) have vocally opposed the initiative, saying the current process is working well.
The two most recent initiative petitions deal with felony sentence modification and legalizing recreational cannabis respectively.
State Question 805 aims to reduce the state's prison population by prohibiting prosecutors from using previous felony convictions to increase sentencings in nonviolent cases. It would also let people who have increased sentences because of this to petition the courts for relief. Stitt has publicly opposed this initiative.
State Question 806 was filed to legalize recreational cannabis consumption for people age 21 and older, though it establishes quantity limits, safety standards and other restrictions. Impaired driving and distribution to those under age 21 would remain illegal, and it would not affect employers' ability to restrict employees' cannabis consumption. Stitt has publicly opposed the initiative, saying it needs to be addressed at the federal level first; "otherwise it creates too many unintended consequences."
Once the Oklahoma Secretary of State reviews and clears the three most recent initiatives, and once they respectively clear any legal challenges, supporters will have three months to collect roughly 178,000 signatures.
LGBTQ+ Oklahoma
As far as Oklahoma goes, it has been a successful year for LGBTQ+ communities across the state. For a population that, as Freedom Oklahoma executive director Allie Shinn put it, is used to "holding their breath every single February through May" during the Legislative session, 2019 has been mostly positive.
Following a hectic year for OKC Pride, Inc. as it dealt with the fallout of its former leader's embezzlement scandal, a new organization rose from the ashes and put on the biggest Pride festivities Oklahoma City has ever seen. One hundred volunteers, more than 200 participating organizations and an estimated 120,000 people showed up to celebrate Pride's Legends & Rebels. Admittedly overworked volunteers said the payoff from long hours building an organization and hosting events from the ground up was gratifying. Oklahoma even got some positive national attention during Pride month when Hulbert's Cody Barlow went viral for painting a rainbow flag on the back of his truck and writing "Not all country boys are bigots. Happy Pride Month."
This year's Pride also marked the first time Oklahoma City's mayor walked in the Pride parade. Mayor David Holt even declared the third week in June Pride Week. About 15 other city, county and state leaders, including James Cooper, OKC's first openly gay councilmember, walked along a sea of LGBTQ+ individuals and allies.
In terms of policy, 2019 has also been a victory for Oklahoma's LGBTQ+ communities. Cooper recently helped amend OKC's personnel policies to extend nondiscrimination protections to municipal employees on the basis of gender identity and expression. Norman mayor Breea Clark championed a measure that made her city the first in the state to approve comprehensive nondiscrimination protections for LGBTQ+ residents when it comes to employment, housing and public accommodations. Human Rights Campaign's (HRC) annual Municipal Equality Index awarded Norman 92 points out of 100 for its inclusive policies, meaning it more than doubled its equality index from 2018's 41 points. HRC even gave Norman the distinction of an "All Star" city.
Though Oklahoma still has a lot of work to become fully inclusive to the LGBTQ+ community — it has an average score of 32 on HRC's Municipal Equality Index, compared to the national average of 60 — organizations like Freedom Oklahoma and Oklahomans for Equality vow to build on a successful year and continue paving the path to equality.
Next year, LGBTQ+ proponents hope to see more nondiscrimination protections extend to sexual orientation, gender identity and expression; a statewide ban on conversion therapy for minors; and the elections of more LGBTQ+ friendly leaders at all levels of government.
Not permitted
Since state law was officially changed on Nov. 1 to allow firearm owners to carry guns without licensing or training — the first bill signed by Gov. Stitt — a few things have happened.
A 3-year-old found a semi-automatic handgun left on the toilet paper holder in the restroom of La Baguette Bistro, which has a sign on the door prohibiting handguns. A man accidentally discharged a .32-caliber pistol while standing at the jewelry counter in a Stillwater Walmart, which also, as permitted by law, prohibits guns in its stores. A man was arrested for unlawfully bringing a rifle into a Twin Peaks, which serves alcohol — so like public buildings, schools, professional sporting events and casinos, but unlike, say, Scissortail Park, carrying a rifle there is legally prohibited.
Peter J. Brzycki
The Collective Kitchen + Cocktails
One thing apparently did not happen, despite a rumor spread by Breitbart and other pro-gun news sources. The Nov. 18 shooting in a Duncan Walmart parking lot that resulted in the death of three people, including the gunman, was not stopped by an armed citizen who happened to be on the scene. The Duncan Police Department reported that a nearby witness with a gun approached after the shooting but did not confront or stop the gunman, who had already shot himself.
Oklahoma congressman Kevin Hern, meanwhile, has introduced an amendment to the federal Gun-Free School Zones Act that would exempt state-level permit holders from the law prohibiting guns within a 1,000-foot radius of a school.
High stakes
Following months of inconclusive back-and-forth, Gov. Stitt announced Dec. 17 that he would be taking over tribal casino gaming compact negotiations after Attorney General Mike Hunter's office officially withdrew.
Tribal casinos — which, according to the 2019 National Indian Gaming Association report have an annual statewide economic impact of $9.25 billion — paid $139 million to the state in exclusivity fees in 2018. However, Stitt, in an op-ed published in Tulsa World in July, announced plans to renegotiate the rates tribes pay for the exclusive right to operate casinos. The original compacts — which require tribes to pay 4-10 percent of casino revenue to the state — were negotiated in 2004 in accordance with a voter-approved ballot initiative. While Stitt claims the 2004 agreement expires Jan. 1, tribal representatives insist that the original compacts will automatically renew for 15 years if both sides do not agree to renegotiate the terms before then.
So far, this disagreement has prevented any further negotiations. While Oklahoma Indian Gaming Association chairman Matt Morgan told Associated Press (AP) that he expects casinos will continue to operate as usual with or without a new agreement after Jan. 1, Stitt — who has previously warned that tribal casinos will be operating illegally after the New Year without new compacts and also threatened to open the state up to commercial casinos — urged tribal leaders to sign an extension to the original agreement.
"The language in this extension will allow each side who signs on to the extension to retain their legal positions," Stitt said at the Dec. 17 press conference. "I want business to continue as usual while we resolve this dispute."
Morgan said automatic renewal is not up for debate.
"Tribal leadership has been clear from the beginning — if he acknowledges auto-renewal, we'll sit down and negotiate with him," Morgan told AP. "But clearly he does not want to do that."
Trendy dining
Perhaps there is no better indicator of shifting dining trends over the last decade than the introduction of curated, hip food halls as the cooler, less corporate cousin of the mall fall court.
As more diners want locally owned and mindfully sourced product options, the trend has continued to a food hall model, which started in Europe before prominent concepts in Denver, Chicago and Dallas served as inspiration for Oklahoma City.
At the start of the decade, food trucks were all the rage. They provided a mobile kitchen for young chefs and restaurateurs without the capital needed for a full brick-and-mortar location. Now, food halls are positioning themselves as a perfect restaurant incubator — free of having to chase customers in a food truck that is also at the will of unpredictable weather. A pair of food halls opened in Oklahoma City in 2019.
Bigtock.com
A referendum filed in August to let voters decide whether or not to allow permitless carry failed to gain enough signatures.
The Collective Kitchens + Cocktails, 308 NW 10th St., opened in Midtown this summer after months of delays with 11 possible micro-kitchens — mostly filled with local chefs — around a large central bar and multiple patios. Parlor OKC opened in Deep Deuce at 11 NE Sixth St. in September with seven kitchens, two bars and a rooftop patio. Parlor is an extension of a concept started in Kansas City, and it brought three successful kitchens from its first food hall to Oklahoma City, mixed with local chefs curated by Oklahoma City chef and consultant Robert Black, who manages both locations.
Each food hall provides different blueprints for its chefs. The Collective doesn't charge rent, instead supplying equipment, logos and promotions in exchange for a percentage of sales. Parlor locks kitchens into leases, but each kitchen keeps all of its profits. One kitchen has already closed at The Collective, but it will be announcing two more additions in early 2020. It's only a matter of time before one of the kitchens at either concept opens its own brick-and-mortar, and the cycle will continue.
MAPS generation
When Oklahoma City mayor Ron Norick pitched the idea of using a temporary 1-cent sales tax to pay for Metropolitan Area Projects (MAPS) in 1993 to improve the city's infrastructure and image, he had to literally go door-to-door to gain enough support for it to pass.
In 2019, the city — largely driven by the generation that grew up with MAPS' success — approved the most ambitious and inclusive version of the project as MAPS 4 passed with 72 percent support, even though turnout was low.
In total, 16 individual projects make up MAPS 4 have a projected budget of $978 million that includes entertainment enhancements, city and park infrastructure and — for the first time in MAPS history — social needs like mental health support and affordable housing.
The tax will be collected over the next eight years. By comparison, MAPS 3 was collected over seven years and nine months and it will ultimately take about 12 years to implement all of its projects, according to mayor Holt.
A MAPS 4 citizen advisory board will be created in 2020 to determine implementation and the order of each project. Because the city uses a pay-as-you-go model — not starting work until a project is fully funded to avoid debt — it will take time before work begins.
The overall program has marked $140 million for improving the city's park systems; $87 million for sidewalks, bike lanes, trails and street lights; $87 million for buses and city transit; $71 million for an "Innovation District" that will encourage job creation and diversification of the city economy; $115 million for improvement at Chesapeake Energy Arena; $63 million for a multipurpose coliseum at Oklahoma State Fair Park; $50 million for affordable housing; $40 million for a mental health services center; $38 million for an animal shelter; $38 million for a Palomar family justice center to assist victims of domestic abuse and sexual assault; $30 million for road beautification; $16 million to renovate Freedom Center and establish the Clara Luper Center as a civil rights museum for Oklahoma City, and $17 million for a diversion hub to reduce pressure on the overcrowded Oklahoma County jail.