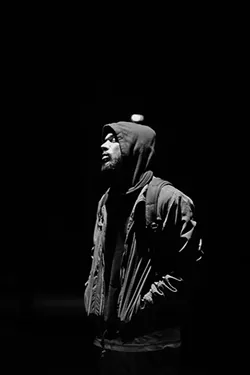 provided
At press time, Jacobi Ryan's #52in365 campaign is still going strong.
When we spoke to Jacobi Ryan in March, he was on track to release 52 songs, one for every week, in 2019. As of publication time, he still is — whether you like it or not.
"I can't imagine how many people have been sitting there at their computers every week like, 'Hopefully it's not gonna happen this week,'" Ryan said. "Or people sitting at their computers like, 'I hope it does happen this week. Please do it. Please do it.' People cheering for me and people cheering against me, I'm sure."
After releasing a few of the promised entries in his #52in365 project in early 2019, the OKC hip-hop artist realized the songs by themselves were not getting the attention he wanted and decided to release an accompanying video for each of the singles as well. The videos got more views, but Ryan said the project has not raised his profile as much as he expected.
"I was surprised at how little people with a platform shared it, a lot of the Oklahoma blogs and things like that," Ryan said. "In Oklahoma, it's hard for people to take rappers serious because they don't think they can make it … so I did this to show people even if you have this thought that I'm from Oklahoma is holding you back from supporting me, me putting out a new song every week has to overpower that at some point. It has to be like, 'Man, this is like fucking crazy.' … So, this year told me bluntly and in plain language what I need to do … what I need to work on and focus on going forward. Just sharpen my craft, my brand."
He also thinks some people might just be waiting to see if he actually completes the project before they start paying attention. Either way, he said the experience has made him a stronger artist.
"That's my favorite part of this year," Ryan said, "how much progress I've noticed, how much progress I'm experiencing, and how much progress I'm promised because of what I've done. ... As much as I didn't do as good as I wanted to do and wasn't as good as I want to be, I also understand this is just the beginning and this is a very good stepping stone to get started. … Before this year, I would have bet everything I own on myself. After this year, I will bet everything I own and everything you own on myself."
He began the year releasing a weekly episode of his podcast The More I Know the More I Don't to tell the story behind each song, but he stopped in August.
"I actually have all the episodes finished; I just haven't released them," Ryan said. "My anxiety was getting to me. Trying to think of new content, make sure I do the video, make sure I got the song done, it just got to be a lot and I just didn't want to rush it and I didn't want to do it halfway. I wanted to make sure that if I did it, I was giving people who are taking the time out to listen to it something actually of value, that it's worth their time. So I just got in my head and just quit doing it. ... The last thing I want to be is self-indulgent."
Ryan plans on releasing the episodes before the end of the year. The main thing he learned from releasing so many songs this year is that he has so many more in him.
"My fear my whole life really as an artist is, 'When am I going to run out of things to say and talk about?'" Ryan said. "'How does music continue to happen decade after decade, century after century? How do we still make new music? At what point do we reach the threshold?' As I've found, the more I invest and the more I exert, the more I'm open and aware to even more. I thought I would exhaust me, but really it's just fueled me."
Visit jacobiryan.com.