Provided
CannaCon 2019 in Seattle
CannaCon
April 18-19
Cox Convention Center
1 Myriad Gardens
cannacon.org
$40-$150
4/20 Spring Sesh
10 a.m. April 20
Lucky's Grow Supply
7507 Broadway Extension
luckysgrowsupply.com
Free
Chronic Palooza
noon April 20
State Fair Park
3001 General Pershing Blvd.
chronicpalooza.xyz
Free-$30
Oklahoma City is preparing for its first 420 after the passage of State Question 788. And how.
Cox Convention Center hosts CannaCon April 18-19, with several events — including Chronic Palooza — on the day itself.
For years, 420 has been synonymous with cannabis culture, with 4:20 p.m. being the designated time for many a smoking session, and the biggest celebration itself occurring April 20.
But where did this tradition originate?
The legend goes that five high school students at San Rafael High School in Marin County, California, coined the term. The boys, who called themselves The Waldos, would meet at a statue of Louis Pasteur located near the entrance of the school's parking lot. Already cannabis enthusiasts, they heard about a nearby pot patch and met after class and after-school activities at 4:20 p.m. to go on a treasure hunt, according to a story published in the December 1988 edition of High Times magazine.
Over the years, The Waldos kept using the phrase, which eventually transferred into the fan culture of The Grateful Dead and, eventually, across the world.
The tradition has long been carried in Oklahoma, but this will be the first year of a legal medical program.
The first of two CannaCons to be held in Oklahoma City this year precedes the smokers' holiday. While vendor space sold out a month before the event, tickets are still available.
CannaCon is a business-to-business conference featuring 225 vendors and dozens of seminars over two days. Tickets are $40-$70 for entry to the expo or $100-$150 for entry and access to the seminars.
Provided
Chief Peace is one of the featured performers at Chronic Palooza.
"We have to be clear about one thing," said Nick Smart, CannaCon CEO. "This show isn't great for the general public. That's not what CannaCon is for. CannaCon is absolutely a business-to-business cannabis show. We have maybe 10 percent of our exhibitors that will even sell directly to the public, and so I would say that the biggest reason to go as a patient is because Oklahoma is the very first show that we've actually really signed up growers and store owners to be exhibitors at the show. I know that consumers do come to our show, and there's a huge reason for a home grower to come to our show, because you're never going to find the kind of lights that you can find for your tent. You're never going to be able to find the kind of genetics. If you want seeds, there is no way you're going to have a chance to buy better seeds than in two days at CannaCon, and that's the truth. We have 20 seed vendors, dude. That alone should get every single person in Oklahoma who has any interest in cannabis to fucking come down there and buy a pack of seeds. Go get a light. Go get a tent. Go do it. Go to a couple of our growing seminars; learn how to do some home growing so you can grow your own medicine so that you don't have to spend an incredible amount of money. ... Because I don't feel like you shouldn't have to spend money on cannabis that you don't grow yourself in a 4x4 tent, and we're going to teach you how to do that to where you can feel comfortable doing it at your home, where you don't have to feel like you need to be a rocket scientist to do this. If you don't know a lot about something that you really do want to know a lot about, there's more information in those two days than you're going to find in a year of the internet because you actually get to talk to people that are in the industry that get to give you information on what they might need."
But hooking cannabis business owners up with national brands and industry leaders is the primary purpose of CannaCon.
"You can do it the hard way," he said. "Use antiquated technology and antiquated ideas and it'll take you 10 years to get where the West Coast is. Or you can spend the money and do it the right way the first time and our vendors will teach you how to do that or seminars will teach you how to do that and you're not going to have to wait that 10 years. It's still gonna take a year or so to get consistent product and to get consistent testing and to get consistent marketing, but that's really what CannaCon is going to bring. ... It's like a high-tech, 21st-century way to grow a plant, and you have information at your fingertips because that's the world that we live in. You don't have to be this guy that has 100 years of experience to grow really good pot. But, see, that's just like the tip of the iceberg with cannabis. What we're also going to bring a lot of our industrial hemp and CBD and things that have nothing to do with the plant. You still need a lot of other things like really good accountants, like really good lawyers, like really good software, really good marketing companies. And so you're going to see all that too."
CannaCon returns to Oklahoma City in September.
"We're coming right back to the Cox Center in Oklahoma City. We have to. We have 70 people on a waiting list right now of vendors that couldn't get into the show because we've been sold out for a month," Smart said. "It's been surprising, and a lot of things don't surprise us in this industry anymore. This is our 14th show. We've been doing it for over six years. And we've seen a lot, but nothing like what Oklahoma's doing. I think when all the dust settles, it could definitely be the most profitable medical state in the country. And then once you guys decide to legalize everything, then we'll see where the chips fall. We love everyone from Oklahoma. Everyone that we've talked to has been incredible. Every vendor that is from Oklahoma has been awesome. Every person that we've sold a ticket to that's called has been nothing but great. I really can't say that we could be received better than we have been in Oklahoma."
But all work and no play makes for a dull 420, and that's where Lucky's Grow Supply and Chronic Palooza comes in.
Spring Sesh
Lucky's Grow Supply, 7507 Broadway Extension, hosts its first 4/20 Spring Sesh 10 a.m.-7 p.m. April 20.
Since Lucky's does not sell seeds, plants or flower, it can allow consumption on premises and will have its 710 Bus outside.
"710 is 'oil' backwards, and so we're basically turning it into a dab bus," owner John Degerness said. "It's packed with booths from a restaurant. It's sitting outside our store all the time. That's our place people go just to get high."
Provided
CannaCon 2019 in Seattle
There will be aerial burlesque performances and glass-blowing demonstrations as well as local DJs and the OklaHomeGrown art show and live art.
A free cookout with Schwab & Co. begins around 11 a.m. and ends in the late afternoon.
"I'm flying somebody down, a buddy of mine that's a chef up in Seattle, to do the cookout," Degerness said.
The sauces will be infused with THC.
Several vendors from CannaCon will be on-site, and there will be hourly giveaways throughout the day. At 4:20 p.m., Lucky's will give away a full tent setup.
When the event ends, there is an after-party at Kat's Tavern, 901 NW 64th St., which Degerness said has a patient-friendly patio.
Chronic Palooza
Chronic Palooza is noon-10 p.m. April 20 at State Fair Park, 3001 General Pershing Blvd. In addition to two buildings with vendors, there will also be continuous outdoor performances by dozens of entertainers. Attendance is free with registration.
The lineup includes Ngaio Bealum from Netflix's Cooking on High, and Moore native Chief Peace is driving in from Los Angeles to perform. Other featured musicians and comedians include Felina & The Feels, The New Tribe, MEMG, Maralen Pennyfeather, L Smooth, Wub Wub, Tig Blues, Mike Cloud, Be Low, Deezy, Ice Black, Pineapple Stro, Redzone, Down Periscope, Yak Let It Bang Ent, Last Sayso, Troy Allen Band, Analgestic, Gage Mainus, Lenny Vanhorn, Jenny Godwin, Justin Keithley, Niccolo Birkitt and Angel Superstud.
"Being a native-born, raised person from here in Oklahoma getting into the industry and also having some other businesses that I've launched in the marijuana industry, I was like, 'You know what? I want to do something that's more patient-driven, that's more community-driven, that's not about big business,'" organizer Carri Lawrence said. "There's tons of people that are doing these business-to-business events that are focusing on the big corporations or the bigger companies, but there's not a lot of people that were focusing mainly on the patients and the community and stuff like that, so I just kind of decided to go for it. So I launched it and started marketing it and got on with the State Fair and got them to approve us to come out there."
Originally, Lawrence set out to have vendors and a patient drive in one building, but the event has quickly expanded.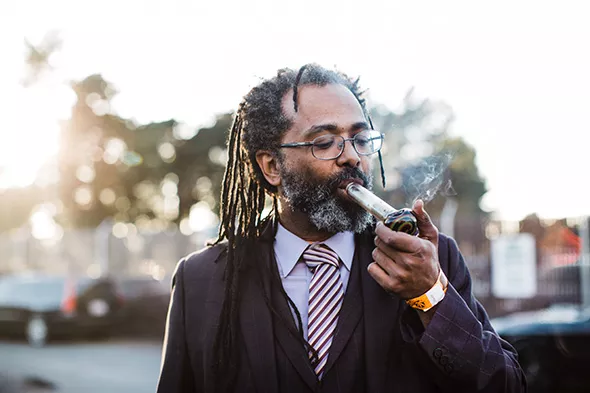 Provided
Comedian and cannabis activist Ngaio Bealum
"I wanted to do the largest patient drive in the state because everybody was doing great patient drive and clinics, but they're able to do so much in a day and it seems like a lot of people can't make it out for whatever reason or just various different things. So I was like, 'Well, I want to have multiple doctors.' So we've got over 15 doctors set up to go, and so we plan on having the largest patient drive in the state. But actually, we went up and we're looking at the Guinness Book of World Records, and I don't think anyone's trying to do this, so we're actually trying to make a Guinness Book world record to have the largest patient drive for medical marijuana," she said. "At first, the Fair was only going to allow us to have [people] 18 and older, and then I guess they had a change of decision on that and they opened it up where it could be for the children as well, as long as they are accompanied by adults. So now it's open to the entire community. Then I've also added some doctors who are pediatric to the lineup so we can help get the children their medical recommendations also."
The fee for regular patients will be $100, with discounted recommendations for veterans at $80.
"It's gotten so big and growing so well that we actually added the Modern Living building as well. So now we're at 40-45,000 square feet of vendor space. And then we went ahead and added all the live bands outside, so I've got a lineup of over 20 artists performing," Lawrence said.
Ngaio Bealum
Oklahoma City has a special guest the week of April 20. Comedian and cannabis activist Ngaio Bealum will be in the city for four days.
Bealum will be attending but not performing at CannaCon and visiting as many of the city's dispensaries as he can fit into his schedule, and then he will make a special appearance at Chronic Palooza.
Bealum has been involved in a hybrid career of cannabis activism and comedy since the 1990s. In addition to being a regular on Netflix's Cooking on High that debuted in summer 2018, he also just returned from the International Cannabis Business Conference in Berlin.
He will attend the festival's 4:20 p.m. patient appreciation award presentation and present a patient award and then perform a brief set.
"Like an appetizer set," Bealum said. "It's a teaser set."
The evening of April 20, he headlines 4/20 with Ngaio Bealum: A Night of Cannabis Culture Appreciation at The Paramount Room. The event comes on the heels of the April 9 release of Bealum's new comedy album, Weedier & Sexier, on 800 Pound Gorilla Records.
"I'll do a fair amount of material from that, but I just recorded that album, so I feel like I should do some new material because people can listen to that one on the record," Bealum said. "It's a mix. My shows are, like, Grateful Dead-style. I just start talking and it goes how it goes."
Comedians Lenny Vanhorn and Angel Hamilton will be opening, and Sativa Prophets also performs. Tickets are $20-$25.