bigstockphoto.com
Some elementary students will return to school while others utilize distance learning programs.
Throughout this month, educators across the state will face the most challenging school year to date. Adaptation is inevitable in teaching. New testing standards, breakthroughs in curriculum, and gross underfunding have all spurred changes in education. Still, no single event has uprooted the fundamental environment of instruction like the COVID-19 pandemic.
In March, Oklahoma State Board of Education suspended all in-person learning and extracurricular activities until the end of the 2019-20 academic year for public school districts. This decision allowed schools to experiment with remote education and provide some time for planning as districts considered how classes would resume the following fall. Higher education adopted a similar response, shifting virtually all classes to an online forum. Despite many Oklahoma colleges possessing some pre-existing infrastructure for online courses, most instruction is conducted in person.
Oklahoma has already endured a recently contentious classroom, teaching a crescendo with the teachers' strike in 2018. Despite falling numbers of active classroom teachers from 2015 through 2017, Oklahoma saw an increase in teaching certifications and teacher retention overall following pay increases that came from the protest. However, the need for instructors is still apparent.
Many teachers on the verge of receiving their certification were prohibited due to closed testing facilities. Last month, the department of education administered 530 temporary certifications to mitigate an abrupt halt of incoming teachers.
"We saw this as an option for individuals on the path to certification and, in all likelihood, would have obtained that certification if it weren't for the testing centers shutting down," Brad Clark, general counsel for Oklahoma State Department of Education, said. "If you look at those temporarily certified, some of them, if not many, would have been on the list for emergency certification. I think we will see more the next few months and into the 2021 school year."
Given that the average age of a classroom teacher is 44, some educators are wrestling with the difficult decision to continue teaching, shift careers or opt for retirement. Virtually all of the teachers that qualify for retirement are within the most at-risk age groups, which the CDC cites as 60 and over. The heaviest metrics for calculating a teacher's retirement are their years of service and final average salary. With their recently increased wage, qualifying educators would benefit from continuing their careers for at least a few more years than they might have previously considered. With the risk to their health compounded by the uncertain duration of the pandemic, the incentive to stay begins to depreciate. As of now, the exact number of teachers that might opt to retire or resign is not available. Of course, this risk to any educator varies from location and, more importantly, how each district resolves to operate.
"There's so much uncertainty throughout this. But professionals and schoolchildren themselves can overcome this pandemic," Clark said. "We've been proud of how far our districts have come. My own kids are growing up in this world, and education shows it can mirror that growth. A connection to teachers is vital to that education."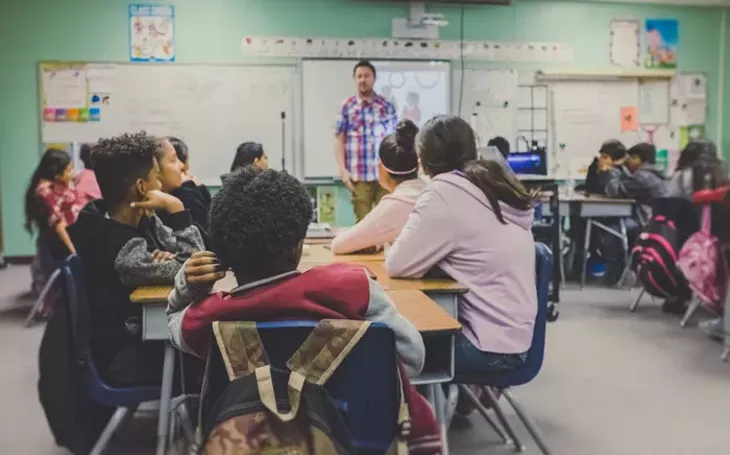 Unsplash.com
Many metro students will return to in-person classes this fall.
Public schools
Schools are now poised to reopen amid the continued spread of COVID-19. The prospect has been precarious, as the exact nature of reopening was not solidified for many districts until as recently last week. Even with a structure in place, how the school year will unfold remains unclear, as no path is without a possible consequence. None of the metropolitan districts' plans for the school year are static, as many procedures are subject to and will likely change to adapt to new findings.
July 31-Aug. 6, Oklahoma State Department of Health reported an additional 5,661 confirmed cases of COVID-19, bringing the state's total to 41,401. Oklahoma and Tulsa counties account for approximately 50 percent of total cases with each reporting over 10,000 positive tests. Cleveland County's recent surge brings it to the third most cases by county in the state at 2,994. Though the daily average of new cases in the state began to descend following a rampant August, the explosion of positive tests over the last 30 days indicates the virus is more widespread in Oklahoma than ever. This is in the absence of a new school year and a stark contradiction to the hope that the summer would cause the virus to subside. Nothing in the U.S. as of yet has tested the virus like the back-to-school season.
Edmond Public Schools
"The pandemic has forced the district to reimagine the delivery of education to keep students and staff safe. There are very few, if any, school procedures or practices that have not changed," Susan Parks-Schlepp, director of community relations for Edmond Public Schools, said.
Edmond's board of education approved its outline for reopening on July 23. Among its procedures is a form of "blended learning" that adopts traditional, in-person schooling with remote education through an online platform such as Canvas. Should the need arise, a school may switch to a form of instruction that will only require in-person, traditional classes for two days, dividing the student body into two groups to mitigate volume. Families were also allowed to opt into Virtual Edmond, a curriculum that allows for completely online education through either an iPad (for kindergarten through third grade) or Chromebook (for fourth grade through twelfth) provided by the district. Edmond is also requiring masks to be worn by all students when entering any school, in the hallways or in the classroom except for the latter for kindergarten students.
"The guidelines are to be considered fluid and likely to change as the course of the virus progresses in unpredictable twists and turns," Parks-Schlepp said.
Moore Public Schools
With its Return to Learn program, Moore Public Schools has adopted similar procedures. By default, all students are automatically enrolled in the program's first option, which is entirely in-person with the exception of routine absences. All traditional school activities and extracurriculars will remain the same, though the use of masks are required at almost all times for students in fourth grade and onward, while younger students will still be required to wear them on buses and in common areas. The second option is designated for "interment health concerns," allowing a student enrolled in the option to learn remotely for "approximately two to four weeks" until they can return to in-person learning. The third and final option, online education, will require a nine-week commitment for students in grades PreK through second and a semester commitment for third- through twelfth-graders at the time of enrollment. This option will use Canvas for younger students and Odysseyware for more advanced ages. A student in the third option may still participate in athletics or fine arts programs, but they are required to be physically on-campus during those periods.
Norman Public Schools
Norman Public Schools has opted for a different approach. On Aug. 2, Superintendent Nick Migliorino announced that the beginning of the 2020-21 academic year would be virtual. Teachers in the district will implement Seesaw for elementary students and Canvas for secondary students. Migliorino attributes the district's decision to data reported by the Department of Health on July 30, in which Cleveland County's risk of infection was raised to "moderate." However, the shift to virtual schooling does allow exceptions for certain interactions, such as extracurricular activities and student meals. Plans for students with special needs are also being finalized, and the postponed start date of Aug. 24 will allow time for such considerations.
Oklahoma City Public Schools
Oklahoma City Public Schools found itself in one of the most precarious positions and, in response, announced on July 29 that the first nine weeks of school would be remote. However, the district's primary option, Traditional Learning Contingency Plan, still allows for a more intimate classroom setting that will use technology to bring unique lessons to students at home. This plan will be reevaluated halfway through the first nine weeks of the semester, and the district might gradually transition into in-person learning if it is determined safe to do so. The second option will be entirely virtual, and though a student will have access to a teacher as an advisor, they will learn at their own pace and be "self-led."
"I think Oklahoma City buckled down and emerged as a leader in the districts," Kristina Haden, an art teacher at Cleveland Elementary, said. "It had to have been a difficult plan to figure out, especially getting these virtual programs ready in such a short amount of time."
Haden also lauded the district for its priority of science and the quality of its professional development meetings, which included seminars on addressing the mental health of faculty, staff, students and parents as well as other topical subjects like race, gender and trauma as a result of the pandemic. Despite the challenges that will come with teaching art remotely, Haden feels confident that the use of a program like Seesaw will still help bridge the gap of interaction caused by remote learning. Still, the reliance on parents to ensure their students adhere and engage with these programs will be necessary. A lack of proximity will also force educators to find creative ways to remain effective.
"We've always been known to be flexible, but this is definitely stretching it. I've been asking myself, 'Am I a gymnast?'" Haden said. "There are so many uncertainties, but that's what we have to live with. We have to try our best and help each other learn. Fortunately, I feel we're very supportive of one another as a community of educators. We don't have a choice if we want our kids to have a fair and justified future."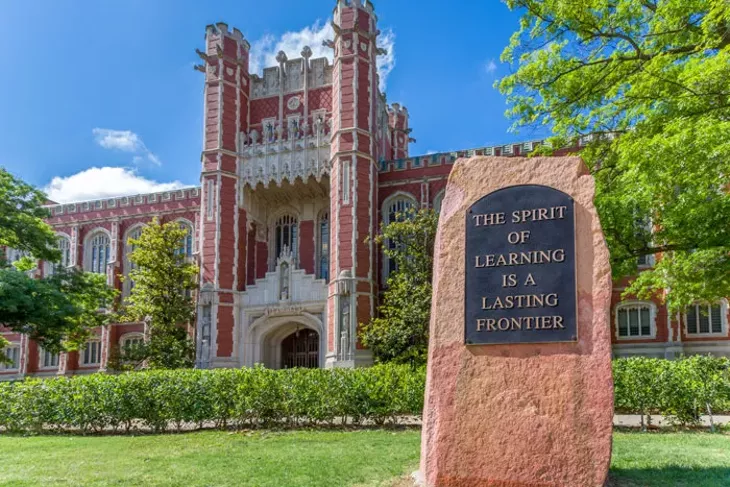 bigstockphoto.com
University of Oklahoma
Universities
Higher education has been compelled to take just as abrupt a turn. Though late-spring and summer courses have allowed them to test the waters of instruction in the pandemic, the sheer scope of colleges will make the fall semester the most challenging.
University of Oklahoma
As the state's largest university, University of Oklahoma (OU) has implemented a number of steps to ensure the safety of its faculty and students. Among these steps include the appointment of Dr. Dale Bratzler, a leading expert in infectious diseases and public health, as the school's Chief COVID Officer. Additionally, OU has implemented a campuswide masking requirement, and testing for COVID-19 will be required for all residential students. OU has also enhanced its cleaning and organizational protocols, as facilities have been modified to enable social distancing during classes and hospital-grade air filters have been installed across all three campuses.
"This semester will be about balancing interests — providing the best possible educational experience for our students in a predominantly in-class setting while working for the well-being of all and providing flexibility for faculty, staff and students where appropriate," Kesha Keith, OU director of media relations, said.
Oklahoma State University—Oklahoma City
While OU moves toward in-person learning, Oklahoma State University—Oklahoma City (OSU-OKC) will maintain the online format it adopted at the onset of the pandemic as it begins the upcoming semester. For students and faculty that need to be on campus, masking and social-distancing requirements will be required in tandem with Centers for Disease Control and Prevention (CDC) recommendations. Despite these changes, the college noted an increase in its summer enrollment than it had forecasted, with the numbers continuing to trend upward into the fall.
"The pandemic has allowed our faculty and staff to focus on serving students in different ways," Nick Trougakos, OSU-OKC's senior director of marketing and communications, said. "We have been very proactive in ensuring that students can still receive the attention and help they need, even if it means establishing new best practices like our virtual academic advising platform."
Trougakos predicts that moving forward, there will be a greater focus on advancing distance learning, which will yield greater engagement across all realms of education.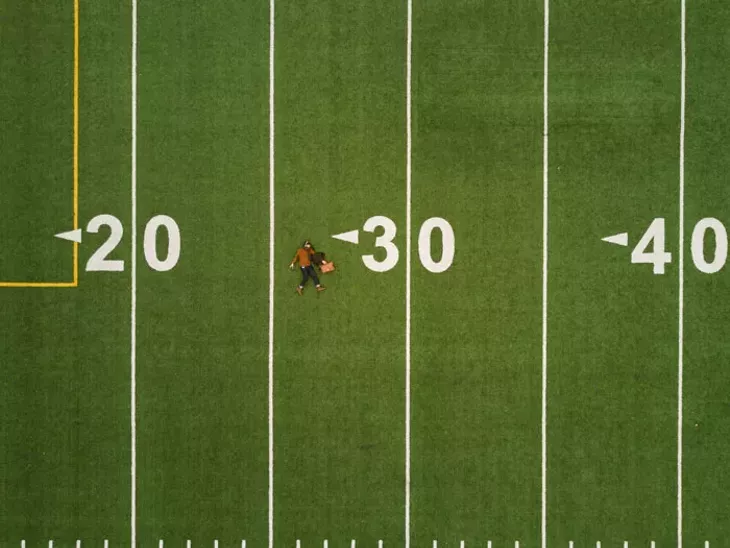 Unsplash.com
It remains unclear whether extracurricular activities like football will take place this year.
Oklahoma Christian University
Similar to OU, Oklahoma Christian University is slated to return to in-person learning following a period of online-only courses after spring break. To avoid the holiday travel season, in-person courses will conclude two weeks earlier than normal, just prior to Thanksgiving. Additionally, most of the university's large gatherings have been canceled if not adapted for a virtual or outdoor format.
"We're grateful for the time we've had through the summer to plan and prepare for this semester," Risa Forrester, OC's chief communications officer, said. "Our president, John deSteiguer, assembled the campus COVID-19 Readiness Team to address the risks and challenges presented. Team members include campus experts in the natural and health sciences as well as a designated Campus COVID Officer who served as a nurse in New York City this summer."
OC's on-campus population is composed of approximately 2,000 students, faculty and staff. Forrester found that the school's size gives it the ability to quickly adapt to new circumstances. Even so, the creativity the faculty have had to implement will lend itself to an impact on their curriculum long after the pandemic subsides.
University of Central Oklahoma
University of Central Oklahoma (UCO) has opted to consolidate the approaches of the aforementioned colleges by reintroducing in-person education while also offering virtual options for students with health concerns. Extended Classrooms will allow remote students to join live courses simultaneously with their in-person peers. UCO began development of this option in the spring, and it will be available in over 100 classrooms during the fall semester. Students must already be enrolled in an applicable course to use this option.
Though UCO's residential facilities will be operational, the majority of campus events will be hosted virtually, while smaller events will be limited to groups of 10 attendees or less. Similarly, in-person classes have been reduced to half of their previous capacity. UCO is currently looking for a way to bring consistent COVID-19 testing services to its campus.
"We care deeply about our students and their experience and strive to preserve a high-quality experience no matter the format," Adrienne Nobles, vice president for communications and public affairs, said. "That meant a crash course in technology for many. Our faculty and staff are amazingly resilient and dedicated and have risen to each challenge. Still, it is important for us to look for opportunities for connection, engagement and understanding among our teams and with students."
The effectiveness of these schools' practices will not be known until well into the semester. Tweaking procedure will be an inevitable part of this process for public schools and higher education alike. The ingenuity and courage educators are preparing to display will change the face of education in Oklahoma long after the pandemic.
Editors' note:
Information in this story was gathered before the paper went to print Aug. 10, and school procedures might have changed.