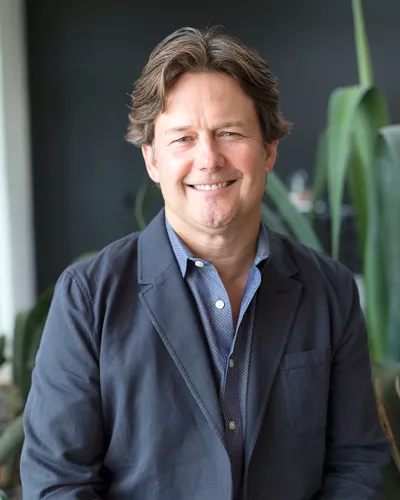 Photo provided
A Good Egg Dining Group CEO Keith Paul
The turnover rate in the restaurant industry is nearly 30 percent higher than the total private sector for the United States. The fact the industry is the largest employer of teenagers and students and many kitchen staff naturally moves from job to job as skills increase are natural reasons for the higher turnover average, according to the National Restaurant Association.
There is another side of the story that isn't mentioned by the trade association: the toll of the kitchen lifestyle in which long hours for little pay can lead to a life of self-medication through drugs and alcohol.
Jonathon Stranger is an Oklahoma City native but was not trained in the city, which lists Kurt Fleischfresser's apprenticeship program started at The Coach House as the most influential for producing the city's homegrown kitchen talent.
Stranger got his training in the kitchens of New York and ventured around the world before returning to dazzle Oklahoma City with its first true farm-to-table restaurant, Ludivine, in 2010.
"In the different cities and countries I've worked, but in Oklahoma City the most, hospitality goes both ways," Stranger said. "It's not just how you treat guests; it's how you treat employees. When you don't do that, you see burnout and high drug and alcohol usage."
Kitchen Subculture
Stranger is an example of the high turnover rate, bouncing from kitchen to kitchen to learn and then eventually leaving Ludivine and The R&J Lounge and Supper Club in 2014. Stranger is now executive chef at En Croûte, St. Mark's Chop Room & Bar and is working on two new concepts to open in 2018: Ok-Yaki located in the garage of The Patriarch Craft Beer House & Lawn in Edmond, and Osteria, a from-scratch Italian kitchen in Nichols Hills.
"After leaving Ludivine and R&J to open my own stuff and have opportunity to create a culture I want to create," Stranger said, "I try to create an environment of respect. In a lot of kitchens, people are cursing and grab-assing, but that doesn't fly in my kitchen."
Photo Gazette / file
Cally Johnson is currently at Stone Sisters Pizza Bar after co-founding Big Truck Tacos and Mutts Amazing Hot Dogs.
Cally Johnson has earned the reputation as one of the city's most talented chefs and was named favorite chef in Oklahoma Gazette's Best of OKC reader's poll in 2013. She got her start under Fleischfresser and Chris Lower at Deep Fork Grill, coming to the industry at age 38 after years of Christian mission work.
Johnson went on to become executive chef at Boulevard Steakhouse, Cheever's Cafe, Deep Fork and others before co-founding Big Truck Tacos and Mutts Amazing Hot Dogs with Kathryn Mathis and Lower.
"The kitchen changes you; it's a subculture," Johnson said. "[When I started,] I had no tattoos, long hair and a face full of makeup, and I never would've thought about saying 'fuck.' It is my favorite word now."
Never one to drink alcohol in her previous life, Johnson soon found herself finishing a 16-hour shift at the kitchen only to meet up with other chefs from around town to continue a discussion about food at a local bar.
"I didn't learn to drink until I was in the food business," Johnson said. "At some point, it has become one of my biggest challenges, and I'm sure it is that way for a lot of chefs."
A 2015 study from the Substance Abuse and Mental Health Services Administration found that the accommodations and food services industry has the highest rate of illicit drug use of any industry.
Johnson went sober early last year, and Stranger said he made the same decision four years ago.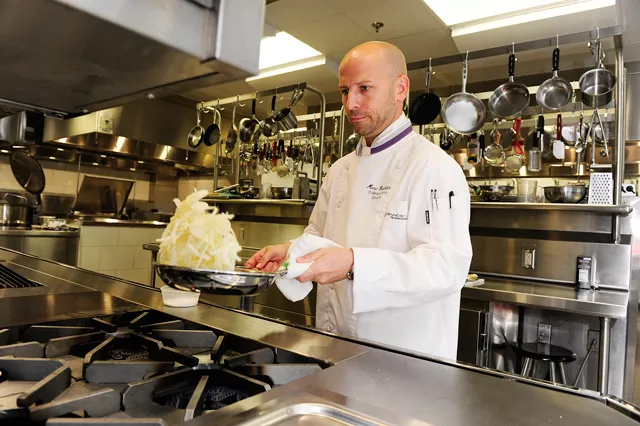 Photo Gazette / file
Marc Dunham is a former culinary instructor and current owner of Iguana Mexican Grill and Nashbird.
"It's a growing epidemic of burned-out chefs with drug and alcohol problems," Stranger said. "There is a whole other side of cooking that isn't talked about, a spiritual side. It's not just about religion because you're connecting with Earth, connecting to the farmer and getting natural ingredients. … It is hard to implement that atmosphere when you're promoting a rock star cook lifestyle, which is a recipe for disaster."
Changing industry
The concept of a celebrity chef didn't really exist outside of Julia Child and Wolfgang Punk when Keith and Heather Paul founded Cheever's in 2000. Emeril Lagasse's "Bam!" catchphrase was starting to enter the lexicon thanks to his Food Network show.
As the Pauls' restaurant influence grew from Cheever's and Iron Star Urban Barbeque, then Red PrimeSteak, A Good Egg Dining Group was formed and is now home to eight of the city's highest-rated restaurants on online user aggregate rating system Yelp, which, in addition to celebrity chef culture, is an example of how the restaurant industry has changed in the last two decades.
"It was a different restaurant landscape 17 years ago," Keith Paul, CEO of A Good Egg said. "The competition was a lot different. Technology in general has changed what the public thinks of restaurants and how they view cooking with cooking networks."
Since the debut of the Food Network, enrollment at the Culinary Institute of America's (CIA) flagship campus in Hyde Park, New York, has increased from 1,800 to nearly 2,800, according to U.S. News & World Report, and CIA has added campuses in California, Texas and Singapore.
Nashbird and Iguana owner Marc Dunham is a CIA graduate and was director of the Francis Tuttle Technology Center School of Culinary Arts for five years. Dunham said it was common for recruiters of culinary schools in the late 1990s and 2000s to promise graduates a $60,000 salary upon graduation.
"Even though chefs over the past few decades have gotten notoriety, it's a very small class," Dunham said. "Part of the problems for culinary students is that the reality didn't match hopes and expectations. When they get into a kitchen making $10 an hour, working long hours and missing their family, all of it adds up."
Meeting needs
As an independent owner, Dunham said that it's important to listen to his employees to make sure their needs are met but admitted that it can be a tricky situation.
"You have to develop a culture of people and treat them well, give them time off," he said. "I can't afford to compete with a $14-$16 an hour line cook job at a corporate restaurant with benefits. You really have to find the person that likes small business and likes to know their owner."
Oklahoma City's chefs and restaurateurs combat problems ranging from drugs to tempestuous kitchen environments and strive to keep chefs happy and healthy in their careers.
At A Good Egg, Paul said company policy is not to ask people to work more than 50 hours a week, and they prefer 5-10-hour days with vacation time and two days off per week.
"That's pretty rare in the restaurant industry," Paul said.
Paul also said that A Good Egg has made a concerted effort to promote from within. Iron Star executive chef Tomas Lopez began working for the company as a dishwasher at age 16. A Good Egg hasn't hired a head chef from outside the company since it hired Chad Willis to open The Drake Seafood and Oysterette in 2015.
With his latest ventures, Stranger said his employees have access to outside healthcare plans, which provide discounts for gym membership.
"We work hard enough as it is, so we should try to help each other and support a healthy lifestyle," Stranger said.
Finding your heart
Even after experiencing the height of the industry, becoming an executive chef and founding a successful concept in Big Truck Tacos that ushered in a cult following, Johnson felt spit-up and used by the industry in which she excelled.
Johnson left Big Truck Tacos full-time in 2013 as Mathis and Lower went on to open Pizzeria Gusto and Back Door Barbecue.
"I had all of this success, but I didn't know why," Johnson said. "I didn't know if I was lucky or talented or something in between."
Johnson bounced around during her time after Big Truck, briefly taking jobs with Oak Tree Country Club, J. Bruner's at The Haunted House and a corporate job with Sonic Drive-In. She also helped establish a soup and sandwich deli for Green Goodies, but it still didn't feel right.
"I got sober at the beginning of last year and said, 'I don't want to be in food anymore,'" Johnson said, adding that she called Stella Modern Italian Cuisine owner Lori Burson and offered to wash her dishes. "I didn't want anyone to know I was there or to have a chef's coat with my name on it. I wanted to see if could find my heart again."
Sheli Reynolds, who first met Johnson when she was a regular customer at Green Goodies, called Johnson out of the blue in February 2017. Reynolds asked Johnson to consult for her concept Stone Sisters Pizza Bar, which uses organic and local ingredients atop sprouted spelt and unbleached flour crusts.
Johnson eventually went on to head the kitchen, which opened in May. She admitted it has been a different experience going from kitchens featuring workers with years of experience to a family-run operation.
'This is one of the hardest things I've ever done because every time I opened a restaurant, I had Chris Lower right alongside me," Johnson said.
It hasn't always been easy, but she admitted that watching Stone Sisters' staff grow from not knowing how to prep a station to handling the entire morning setup on their own makes her proud. Her work with other chefs throughout the years, like Waffle Champion founder Todd Woodruff, keeps her going.
"Just about the time I get down on myself, God puts someone in my life that will say 'I worked for you and thought you were really hard, but it taught me so much,'" she said.
Print headline: Chef life; Chefs and restaurateurs combat the grueling nature of the industry.