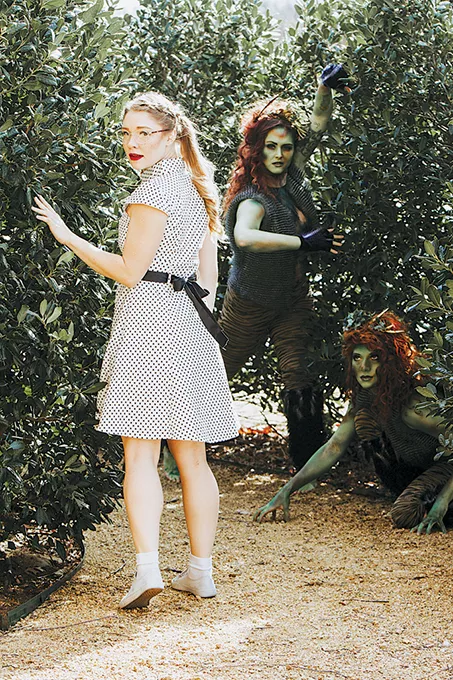 From Britt's Eye View Photography / Perpetual Motion Dance / provided
Cora's Door delves into the imagination of a girl exploring family secrets.

Dancing in a multiverse allowed Perpetual Motion Dance to discover a new dimension of possibilities. Completing a six-day residency in the surrealistic interactive art installation Meow Wolf in Santa Fe, New Mexico, gave the performers in the local dance company inspiration for their latest production, Cora's Door, which runs Thursday-Sunday at Oklahoma Contemporary Arts Center, 3000 General Pershing Blvd. Artistic director Michelle Moeller said the company's December residency at the New Mexico attraction, a 20,000 square-foot immersive multimedia exhibit operating in a former bowling alley purchased by A Game of Thrones author George R. R. Martin, required Perpetual Motion's dancers to perform in an unfamiliar atmosphere and engage audiences in a new way.
"We saw just how smart our dancers are and how creative they are in nontraditional settings," said Moeller, who also serves as dance department chair at the University of Central Oklahoma. "They are make-it-work kind of people. They will always make it happen even if it's not an ideal performance environment; they will always bring their creativity forth. ... They're just a really smart, really strong group of dancers and choreographers."
This newfound confidence boost emboldened Perpetual Motion's choreographers and dancers to develop their first narrative program. Like Meow Wolf's House of Eternal Return — which Moeller cites as the company's inspiration, along with Madeleine L'Engle's A Wrinkle in Time and Jim Henson's Labyrinth — Cora's Door tells a family-friendly story about inter-dimensional travel.
Creative creature
The format of House of Eternal Return required the Perpetual Motion dancers to create characters in varying environments, which they began adapting into their own storyline.
"Cora, who discovers that her parents are dimension-traveling, goes to follow them and find them, and she ends up wandering through these different realities," Moeller said. "And each space, each reality, has its own set of rules and fantasy creatures. In dance, for us, we don't really follow a strict narrative the way that a play might. We like for it to be a little bit more surrealist where there's a story to follow and you can see all of the characters develop, but [it] also leaves some room for imagination to make up your own kind of choose-your-own adventure. There's still definitely more of a story line than we have ever done in any of our Perpetual Motion shows before. ... But anything that's told through dance is going to have subjective experiences."
The characters in Cora's Door include forest dwellers Moeller describes as "something between Ewoks and the little creatures in Labyrinth with the red fur" and other fantastical creatures, each with their own style of choreography and set in their own distinct environments and musical soundtracks.
"There's kind of a forest scene, there's one that is a little bit more geometric that looks very abstract, and then we have another world that has kind of really cool little mermaids that aren't like really specific mermaids, but we look at them more as sea-based creatures," Moeller said. "Each world really has its own set of rules as far as movement and choreography go, so if you're in this sort of Ewok-forest-creature world, the movement is going to be very anamorphic and low to the ground. The costuming has a really earthy, almost camouflage look to it, and then the music we chose is really specific to each realm."
The show's forest creature land features didgeridoo music, the mermaid and sea creature world features work with aerial silks and the "animal heads" world shows off the dance company's more diverse aerial work.
"The 'animal head' world is really geometric and there's some black light involved, and the aerial pieces they're doing are on metal apparatuses," Moeller said.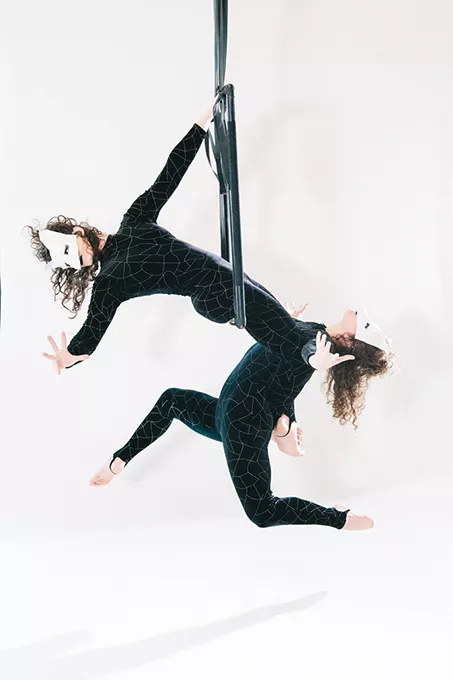 From Britt's Eye View Photography / Perpetual Motion Dance / provided
Cora's Door is Perpetual Motion Dance's first story-based production.
Engaging audiences
Cora's Door, still being developed at the time of this interview, is the most difficult production the company, which has specialized in original collaborative works since it was founded in 2002, has attempted since it began performing annual shows in 2006, but Moeller said she thinks the fantasy elements and narrative framework will make it more accessible to younger audiences.
"It's definitely the biggest artistic challenge we've taken on as far as costuming and makeup and narrative, and it's really a push into more of a fantasy realm than Perpetual Motion has been in before," Moeller said. "But I feel like the audience is really going to grab onto it and enjoy it. I think it's going to be something that adults and children can engage with. It has some elements of suspense, but nothing in it is scary or inappropriate for a younger audience."
The goal, Moeller said, is to attract an audience that might not be familiar with modern dance and might have a harder time relating to more abstract performances without alienating the fan base Perpetual Motion has cultivated in the past.
"It's a way for people to connect to art and dig in without it being overwhelming," Moeller said. "I think for us, it's a good way to engage new audiences and also give the audiences who have been really loyal to us something new."
Tickets are $10-$20. Visit perpetualmotiondance.org.


From Britt's Eye View Photography / provided